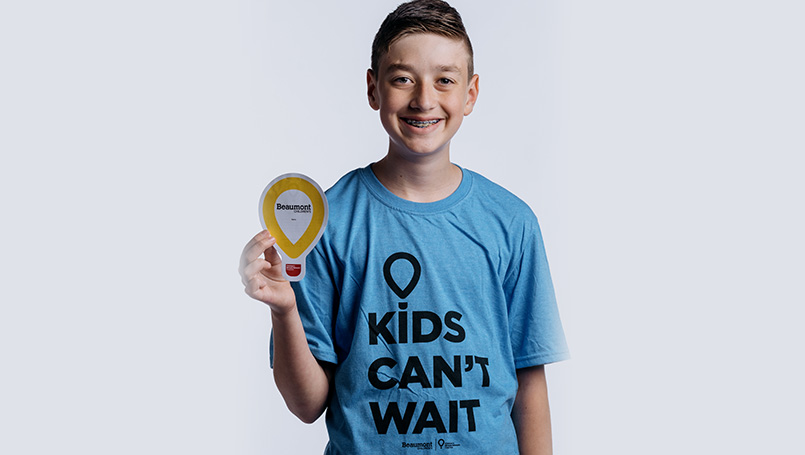 Funds benefit children's health programs at Beaumont Children's locations across Metro Detroit
Children's Miracle Network Hospitals has announced financial support for programs at Beaumont Children's. More than $1.25 million in grants have been issued to enhance pediatric programs at Beaumont locations for fall/winter 2022. More than 50 programs received funding.
Beaumont Children's is also excited to announce the 2023 Children's Miracle Network Child Ambassador for Beaumont Children's: 12-year-old Connor Barringer of Waterford. CMN grants help to children like Connor during their life's journey.
Connor was 10 years old when he suffered a severe cervical injury in a soccer game. He was admitted for two months at Beaumont Children's, requiring to be in HALO traction and lying flat in bed in the same position for an entire month. He then had to continue to wear the HALO for another month in the hospital and for many months following discharge.
During his time at the hospital, Connor engaged with every CMN-funded Child Life service offered. He regularly looked forward to pet and music therapy visits, as well as receiving bravery beads for all of his difficult procedures and obstacles that he overcame throughout his stay. Beaumont's school robot made visits to his classroom to help him stay up-to-date and engaged with his schoolwork. His parents and sister were also engaged with these services.
Today, Connor is back to being active and is looking forward to serving as the patient ambassador for Beaumont Children's to help to raise awareness for pediatric initiatives across southeast Michigan.
For nearly 40 years, Children's Miracle Network Hospitals has been a valued fundraising partner of the Beaumont Health Foundation, raising donations of more than $75 million to help Beaumont Children's pioneer new health care solutions for children and provide access to the latest research and technology.
The success of the Beaumont Children's/CMN partnership relies upon the generosity of the entire community, including support from corporate partners, individuals, and Beaumont team members. Corporate partners often reach out to their employees and customers through retail promotions, generating donations gathered one dollar at a time. Major corporate partners include: Speedway, Costco, Walmart, Sam's Club, Rite Aid, Ace Hardware, RE/MAX, Panda Express, Dairy Queen and Marriott International.
Twice a year, in February and August, Beaumont pediatric nurses, physicians and clinical leaders at all eight Beaumont Hospitals (Dearborn, Farmington Hills, Grosse Pointe, Royal Oak, Trenton, Taylor, Troy and Wayne), as well as the Beaumont Health Center, Center for Exceptional Families and other outpatient sites, have the opportunity to request grants from Beaumont Children's/CMN to support new or existing pediatric initiatives.
Some of the 2022 fall/winter grants include:
Pediatric echocardiogram equipment – providing state-of-the-art, on-demand imaging technology for fragile newborns
Child Vein Finder Device – allowing medical assistants to quickly find a vein and draw samples easier for a better patient experience
Giraffe OmniBed with attachable monitoring screen – a device that can be a warmer, isolette or crib for NICU patients and may provide humidification for very premature babies
Educational materials and products – supporting child patients on the Pediatric Epilepsy Diet Program
Pediatric laparoscopic equipment – allowing for minimally invasive surgery
Recliners - for family member comfort as they provide secure bedside support to children in the ICU
Mobile sensory carts - enables alternative sensory space for patients with autism, sensory disorders or anxiety about being in a hospital.
Philips Ultrasound systems – bring new state-of-the art technology that provides the clearest imaging and critical views in newborns
Bike Day - providing customized adaptive therapy bikes for children with special needs
Children's Miracle Network grant awards positively impact more than 200,000 children annually. For more information on Beaumont Children's, visit www.beaumont.org/childrens or call 855-480-KIDS (5437).
To learn more about Children's Miracle Network Hospitals visit CMNHospitals.org.