Thursday, February 04, 2021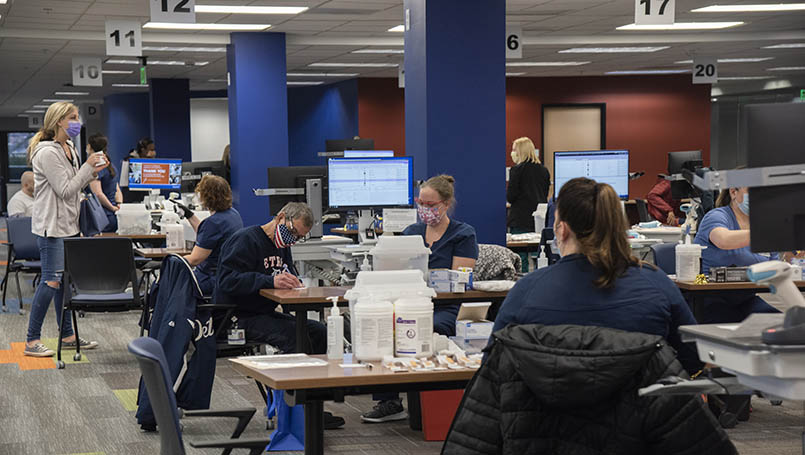 Beaumont has the capacity to administer 50,000 COVID-19 vaccine doses a week, but is only receiving about 10,000 doses per week from the state
With half a million eligible patients and some Beaumont employees waiting to be vaccinated, Beaumont is only able to vaccinate around 2% of eligible patients each week due to limited supply
If supply remains as low as it is today, it could take months for many people to receive an invitation to schedule their vaccine
Beaumont Health has administered more than 80,000 doses of the vaccine since December 2020. It's a large number that's also far smaller than anticipated. The health system has the capacity to administer 50,000 doses a week, but it has never come close to that number because vaccine supplies have been so limited.
The state and federal government manage the distribution of the vaccine. Beaumont received only 9,750 doses from the State of Michigan this week, a 40% reduction compared to last week. Nearly 500,000 Beaumont patients are eligible to receive the vaccine because they are over the age of 65 and have a myBeaumontChart account. Plus, thousands of Beaumont employees still need to schedule their vaccine appointment.
It adds up to this: Beaumont has nearly half a million people waiting to be vaccinated. Fewer than 10,000 doses arrive each week. Many must be used for second doses. This means the line moves very, very slowly. To put it another way, only 2% of the people eligible to get vaccinated at Beaumont are able to get their shot each week.
"We remain committed to safely vaccinating as many people as possible to help end this pandemic. We administer every dose we receive each week. We want to do more. We have the capacity to do so much more. We just don't have enough vaccine," Beaumont Health Chief Operating Officer Carolyn Wilson said. "We know people are frustrated. We empathize with every person who is tired of waiting for their shot."
Beaumont's computer system uses an equitable, randomized process to select groups of patients who meet the state's current criteria and also have an active myBeaumontChart account. As groups of individuals are selected using this process, they receive an email inviting them to schedule their vaccination. Michigan health care systems are vaccinating people ages 65 and older. County and local health departments are focused on essential workers.
Beaumont also established a phoneline (800-592-4784) to provide vaccine scheduling assistance for people who do not have internet access. Wait times often exceed one hour because so many individuals are calling.
To maximize the number of vaccinations each day, Beaumont must require all patients to schedule their vaccine in advance. Only people with appointments can enter Beaumont's vaccination clinics; drivers or those accompanying people with an appointment must wait in their vehicle, unless the individual being vaccinated requires physical assistance.
Again, about 500,000 Beaumont patients currently meet the state's criteria to get vaccinated. If supplies remain as low as they are today, it could take months for many people to receive an invitation to schedule their vaccine.