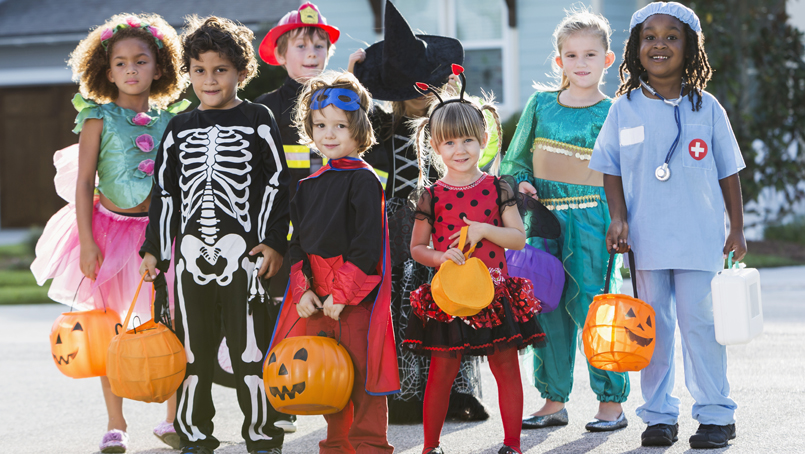 Halloween should be spooky and frightening, but in a fun, festive way. No hospital emergency doctor wants to see witches requiring real stitches or ghosts with boo-boos. By taking precautions, parents can increase the likelihood their trick-or-treater will have a safe, enjoyable Halloween.
Beaumont nurse and trauma prevention coordinator, Donna Bucciarelli offers some practical safety tips for parents and their children.
"For many the observance of Halloween begins with pumpkin carving. Never let your children help in carving or cutting your pumpkins," said Bucciarelli. "Instead, encourage them to draw the face on the pumpkin with crayon or marker. They can also help remove the seeds inside the pumpkin."
Bucciarelli encourages parents meet with their children the day before Halloween to discuss safe trick-or-treating.
"You need to emphasize the importance of pedestrian and traffic safety. If sidewalks are present, insist your children stay on the walkways and out of the street," Bucciarelli stressed.
According to Centers for Disease Control and Prevention, the risk of becoming a pedestrian fatality increases four times on Halloween. It's important that parent and kids be seen at dusk and dark. Trick-or-treaters using flashlights and glow sticks improve drivers' nighttime vision. Bucciarelli recommends adding reflectors or reflective materials, like reflective tape, to costumes for better visibility by motor vehicles.
"Parents also need to discuss possible fire hazards with their children," added Bucciarelli. "This is especially important with the popularity of Halloween luminaries lining some sidewalks. Children need to be told to stay away from open flames. Review with your child the principles of 'Stop, Drop and Roll.'"
When it's finally time to size up the prize, children need adult supervision to inspect their goodie-bags and make sure the treats are safe. Parents need to pitch any unwrapped or suspicious foods. When in doubt, throw it out.
HALLOWEEN SAFETY TIPS
Pumpkin carving: Remind children to leave the knives to the adults
When decorating around your home use LED lights in pumpkins and other decorations, instead of candles
Keep pumpkins and lights away from drapes, decorations, flammable materials or areas where children will be walking
Before sending your child out to trick-or-treat make sure they eat a nutritious meal. Children will be less likely to eat their candy before inspection
Younger children should always be accompanied by an adult
Older children should carry a cell phone
Only trick-or-treat in familiar neighborhoods
Make sure your child's costume doesn't impede their ability to walk- shoes should fit properly and the length of the costume should allow your child to move freely
Tell your child to remove their mask when walking from house to house for better vision
Don't allow trick-or-treaters to change their eye color with nonprescription cosmetic contact lenses. This may not only impede vision, but can result in an eye infection and/or damage to the eyes
Make yourself and your trick-or-treaters visible- use reflective treat bags; bring flashlights with new batteries; or use "glow sticks"
Always inspect your child's treats before they're eaten
Throw away any treats that are homemade or not commercially wrapped
Homeowners should make sure their pets are secure inside the house away from the children