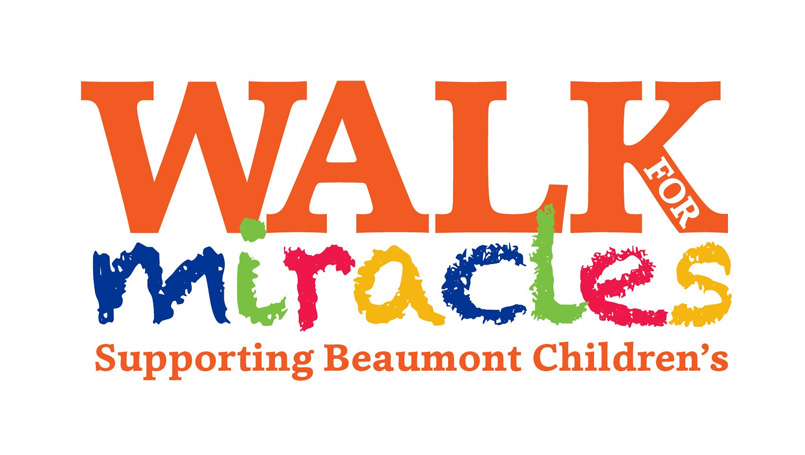 Superheroes of all ages are invited to Beaumont Children's "Walk for Miracles" at the Detroit Zoo, Saturday, June 15. On-site registration opens at 7:30 a.m. The walk starts at 8:15 a.m. All proceeds benefit Children's Miracle Network programming at Beaumont Children's.
Jonny Hendricks, 12, of Holly is among those whose hospital experience was improved by CMN. He is Beaumont Children's CMN Ambassador for 2019. Child Life Services helped make his cancer treatment less stressful, according to his mom, Samantha Hendricks.
"By taking part in the walk, we support kids in recovery at Beaumont Children's, who, with the help of Children's Miracle Network Hospitals, are able to learn, grow and just have fun being a kid," Samantha Hendricks said.
Participants are encouraged to dress as their favorite superhero or fantasy character. Children will meet Super Beau, the Beaumont Children's mascot bear, and other popular fairytale and comic book heroes. Each child will receive a superhero cape. Walkers will also have the opportunity to meet former Detroit Red Wing defenseman Jason Woolley.
Breakfast and refreshments are included with each walk registration. Everyone is invited to enjoy the Kids Craft Corner and exciting exhibits at the Detroit Zoo, such as the Polk Penguin Conservation Center.
Walkers must register for the event and make a minimum donation: $20 per adult and $5 per child, ages 3 to 14. Children 2 and under are free. Walk registration also includes same-day family admission to the Detroit Zoo. Additional fundraising is encouraged. All proceeds will support nonprofit pediatric programs throughout Beaumont Children's.
About Beaumont Health
Beaumont Health is Michigan's largest health care system and is most preferred for health care in Southeast Michigan, according to NRC Health survey data. The not-for-profit organization was created to provide patients with greater access to compassionate, extraordinary care, every day. Beaumont Health has a total net revenue of $4.7 billion and consists of eight hospitals with 3,429 beds, 145 outpatient sites, nearly 5,000 affiliated physicians, 38,000 employees and 3,500 volunteers. In 2018, Beaumont Health had about 178,000 inpatient discharges, 18,000 births and 573,000 emergency visits.
About Children's Miracle Network Hospitals
Children's Miracle Network Hospitals raises funds and awareness for 170 member hospitals that provide 32 million treatments each year to kids across the U.S. and Canada. Donations stay local to fund critical treatments and health care services, pediatric medical equipment and charitable care. Since 1983, Children's Miracle Network Hospitals has raised more than $5 billion, most of it $1 at a time through the charity's Miracle Balloon icon. Its fundraising partners and programs support the nonprofit's mission to save and improve the lives of as many children as possible.