Architects, designers, doctors, nurses, administrators and many others spent years discussing how to improve, expand and renovate Beaumont Hospital, Royal Oak's Emergency Center. But, in keeping with Beaumont's commitment to patient and family centered care, a team of patients and family members also had a major influence and collaborated on key features and elements of the new center.
A team of 12 patient and family advisors have been volunteering their time on the Emergency Center Patient and Family Advisory Council to help advance the hospital's patient and family-centered approach to care in the new emergency center.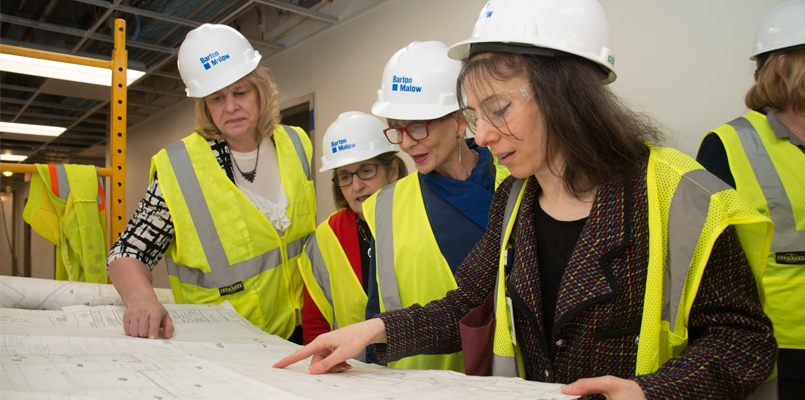 "Our patient and family advisors are valuable partners in ensuring the new center will provide extraordinary care every day that meets the needs, wants and values of our patients and families," Bernadette White, director of Emergency Services and the Medical/Surgical Observation Unit, said.
Advisors provided guidance on concepts ranging from the overall design of the center to what chairs are most comfortable for family members sitting beside their loved ones. They also recommended adding more parking close to the door for people with physical disabilities and stressed the importance of having coffee and snacks available nearby for families. All of these ideas were included in the new center.
"When I went to the first meeting, everyone had a different experience that brought them there. Each experience was important. One woman mentioned her cell phone died while she was there with her son," Leslye Rosenbaum, of West Bloomfield, said.
As a result of the conversation about the cell phone battery dying, USB outlets were installed in each patient room and Beaumont will have several cell phone charging stations in the emergency center waiting space to help family members stay in touch and provide updates to others who cannot be at the bedside.
"They took our advice and made changes. It was impressive," Nancy Sovran, of Southfield, said. "Good, bad and indifferent, you have to hear it. Beaumont listens to what we have to say. They want our thoughts because we've been there, done that."