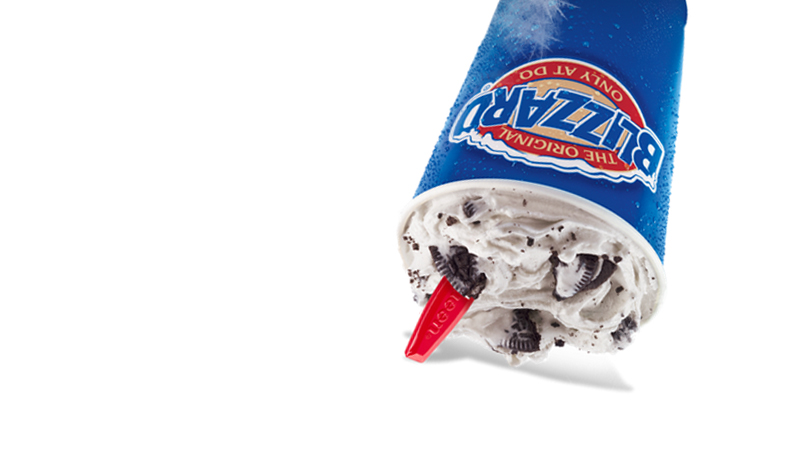 On Thursday, July 25, participating Dairy Queen locations in Southeastern Michigan will raise funds for Beaumont Children's.
Donations collected on Miracle Treat Day will help Beaumont Children's fund equipment, treatments and programs, including the Child Life Program that helps reduce both the children's and family's anxiety during their hospital stay. Last year, donations helped purchase hospital sleeper sofas for parents and vein finders for babies in the Neonatal Intensive Care Unit.
During Miracle Treat Day, $1 or more from every Blizzard Treat sold at participating locations will be donated to Children's Miracle Network Hospitals, which raises funds and awareness for 170 children's hospitals across the U.S. and Canada.
Last year's Miracle Treat Day raised about $40,000 for Beaumont Children's. Since 1984, Dairy Queen has raised more than $145 million for the charity through fundraising efforts including Miracle Treat Day, the Miracle Balloon campaign and other local initiatives.
To help celebrate Miracle Treat Day, use #MiracleTreatDay on social media.
Please check out one of these participating locations:
1307 Saint Clair River Drive

17446 Ecorse Road

1805 Packard St.

2430 W Stadium Blvd.

Walton Village Plaza

3491 12 Mile Road

6622 Telegraph Road

321 Grand River Ave. W

42345 Garfield Road

1599 Union Lake Road

4600 Greenfield Road

8316 N Telegraph

22402 Ford Road

24671 Grand River W.

9151 Wyoming Street

8041 Main St.

1980 River Road

22290 Middlebelt Road

34414 W 8 Mile Road

33326 12 Mile Road

28918 Telegraph Road

3852 Pine Grove Ave.

34513 Utica Road

28825 Ford Road

6450 M 36

10490 Highland Road

2330 S Milford Rd Ste 100

1761 S Cedar St.

26706 Michigan Ave.

888 S Main St.

2356 Dix Road

3134 Fort Street

23185 Hall Road

29371 Dequindre Road

213 E Main St.

236 Fairbanks St.

353 N Gratiot Ave.

35654 Green St.

41490 Grand River Ave Ste E

48955 Grand River Ave.

1010 S Lapeer Road

1525 Baldwin Ave.

68020 S Main St.

10940 W Jefferson Ave.

268 S Main St.

3201 Rochester Road

400 E Michigan Ave.

52869 Hayes Road

54804 Shelby Road

22253 Pontiac Trail

13132 Eureka Road

33170 Ryan Road

Sterling Heights Assembly Plant

Southland Shopping Center

1614 West Road

2879 W Maple Road

45814 Van Dyke Ave.

551 N Pontiac Trail

Hoover Eleven Plaza

23515 Ryan Road

5608 Highland Road

4683 Dixie Highway

3007 Wayne Road S.

6931 Orchard Lake Road

10531 Highland Road Ste 109

49062 Pontiac Trail

101 Michigan Ave. E

Algonac

Allen Park

Ann Arbor

Ann Arbor

Auburn Hills

Berkley

Bloomfield

Brighton

Clinton Township

Commerce Township

Dearborn

Dearborn Heights

Dearborn Heights

Detroit

Detroit

Dexter

East China

Farmington Hills

Farmington Hills

Farmington Hills

Flat Rock

Fort Gratiot

Fraser

Garden City

Hamburg

Hartland

Highland

Imlay City

Inkster

Lapeer

Lincoln Park

Lincoln Park

Macomb

Madison Heights

Manchester

Marine City

Mount Clemens

New Baltimore

Novi

Novi

Oxford

Pontiac

Richmond

River Rouge

Romeo

Royal Oak

Saline

Shelby Township

Shelby Township

South Lyon

Southgate

Sterling Heights

Sterling Heights

Taylor

Trenton

Troy

Utica

Walled Lake

Warren

Warren

Waterford

Waterford

Wayne

West Bloomfield

White Lake

Wixom

Ypsilanti