Wednesday, February 07, 2018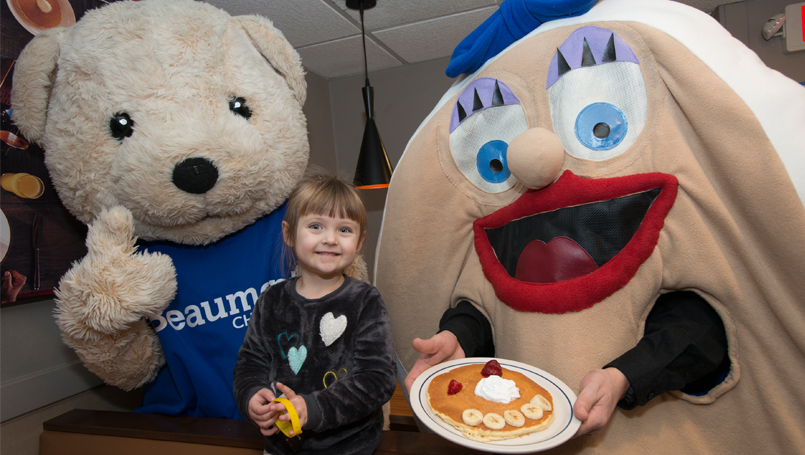 IHOP to Raise Funds for Children's Miracle Network Hospitals Throughout February and on National Pancake Day
On Tuesday, Feb. 27, IHOP restaurants will once again offer each guest a free short stack of their famous buttermilk pancakes on National Pancake Day. This family-friendly tradition aims to raise needed funds and awareness for Beaumont Children's, a Children's Miracle Network Hospital.
For every short stack of buttermilk pancakes served on National Pancake Day between 7 a.m. and 7 p.m., IHOP guests are invited to make a voluntary donation to Beaumont Children's to help improve the lives of pediatric patients. Since 2006, IHOP National Pancake Day has raised about $30 million to provide life-saving treatment, programs and medical equipment for pediatric patients across the country - including the 200,000 children treated annually at Beaumont Children's.
In the weeks leading up to National Pancake Day, participating IHOP restaurants will also sell "miracle balloons" for $1 and $5. The balloons will be available through National Pancake Day, and all proceeds will go to Children's Miracle Network Hospitals. Guests who purchase a $5 Miracle Balloon will receive a $5 discount coupon that can be used during their next dining visit.
"We are extremely grateful to IHOP and it patrons for their generous support of Beaumont Children's," said Brian Berman, M.D., pediatrician-in-chief of Beaumont Children's. "These donations provide comfort and compassionate care to the many children and families who we serve."
Stop in at the following IHOP locations on Tuesday, Feb. 27 to benefit Beaumont Children's:
| | | | | |
| --- | --- | --- | --- | --- |
| Bloomfield Hills | | Livonia | | Sterling Heights |
| Brighton | | Monroe | | Woodhaven |
| Canton | | Novi | | Ypsilanti |
| Dearborn Heights | | Roseville | | |
| Detroit | | Royal Oak | | |

Find a local IHOP or make an online donation to Beaumont Children's.

---
About Beaumont Children's
Part of Beaumont Health, Beaumont Children's offers comprehensive health services for infants, children and adolescents in nearly every medical and surgical subspecialty with 80 pediatric subspecialists and 500 board-certified pediatricians. Facilities include the William and Marie Carls Children's Medical Center at Beaumont, Royal Oak, inpatient pediatric units in Dearborn, Troy and Farmington Hills, and outpatient locations throughout Metro Detroit. Pediatric services include emergency care, hematology-oncology, newborn and pediatric intensive care, pediatric and craniofacial surgery and two autism centers. Mothers deliver more than 17,000 babies every year at Beaumont hospitals. Beaumont Children's is Southeast Michigan's only Children's Miracle Network Hospitals affiliate. Find a Beaumont Children's pediatrician or specialist online or call 855-480-KIDS (5437).
About Children's Miracle Network Hospitals
Children's Miracle Network Hospitals® raises funds for 170 children's hospitals across the United States and Canada, which, in turn, use the money where it's needed the most. When a donation is given it stays in the community, helping local kids. Since 1983, Children's Miracle Network Hospitals has raised more than $4.7 billion, most of it $1 at a time. These donations have gone to support research and training, purchase equipment, and pay for uncompensated care, all in support of the mission to save and improve the lives of as many children as possible.