Dr. Sanjeev Aggarwal is joining Beaumont Health today as chief of Cardiovascular Surgery for the Beaumont Medical Group. He also will be the physician chief of the Heart and Vascular Clinical Care Program for Beaumont and will serve as the health system's inaugural clinical innovation officer.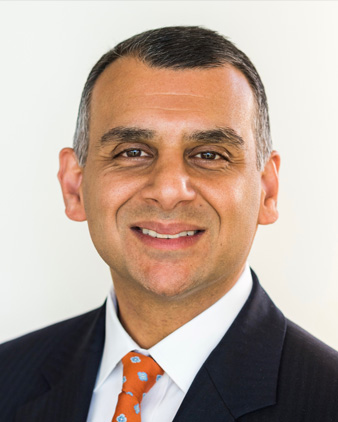 Dr. Aggarwal has been nationally recognized for his work in advanced heart failure including ventricular assist devices, as well as transcatheter valve therapies. His clinical areas of interest include minimally invasive and percutaneous valve repair and replacement, mechanical circulatory support, aortic surgery and re-operative procedures. In his role as clinical innovation officer, Dr. Aggarwal will lead systemwide initiatives around data analytics and population health. In collaboration with researchers at Oakland University William Beaumont School of Medicine and clinicians across the system, he will work to further our goals of continued excellence in clinical outcomes through data-driven analysis for the improvement of health care delivery to the Beaumont population.
Prior to joining Beaumont today, Dr. Aggarwal worked at Saint Luke's Mid America Heart Institute in Kansas City, Missouri. At Saint Luke's hospital, he served as director of Mechanical Circulatory Support and Cardiac Transplantation, as well as co-director of the Extracorporeal Membrane Oxygenation (ECMO) program. Under his leadership, Saint Luke's initiated the region's first accredited Left Ventricular Assist Device (LVAD) program for destination therapy.
Dr. Aggarwal also had faculty appointment in the Department of Surgery at the University of Missouri, Columbia University College of Physicians and Surgeons, and the University of Louisville Hospital. Among his multiple internships and residencies, Dr. Aggarwal was the chief resident in general surgery at New York University Medical Center. While at the University of Michigan, Dr. Aggarwal was the recipient of a research training grant from the National Institute of Health (NIH).
Dr. Aggarwal earned his undergraduate degree at the University of Pennsylvania, majoring in biology and minoring in chemistry and economics, and earned his medical degree from Baylor College of Medicine in Houston. He completed his residency in general surgery at New York University Medical Center, and then attended the University of Michigan for his cardiothoracic surgical training. He also completed an advanced cardiac surgical fellowship in transplantation, ventricular assist devices, and minimally invasive surgery at Columbia University-New York Presbyterian hospital in New York. Dr. Aggarwal has also earned an MBA with certification in data science and business analytics from the Massachusetts Institute of Technology (MIT).