Retiring two years ago, Tim Durand decided to turn the many hours he spent in the office into miles on his bicycle.
In the last two years, he's racked up hundreds of miles with his wife Lou Ann. The former mayor of Riverview now bikes up to 20 miles a day, exploring all of the trails and pathways in the Downriver communities along the statewide Iron Belle trail project, through the Dearborn scenic route and many others in Michigan and across the country.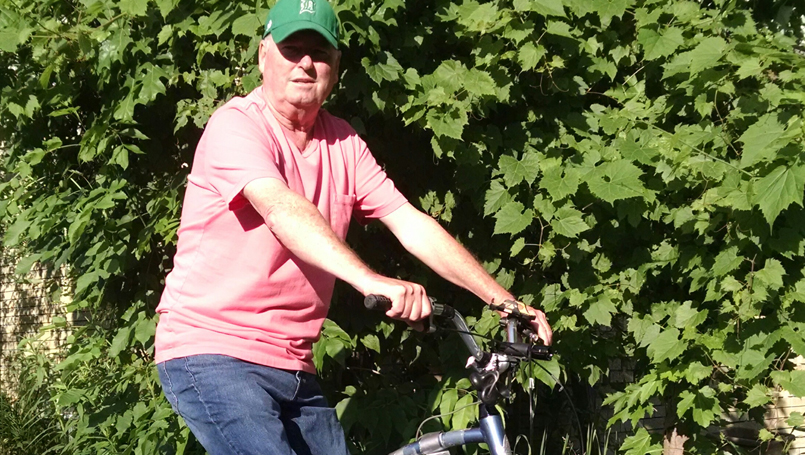 "We've ridden a lot of trails. Everywhere we know there's a trail, we ride," said Durand.
Cycling, he says, changed his life for the better, and perhaps even saved it.
His active lifestyle includes driving for a rolling pub in Detroit. Last summer, he was part of a regular group ride around the city.
"I had a group of people seated on my ride. At the end, someone tapped me on the shoulder and said 'you know you have skin cancer.' And I said 'oh my god do you think I do?' He said 'you definitely have skin cancer, I can tell.'
The person who informed him happened to be Steven Daveluy, M.D., Beaumont dermatologist.
"I called immediately for an appointment and he surgically removed the cells. Thank goodness there was a doctor on the ride who noticed right away."
Beaumont Healthy Communities expands commitment and resources
As an active member and participant in Beaumont Healthy Communities initiatives in Taylor and Trenton, he has been advocating for safer, scenic spaces for walkers and cyclists that would attract more members of the community and out-of-town visitors.
"We have done so much with Wayne County Community College because of the Healthy Taylor community program. We received a grant from the Kidney Foundation for exercise signage and we should have a path within the next couple of weeks connecting the college and Heritage Park for walkers, bikers and exercise enthusiasts," he said.
There's also a plan that has begun to take shape with the replacement of junk food with healthier food options in all of the vending machines."
On Thursday, June 8, a ribbon-cutting ceremony took place at Trenton city hall to signal another step in the expansion of the Downriver bike trail and pathway system. Eighteen new bike racks and a bike-share lane were featured as a part of the larger plan to improve and enhance the walking and bike trail infrastructure, making them more accessible to communities in the region.
Part of the statewide "Iron Belle Trail" system, the greenways and pathways in Downriver and beyond will help individuals and families stay active and healthy.
"The highest priority for Healthy Trenton is developing safe and easy access. The linked greenways system will allow us to do that and engage many families and active people as a result," said Ruth Sebaly, program manager for Healthy Trenton and Healthy Taylor, Beaumont Health.
Participating organizations and foundations also announced additional grant funding and support for the Downriver Linked Greenways initiative which is part of the enhanced bicycle network projects across Southeast Michigan.
Participating organizations and community members cut the ribbon for the new bike racks along the expanded Downriver bike trails
"With in-kind donations from our many sponsors and supporters, we are developing safe and easy access for everyone. This is a true example of what can be accomplished by a multi partnership project," said Joanne Gonyea, director of Parks and Recreation for Trenton.