Tuesday, January 17, 2017
Heart patient Bob Brozovic, a surgical assistant at Beaumont Hospital, Grosse Pointe, began experiencing chest discomfort at his home, Sunday, Dec. 11, 2016. On Monday morning, the 65-year-old Harrison Township man went to work as usual, but when the discomfort continued, a nurse sent him to the Emergency Center.
A cardiac catheterization revealed the source of Brozovic's discomfort to be an artery that was 80 percent blocked. In keeping with current best practice, he was able to receive an elective, Percutaneous Coronary Intervention, or angioplasty at Beaumont, Grosse Pointe.
PCI, or angioplasty, is a procedure that uses a catheter, balloons and stents to open blockages and improve blood flow to the heart.
Had Brozovic's heart event occurred one week earlier, he would have been transferred to another hospital for treatment.
"It was so nice to be able to stay in one place, both for myself and my family," Brozovic said. "Everything would have taken longer and been much more of a hassle. Truly. I was blessed."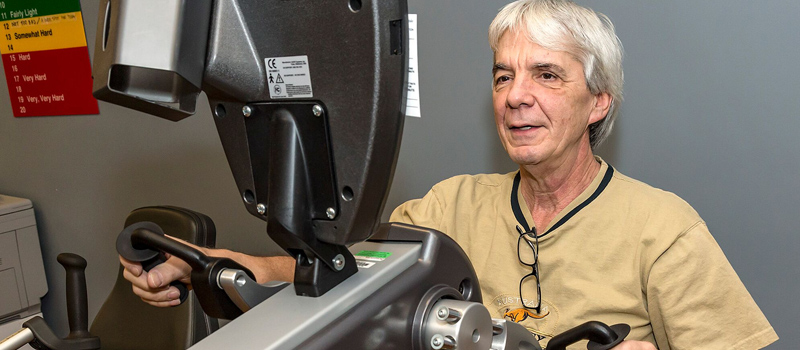 In the three years since Beaumont Hospital, Grosse Pointe, began performing emergency PCI's, they continued to transfer more than 200 patients each year to a hospital approved by the state of Michigan to perform elective PCI.
But in December of 2016, the hospital received state approval to treat nonemergent/elective heart events, such as the one Brozovic experienced.
"This is a game-changer for patient care," said Beaumont, Grosse Pointe chief of cardiology, Georges Ghafari, M.D. who is relocating part of his office, Eastlake Cardiovascular, to the new Medical Building, located directly on the hospital campus. "For Grosse Pointe patients, this means a continuity of care from a health team they know and trust."
Now, any patient experiencing chest pain, can come to the Grosse Pointe hospital with confidence their problem will be addressed locally, said Marie Boyle Reinman, director of Cardiovascular Services.
"It's a safety issue. It's a continuity of care issue. It's just good patient care," Reinman said. "We can treat anybody who comes to our door, with the exception of those who need open heart surgery."
"Patients can stay here and be cared for by their own cardiologists, primary care physicians and other specialists who know them," Reinman added.
The change was made possible by a revision in state regulation, prompted by data showing that PCI patients in hospitals without open heart surgery services, experienced equally positive outcomes compared to those with open heart services. This recommendation came from changes in the guidelines from the American College of Cardiology.
PCI uses a thin flexible tube, or catheter, to access blood vessels in the heart. In blood vessels narrowed or blocked by plaque buildup, a small balloon is inflated to push away the plaque, opening the vessel to blood flow. A stent can also be installed to keep the plaque pushed to the walls of the blood vessel, improving flow. The PCI procedure, which is performed by an interventional cardiologist, typically lasts 30 to 90 minutes.
Elective PCI is available at seven of eight Beaumont Health hospitals including Dearborn, Grosse Pointe, Farmington Hills, Royal Oak, Trenton, Troy and Wayne.
When do cardiac symptoms warrant a trip to the emergency room?
persistent chest pain, especially if it radiates to the arm or jaw or is accompanied by sweating, vomiting or shortness of breath
difficulty breathing
severe heart palpitations
atypical symptoms such as back pain between the shoulder blades
Call 911 if you experience these symptoms.
According to the Centers for Disease Control and Prevention, heart disease is the leading cause of death in the United States, accounting for more than 600,000 deaths each year.