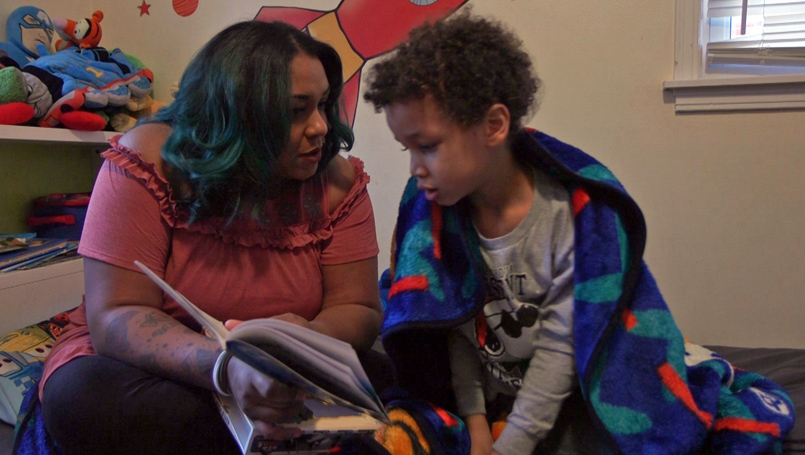 Award recognizes program that helps struggling mothers find their way
Being pregnant and having a baby is one of life's true expressions of joy and love.
But giving birth can be a scary and uncertain time in a woman's life, and can result in other diagnoses like post-partum depression. Beaumont Hospital, Wayne and Starfish Family Services have partnered for more than two decades to care for mothers, babies and families in need.
This year, Beaumont Health has been chosen by Starfish Family Services to receive its Great Hearts award to acknowledge their partnership to provide critical support to at-risk moms.
"Integrated care better serves individual patient needs," said Eric Widner, president of Beaumont Hospital, Wayne and board member of Starfish Family Services. "Integrated care really aligns with Beaumont's Patient and Family-Centered goals. Mental health and physical health are not separate issues. Our goal is to treat the whole patient and their entire family."
Sherray Rowe, of Livonia, is a local mother who benefitted from the services of Starfish experts. She and her husband have two young boys under the age of five. Soon after the birth of her second child, she began noticing changes.
"I have experienced post-partum depression. It's difficult to admit that parenting isn't always fun. It can be overwhelming; it can be chaotic at times. I was stressed out and I was not OK."
According to the American Psychological Society, about one in seven women in the United States experience post-partum depression following a pregnancy. Symptoms can include anxiety, irritability, sadness, depression, disinterest in the baby, family and friends, and in some cases, thoughts of harming oneself.
"People want to know that you care about them. That you are there in good times or bad times, and that you're there to help them. That's what Starfish represents," said Charles Cash, M.D., a Beaumont obstetrician and gynecologist. "This ongoing care and ongoing commitment is priceless."
Kristina Figaro, a licensed social worker with Starfish, visited Sherray while she was in the hospital and worked with her directly.
"I talked to her about our partnership with Beaumont and how we're home based and come to the home," said Figaro. "We weren't there to tell her what to do and how to do it, but to really support her relationship with her new baby and some of things that she felt could help her feel stronger and more confident as a mom."
Figaro understands how special and unique a woman's health needs are. The work she does every day exemplifies that, and is driven by personal experience. Figaro was also diagnosed with post-partum depression early in her motherhood, and now uses her experience to help others.
"It blew me away. So, for me, having this opportunity to help moms manage something so close and so scary at a time when they are really supposed to be amazing is pretty important to me."