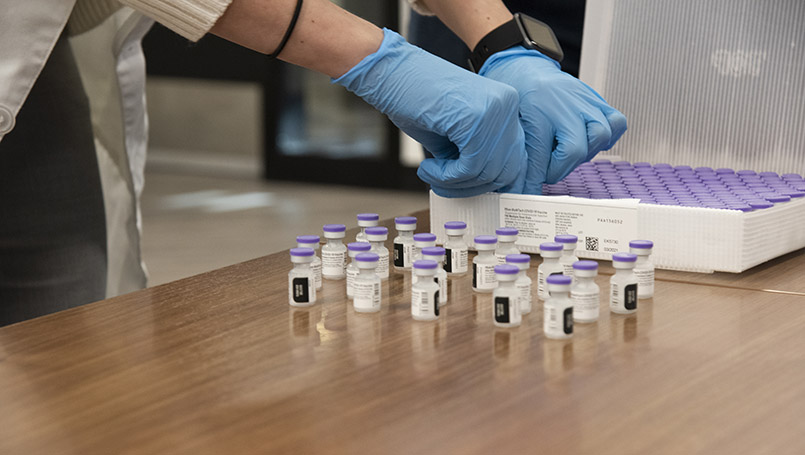 Beaumont has already administered approximately 32,000 vaccine doses and is prepared to administer as many as 50,000 doses a week if the health system receives enough vaccine from the state. On Wednesday, Jan. 20, Beaumont will open additional vaccine clinics at the health system's Troy and Dearborn campuses.
"We have the expertise and infrastructure to do so much more. Our top priority is to vaccinate as many people as quickly as possible and help end this pandemic," Beaumont Chief Operating Officer Carolyn Wilson said. "We are so proud to be able to expand our vaccination efforts."
Limited Appointments, Randomized and Equitable Process
As required by the state and federal 1B criteria, a limited number of appointments are being offered to individuals who are 65 and older. Beaumont's computer system uses an equitable, randomized process to select groups of patients who meet the 1B criteria and also have an active myBeaumontChart account. As groups of individuals are selected using this process, they will receive an email inviting them to schedule their vaccination. Beaumont's goal is to vaccinate its entire patient population as quickly as possible.
At this time, Beaumont can only schedule a limited number of vaccines next week due to vaccine supply. The health system is also cooperating with the state, health departments and other organizations to equitably distribute the vaccine to eligible groups.
To maximize the number of vaccinations each day, Beaumont must require all patients to schedule their vaccine in advance. Therefore, only people with appointments can be allowed into Beaumont's vaccination clinics; drivers or those accompanying people with an appointment will be asked to wait in their vehicle unless the individual being vaccinated requires physical assistance.
Beaumont COVID-19 Telephone Line Expanded
Beaumont has also expanded its COVID-19 telephone line (800-592-4784) for established Beaumont patients (people who have had a health care visit with Beaumont during the last three years). The call center staff will help individuals who do not have computer access schedule their vaccine appointments online. Call center hours are Monday through Friday, 8 a.m. to 5 p.m.
Call volumes are extremely high. Scheduling online is the fastest, easiest and preferred method to schedule a vaccine appointment. Please use online access if possible.
In addition, Beaumont's regularly updated COVID-19 Frequently Asked Questions include answers to many questions people are asking. Individuals who have clinical questions about the vaccine should speak with their primary care physician.
The COVID-19 call center team can assist with:
creating a myBeaumontChart account (including sending an activation code, resetting a password, etc.)
assistance scheduling patients who meet the state's criteria but do not have access to the internet
assistance navigating online scheduling after receiving an email invitation to schedule
assistance re-scheduling appointments
The COVID-19 call center team cannot:
make real-time appointments for walk-ins
schedule family members to be vaccinated at the same time
answer clinical questions about the vaccine
Again, Beaumont Health would like to vaccinate as many people as quickly as possible in a fair and equitable manner.