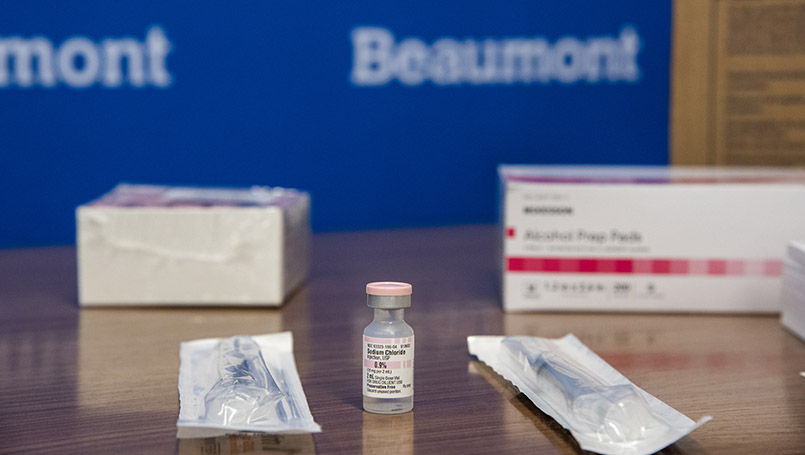 Vaccine supply remains extremely limited
Beaumont Health is prepared to open additional COVID-19 vaccination clinics and begin vaccinating eligible community members as quickly as possible as soon as more vaccine becomes available. Right now, the health system vaccinates approximately 3,200 people each day.
Starting today, a very limited number of appointments will be available to patients who meet the state and federal 1B criteria of being 65 and older. Beaumont's computer system will use a randomized process to select patients who meet the 1B criteria and also have an active myBeaumontChart account. Those individuals will receive an email inviting them to schedule their vaccination.
At this time, Beaumont can only send invitations to schedule a vaccine to patients with active myBeaumontChart accounts.
---
---
"We are committed to helping lead our state out of this pandemic and we know the vaccine is the key. I'm proud of the highly efficient clinic we launched at our Beaumont Service Center. We're ready to open two more, but we currently don't have enough vaccine to do that yet," Beaumont Health Chief Operating Officer Carolyn Wilson said.
All vaccination appointments must be scheduled. Walk-ins are not permitted.
Beaumont will continue to administer every available dose allocated by the state. The system is only scheduling for this week because it's unknown how much vaccine the state will send next week and beyond.
When Beaumont receives confirmation about how many doses will arrive next week, the health system will send additional email invitations to eligible patients to schedule an appointment.
"We are in regular communication with state and local officials and talking with them about increasing our allocations of the vaccine because we have the capacity to do so much more," Beaumont Health CEO John Fox said. "Next week, we hope to launch two additional clinics and should have the capacity to do more than 50,000 vaccinations a week. Again, this all depends upon how much vaccine we receive."
At this time, the process of inviting patients to schedule their appointments is by individual and cannot be coordinated for spouses or family members who do not receive their own individual email invitation. Therefore, it's possible a wife could be invited to schedule her vaccine, but her husband might not.
In addition, Beaumont is preparing to launch a call center to assist with answering questions and scheduling appointments. However, right now, individual questions cannot be addressed and the only way to schedule an appointment is online through myBeaumontChart.
A detailed, regularly updated, website with Frequently Asked Questions about the vaccine is available at beaumont.org/covid-vaccine.
Frontline essential workers, such as teachers, who are also part of the Phase 1B group, should contact their employer or local health department to discuss their vaccination options.