Thursday, August 31, 2017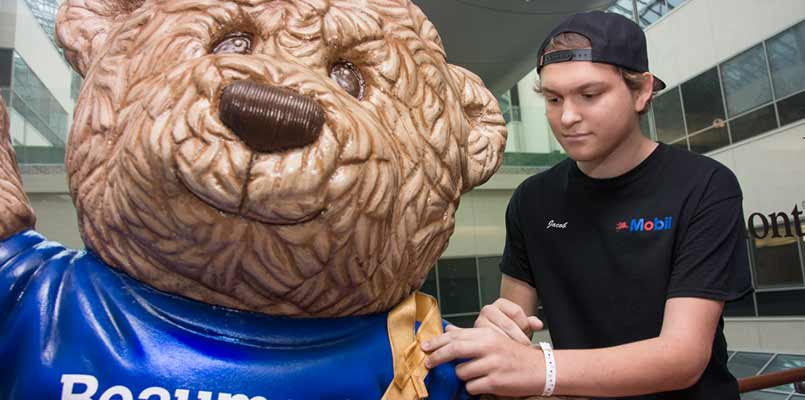 Gold ribbons; T-shirts; Troy high school football game; Twist event
In honor of Childhood Cancer Awareness Month in September, Beaumont Children's is celebrating its patients and families by raising awareness about pediatric cancers through various activities.
Some of the activities include:
The placement of gold ribbons on more than 200 trees on the campus of Beaumont Hospital in Royal Oak beginning Aug. 31
"Gold-out" varsity football game Sept. 8 at Troy High School: Troy Colts vs. Rochester High School Falcons, 7 p.m., 4777 Northfield Parkway, Troy
The sale of patient-designed T-shirts
"Twist Away Childhood Cancer" event, Sept. 21, National Twist Day, Beaumont Hospital, Royal Oak
"Dine to Donate," Sept. 25 from 11 a.m. to 11 p.m., Granite City, 699 West Big Beaver Road, Troy, coupon available at www.beaumont.org/cancer-month
"Survival rates for pediatric cancers have improved dramatically over the past 50 years," said Kate Gowans, M.D., chief, Pediatric Hematology and Oncology, Beaumont Children's. "Today, innovative treatments to battle childhood cancers, like proton therapy and molecularly targeted therapy, give us more tools to battle cancers. Beaumont Hospital, Royal Oak will soon be the first hospital in Michigan to treat some of our pediatric patients with proton technology."
Facts about pediatric cancers:
Cancer is the No. 1 cause of death from disease among children.
One in 285 children will be diagnosed with cancer before the age of 20.
One in every 1,000 18-year-olds in the United States is a survivor of childhood cancer.
In the past 40 years, survival rates have increased to more than 80 percent for children, adolescents and young adults with cancer.
"Another important role our team serves is caring for pediatric patients after their cancer therapy is complete, our survivors," said Dr. Gowans.
The very treatments that saved the lives of children with cancer can cause long-term health issues. These are called "late effects." The effects of these treatments can include cardiac and respiratory issues, vision and hearing problems, delayed growth and development and learning disabilities. Lifetime medical follow-up is important.
Beaumont Children's has a Pediatric Long-Term Follow-up Clinic that follows childhood cancer survivors into adolescence and adulthood. The goal: assist patients long after they complete their treatment. The clinic opened in 2008 to study and treat possible delayed effects of being a pediatric cancer survivor and to help patients and their families with medical issues as well as concerns related to educational access, insurance and employability. The multidisciplinary team includes a pediatric oncologist, pediatric oncology nurse navigator, pediatric social worker, child psychologist and clinical dietitian.
Lisa Muma, RN, coordinator, Pediatric Long-Term Follow-up Clinic, said, "We've made great strides, yet the fight against childhood cancers is far from over. Through the placement of gold ribbons and other events, we're working to raise much-needed awareness and to honor our brave patients and their families. I'd also like to extend a special thanks to area businesses, to the students, football players and staff at Troy High School and to the Beaumont Health team for providing support for this special observance."
Beaumont Children's offers comprehensive diagnosis and treatment for infants, children, teens and young adults with nearly every type of childhood cancer or blood disorder. New, expanded facilities and programs are in the works.
Gifts from two local families will provide new family-centered facilities and services for children, adolescents and young adults with cancer and blood disorders at Beaumont Children's in Royal Oak. The new facilities and services will be located on the new proton center's second floor and will be open this fall.
Julie and Bob Skandalaris of Clarkston are supporting the establishment of a new, expansive clinic to be named the Skandalaris Family Center For Children with Cancer and Blood Disorders. It will relocate and nearly triple the size of Beaumont's current pediatric hematology/oncology outpatient clinic, offering a spacious and relaxing setting with seven exam rooms, a shared infusion area and four private infusion rooms for patients. The center will also provide easy access for local children and those from other states traveling to Beaumont for proton therapy treatment. Proton therapy can be especially beneficial for young cancer patients, who are most vulnerable to side effects of traditional radiation therapy.
Quicken Loans/Rock Ventures founder and chairman Dan Gilbert and Jennifer Gilbert are supporting the creation of the Gilbert Family Adolescent and Young Adult Program. This multidisciplinary program will provide medical specialists, psycho-social services, financial counseling, academic and mentor support for adolescents and young adults ages 12 to 24. Patients in this age range with cancer, blood disorders or other tumor-related conditions may have special needs that may not be met solely through pediatric or adult cancer care. The Gilbert gift will help bridge those gaps with specialized programs housed in the Skandalaris Center.