Friday, November 17, 2017
Redford baby and family among first to enjoy new patient and family-centered environment
Beaumont Hospital, Dearborn has welcomed the first patients to its fully renovated neonatal intensive care unit.
Funded by a $2 million grant from The Carls Foundation, matched by an additional $2 million from the Beaumont Health Foundation, the NICU makeover provides a more spacious patient and family-centered environment and new equipment to improve care for patients.
The renovation of the 30-bed space was completed in October – just in time for the birth of Kingston Edward Stoll. Born around 4 p.m. on Nov. 2, at Beaumont Hospital, Wayne, Kingston was immediately diagnosed with a serious lung disorder. His mom, Courtney, was only able to hold him for mere seconds before he was transported to the NICU at Beaumont, Dearborn – one of the largest in the state.
Courtney, of Redford, recounted the experience: "When he came out, he was purple, so they had to give him oxygen right away and put a tube in his lungs."
Kingston had a pneumothorax, according to Derek Bair, M.D., neonatologist and corporate director of Neonatology at Beaumont, Dearborn. A pneumothorax is a disorder which causes air in the lungs to leak out through holes in the lung tissue into the spaces outside the lung airways.
"My baby is 5 days old today, and he's doing amazingly," she said. "They brought him back to life."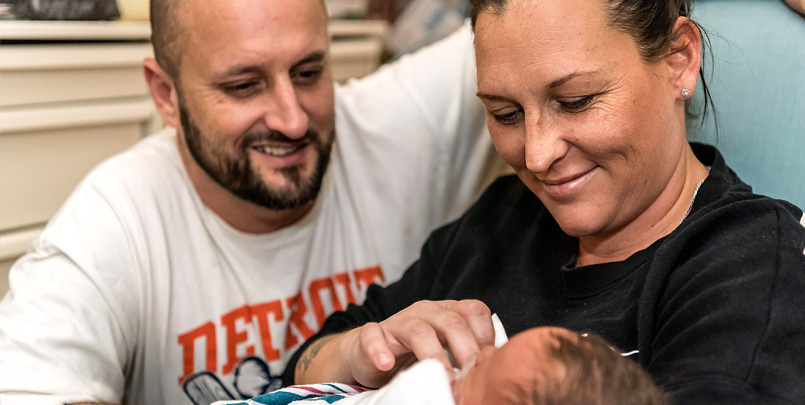 The tube was removed from his lungs, and his parents were finally able to hold him for the first time.
The NICU is where Beaumont, Dearborn's most fragile babies spend their first days, and sometimes months, of life. Babies cared for in the NICU are often premature with undeveloped organs, facing medical conditions ranging from sepsis to seizures to heart defects.
"Thanks to the grant, we've been able to purchase much-needed upgraded equipment, said Valerie Halt-Williams, clinical nurse manager of Women and Children's Health at the hospital.
The renovation took one year and consisted of six separate phases. The project brought vital new equipment to the unit, like the Giraffe incubator, a technology now available in more beds to improve care for the hospital's smallest patients, among many others.
A Giraffe Incubator is an advanced neonatal environment that promotes natural, peaceful healing, while fostering a close bond between families and their babies. It provides a canopy that moves up and down. Dr. Bair said this allows the temperature to be more accurately controlled, and humidification can be added, if needed.
Kingston, for example, was receiving photo therapy in his giraffe – a blue, therapeutic light used to better improve the baby's progression.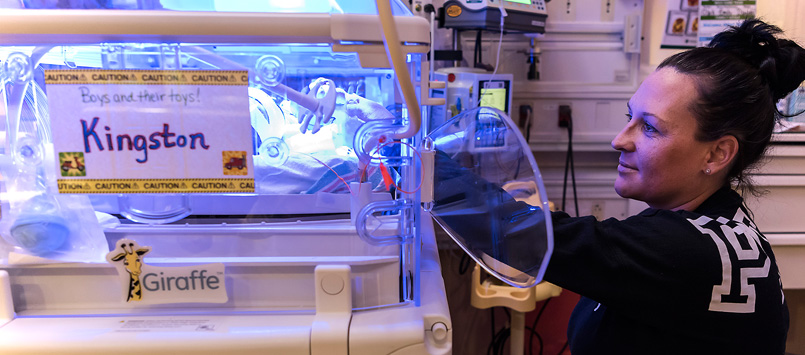 "This means a lot to us," said Halt-Williams. "We are now able to deliver great care in a great atmosphere with the best equipment."
Other renovations and equipment improvements include:
an open layout with new lighting, walls, flooring and ceilings for clinical and family areas
wider and more private spaces, including a breastfeeding prep area and a family consultation area
additional workspaces for nurses
a family waiting room with personal lockers, a secure charging station for cell phones and tablets, and a couch that converts to a bed for longer

family stays
new LED lighting with dimmers and more prominent signage throughout the hospital
an updated "going-home" room – an area designed to help families transition care of their baby out of the hospital to the home environment
Halt-Williams said privacy and comfort were a priority. "We made sure to make all areas more user-friendly by adding l storage space and comfortable furniture for families to use when visiting babies."
She added, "With modern technology, we have more access to deliver excellent care, but now in a much more beautiful facility. Our look now matches the care we deliver."