Tuesday, November 28, 2017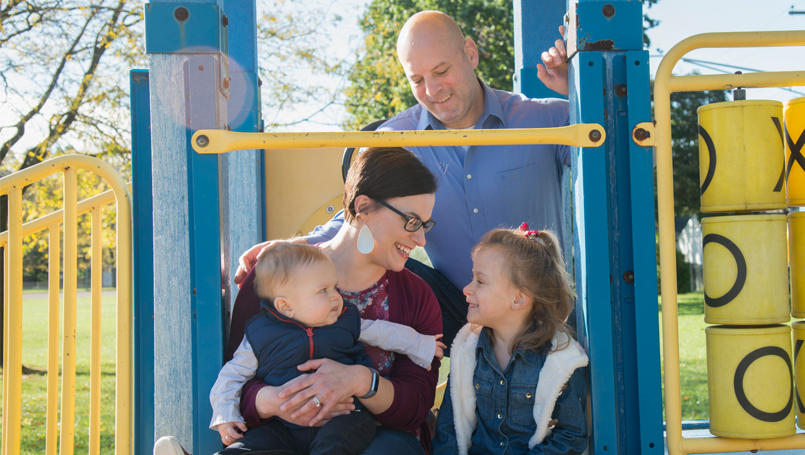 Like many first-time moms who eventually develop preeclampsia, Jennifer Berousek of Royal Oak sailed through her first 21 weeks of pregnancy symptom-free. Complications didn't surface until her 25-week appointment.
That's when a standardized test revealed protein in her urine.
Characterized by high blood pressure, preeclampsia is a condition of pregnancy that can result in serious – even fatal – complications for mother and baby.
Fortunately, Berousek's OB-GYN recognized the warning signs and rushed her to the OB Triage Unit at Beaumont Hospital, Royal Oak where her rapidly rising blood pressure was diagnosed and treated with medication.
Fetal monitoring soon revealed that blood flow through the placenta was insufficient and baby was not receiving adequate oxygen as a result.
"My blood pressure became uncontrollable, even with medication," Berousek said.
Shortly afterward, Berousek's health care team delivered little Molly, weighing just 1 pound, 7 ounces by emergency cesarean delivery.
"She wasn't breathing on her own and had to be intubated, she was very sick," Berousek said. "I wasn't able to see her for 24-hours because I was on a magnesium drip to lower my blood pressure.
All told, Molly spent six months in the neonatal intensive care unit. Years of physical, speech and occupational therapy have followed. She continues to receive physical and occupational therapy.
In the end, their final outcome was a happy and resounding success.
"I'm convinced that the alertness of our health care providers and the entire mother and baby team at Royal Oak made all the difference," Berousek said.
Many women in the U.S. aren't so lucky.
According to a recent investigation by NPR and ProPublica, 700 to 900 women in the U.S. die each year from pregnancy or childbirth-related causes each year.
Worsening U.S. maternal mortality rates contrast sharply with impressive progress in saving babies' lives. The U.S. infant mortality has fallen to its lowest point in history, according to the Centers for Disease Control and Prevention, reflecting 50 years of focused efforts to reduce preterm birth and resulting complications.
"For a long time emphasis on pregnancy care was directed toward the fetus, driven in part by major technological advances in prenatal diagnosis, fetal imaging and fetal surgery," said Beaumont Hospital, Royal Oak's, Samuel Bauer, M.D., Physician Executive for Obstetrics and Gynecology Specialties, Beaumont Medical Group.
"It's only been in the last few years the national spotlight has expanded to include mothers through the American College of Obstetricians and Gynecologists and the Society for Maternal-Fetal Medicine."
Beaumont Health was among the first to embrace that focus in 2010 when the American College of Obstetricians and Gynecologists initiated new guidelines calling for close postpartum, maternal monitoring, Bauer said.
Fueled in large part by Bauer's leadership, and his participation in various local and regional task forces, including the Michigan Alliance for Innovation on Maternal Health, protocols for screening, treating and managing hypertension during pregnancy followed closely behind.
Another best standard of care to which Beaumont closely adheres to is the routine screening in women with increased risk factors for preeclampsia, such as carrying multiples, diabetes, autoimmune disease, lupus and obesity.
Significant training for a strong, total team approach to safety standard implementation. Close, postpartum follow up – mothers are required to see their physician within the first three to five days of delivery – is required with the expectation of catching complications before they take root.
Educating patients as to the risks of preeclampsia must be part of the solution, Dr. Bauer stressed.
"The goal is for patients to be active participants in their own care," Dr. Bauer said.
With experience serving as the ultimate educator, Berousek, husband Jared, and their entire health care team was well-prepared for Baby No. 2.
Berousek was prescribed a daily dose of baby aspirin and blood pressure medication early in her pregnancy. She used a blood pressure cuff at home daily and at week 30 began weekly doctor's visits.
"With my health care team, led by OB-GYN, Dr. Jennifer Kaiser-Blase, there was a heightened awareness and very close management of my condition," Berousek said. "We would never settle for anything less."
When her pressure started to spike, she spent weeks 25 through 29 in the hospital, 30 and 31 at home before heading back to the hospital and delivered Baby Oliver by cesarean delivery at week 34 when her blood pressure and liver enzymes started to skyrocket.

He weighed 4 pounds 13 ounces and spent just 7 days in the NICU and required no follow-up care.
"We were thrilled and grateful that he was healthy at birth, and did not require any major medical assistance," Berousek said. "Obviously knowing my diagnosis, and the safety standards in place, made a big difference."

Molly celebrated her 5th birthday Oct. 16 and Oliver celebrated his first Oct. 28.
Though Molly still receives occupational therapy for fine motor skill development, "You would never know she came into this world so early or small," her proud mamma said.
"We are doing some really good work here at Beaumont," Dr. Bauer said. "In the region, we're on the forefront for instituting life-saving protocols and preeclampsia prevention strategies."
"Pregnant moms and their families can rest assured that Beaumont Health has many initiatives in place to protect them," Dr. Bauer added.