Tuesday, December 18, 2018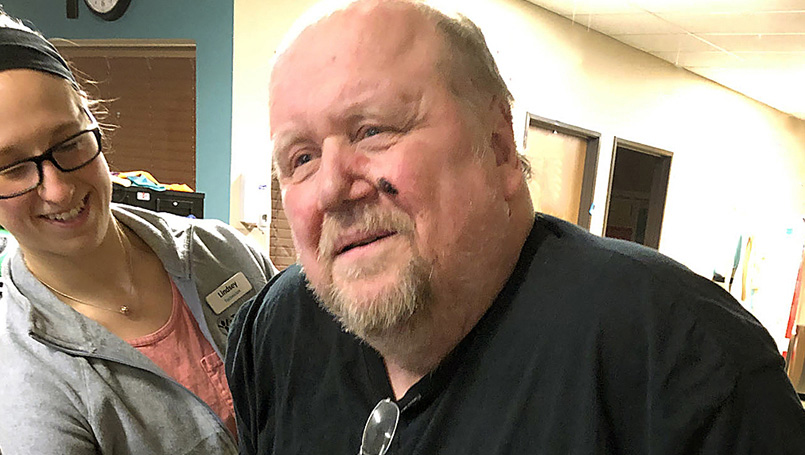 James Eiter, 68, doesn't remember much about that fateful day. In the blink of an eye, a horrific automobile accident changed his life. He'd later learn the quick actions of firefighters, EMTs and a Beaumont Trauma Team saved his life.
The impact of the crash flipped his car, pinning Eiter inside. It took time, but firefighters successfully used the Jaws of Life to extricate him. He was then rushed to Beaumont Hospital, Troy.
"Clinically, I was dead," said Eiter of Rochester Hills. "They thought they were working with a corpse. The EMTs, fire department and tow truck driver didn't think I'd survive."
The Trauma Team at Beaumont assessed his vitals and multiple injuries, including fractures to both legs and ribs. A trach was inserted in his throat and he was put on a ventilator. Hours later, Eiter's condition became more life-threatening when the stress and trauma from his injuries triggered a massive heart attack.
Interventional cardiologist, Steven Almany, M.D., recalled, "We discovered the artery in front of his heart was closed, or blocked. His blood pressure was dropping, crashing. He was going into shock. I ordered blood thinners, which is risky with a patient who has fractures and internal bleeding, but he was dying."
Dr. Almany knew his only chance of saving Eiter was the use of the world's smallest mechanical cardiovascular support system called Impella. The left ventricular assist device is inserted in a groin artery by catheter and snaked up to the heart. It helps the heart pump blood. The minimally invasive procedure supports circulation and reduces the heart's workload. The device can pump about 2.5 liters of blood per minute, maintaining blood flow and blood pressure.
"His heart function was going to nothing," said Almany. "I told his family that there was a 70 percent chance he was going to die."
Dr. Almany was relieved the device stabilized Eiter's heart. This allowed him to open the blocked artery. The Impella was left in place for three days.
"I've never used the Impella device in a patient with broken bones in a trauma situation," admitted Dr. Almany. "It's a miracle. I thought he wouldn't make it. This is the biggest save I've ever had. It's a tribute to technology, communication and collaboration. Everyone worked together."
Patricia Pentiak, M.D., trauma critical care surgeon, Beaumont, Troy, agreed with Dr. Almany, "This case was a big deal. It took a large team effort to care for Mr. Eiter immediately after his accident and beyond."
Eiter, a retired automotive engineer, is grateful for the care received, "Just brilliant. They worked together to save me. I'm benefitting from their expertise and technology."
While it has been six months since the accident in June, Dr. Almany says Eiter's heart function is back to normal. Because of the severity of other injuries, he is recovering in a long-term care facility. He is scheduled to undergo reconstructive orthopedic surgery in February. Eiter's goal is to get back on his feet by early June 2019.
The father of two daughters and two sons is looking forward to attending sporting events again: football, basketball and hockey games. Eiter also looks forward to spending more time with his young grandson.