Thursday, January 10, 2019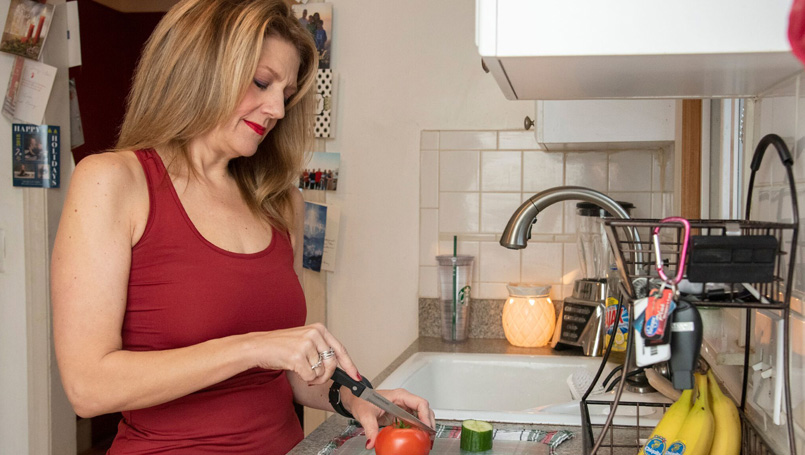 A series of terrible events threatened to permanently disrupt Jennifer Pillars' life. She and husband, Steve, lost their jobs twice, which depleted their retirement savings, then had to pay for $20,000 in property damage following a historic flood.
Finally, just before Christmas, Steve died in his sleep at their Royal Oak home.
"He was my husband for 19 years, my first love and my best friend," Jennifer said.
It was 2014 and Jennifer wondered how to move forward after facing so much tragedy.
Her weight climbed as her grief and loss multiplied.
She was determined, however, to rise from the fear and devastation to build a better life for herself and her 15-year-old son, Erik.
Pillars began to faithfully visit Beaumont Weight Control Center Nurse Practitioner, Rachel Blind, and psychologist, Michele Meyers, monthly to jumpstart a 75-pound weight loss process. She also tried center support groups and various other tools and strategies.
But it took nine months before she fully committed to the program.
At about the same time, Jennifer published "My first year of Grief: Widowed, Broke, Finding Hope" on Amazon with the encouragement of family and friend in July of 2016.
"I got to a point where I could breathe and believe: 'I can do this,'" Jennifer said. "I wanted to give something to other people in my situation who were feeling the same kind of panic and loss."
Partially comprised of inspiring Facebook posts, the book chronicles Jennifer's journey back from the worst year of her life and is filled with messages of love and hope.
Jennifer also resolved to make one healthy change in her eating habits - giving up that morning muffin at Tim Horton's.
Soon afterwards, she joined a gym and combined better eating habits with consistent cardio and strength training. She wrote down everything she ate.
In September 2016, she and Erik traveled to California to release Steve's ashes in the Pacific Ocean. They played Steve's favorite Rush songs and Styx' "Come Sail Away" as they said goodbye.
"After that, I knew I was ready to start Chapter II," Jennifer said.
Jennifer met her now boyfriend a few weeks after returning home. She started losing weight so quickly and consistently, she bought a new pair of jeans every two weeks.
In April 2017, nine months after giving up that morning muffin, she reached her weight loss goal.
"I got down to a size 8, then 6, 4, 2, 0, and now juniors," she said. She consumes between 1,200 and 1,400 calories a day. "I feel like I'm 17 again. I have incredible energy and my mood is hugely improved. I used to buy clothing to hide myself, because I was ashamed of the additional weight I had put on while grieving. Now, I wear form-fitting outfits with confidence. No more hiding."
Early on, Beaumont Weight Control Center Nurse Practitioner Rachel Blind said Jennifer was completely honest about not being ready to make changes.
"But, she came regularly and relied on our team to give her support," Blind said. "She was always clear about wanting to feel better. When she finally jumped in, she never looked back. Jennifer was receptive to recommendations, mindful of everything she put in her mouth and kept track of everything she ate. She was accountable to herself."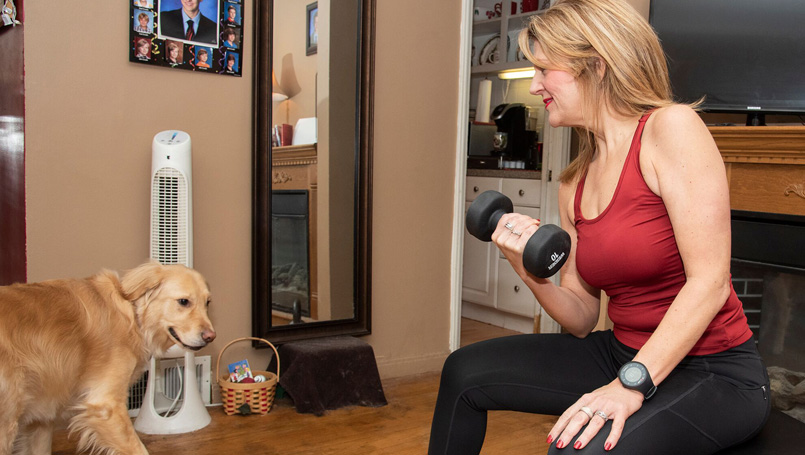 Blind remembers with fondness the day Jennifer came in and told her she had signed up for her first half marathon.
"Then, she just went out and did it," Blind said. "She stuck to the training."
"Every person is different," Blind continued. "We have to figure out our own barriers and resistance to weight loss and work through them. Jennifer did just that."
Now, more than three years later, Jennifer, 48, continues to rely on center staff for support.
"I asked Rachel if I could keep coming back after reaching my goal and she said: 'Of course!'" Jennifer recalled. "Coming here holds me accountable and I appreciate the personalized attention and encouragement. I'd like to keep coming back indefinitely, until I feel comfortable and confident that I won't go back to that weight and lifestyle."