Wednesday, February 14, 2018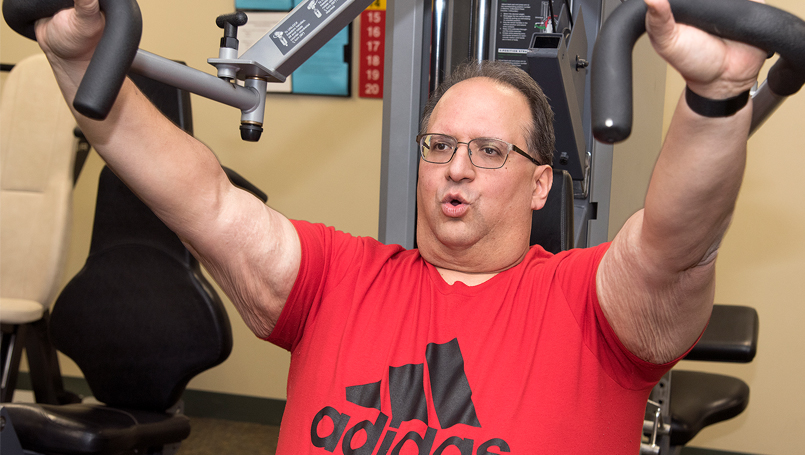 For Beaumont weight control patient Tony Desmond of Waterford, bariatric surgery has been a powerful tool in the weight loss journey he began in June 2017.
But, it isn't the only force behind the Waterford man's 92-pound weight loss.
"The key to my success has been in learning how to do something other than reach for food when I'm anxious or upset," said Desmond, who lost 40 pounds leading up to his Nov. 9 gastric sleeve surgery. Beaumont Hospital, Troy, Weight Control Center staff, located at the Health and Wellness Center in Rochester Hills, introduced helpful strategies and encouraged accountability. "I use a combination of distract-and-delay techniques that I learned through the program; I remind myself to live in the moment and think through why I'm reaching for food before I do it."
His wife, Bobbe, is a constant source of support. The friendships and camaraderie he's built through weekly support group meetings at the Weight Control Center have helped Desmond cement his commitment.
Desmond's exercise program includes walking 6,000 to 7,000 steps every day and 75-to-90 minute workouts at the gym three to four days a week, including weightlifting and cardio.
He continues to meet regularly with Weight Control Center staff, including physician, Wendy Miller, M.D., medical director, Beaumont Weight Control Centers, dietitians, psychologists and exercise physiologists.
"My personal problem with food has never been quality," Desmond said. "I've never had any problem eating peaches over ice cream or potato chips. Quantity is the problem. Once I started, I couldn't stop. I used food to compensate for other things."
Surgery did two things for Desmond: it limited his food cravings and reduced the amount of food he could eat.
"It did not eliminate the habit of my constantly reaching for food," Desmond said. "That's something I have to figure out and work on every single day."
Since losing weight, Dr. Miller said Desmond has successfully shed medications he used to control blood pressure and diabetes.
"His progress has been significant," Dr. Miller said. "And his wife, Bobbe, has been a big part of that."
In addition to occasionally attending support group meetings with Desmond, Bobbe encourages him to maintain his daily fluid intake and meet protein goals; similarly she does not sabotage his efforts by bringing home inappropriate foods.
"External support is very important," Dr. Miller said.
In the spring, Desmond hopes to join his fellow support group members in 5K walking events throughout the area.
He is also planning a hiking trip to Colorado and a scuba diving trip to Hawaii.
"Scuba diving is something my wife and I love to do," Desmond said. "But at my previous weight, it had become impossible. I didn't have the energy or stamina any more. Making plans to get back into it is a dream come true."
---
On Feb. 27, Beaumont Hospital, Troy, will host "Living Well: How to Achieve a Healthy Weight and Lifestyle", a free event in the Qazi Auditorium within the Moceri Learning Center, 44201 Dequindre, in Troy. Doors open at 5 p.m. and presentations begin at 5:45 p.m.