Wednesday, February 20, 2019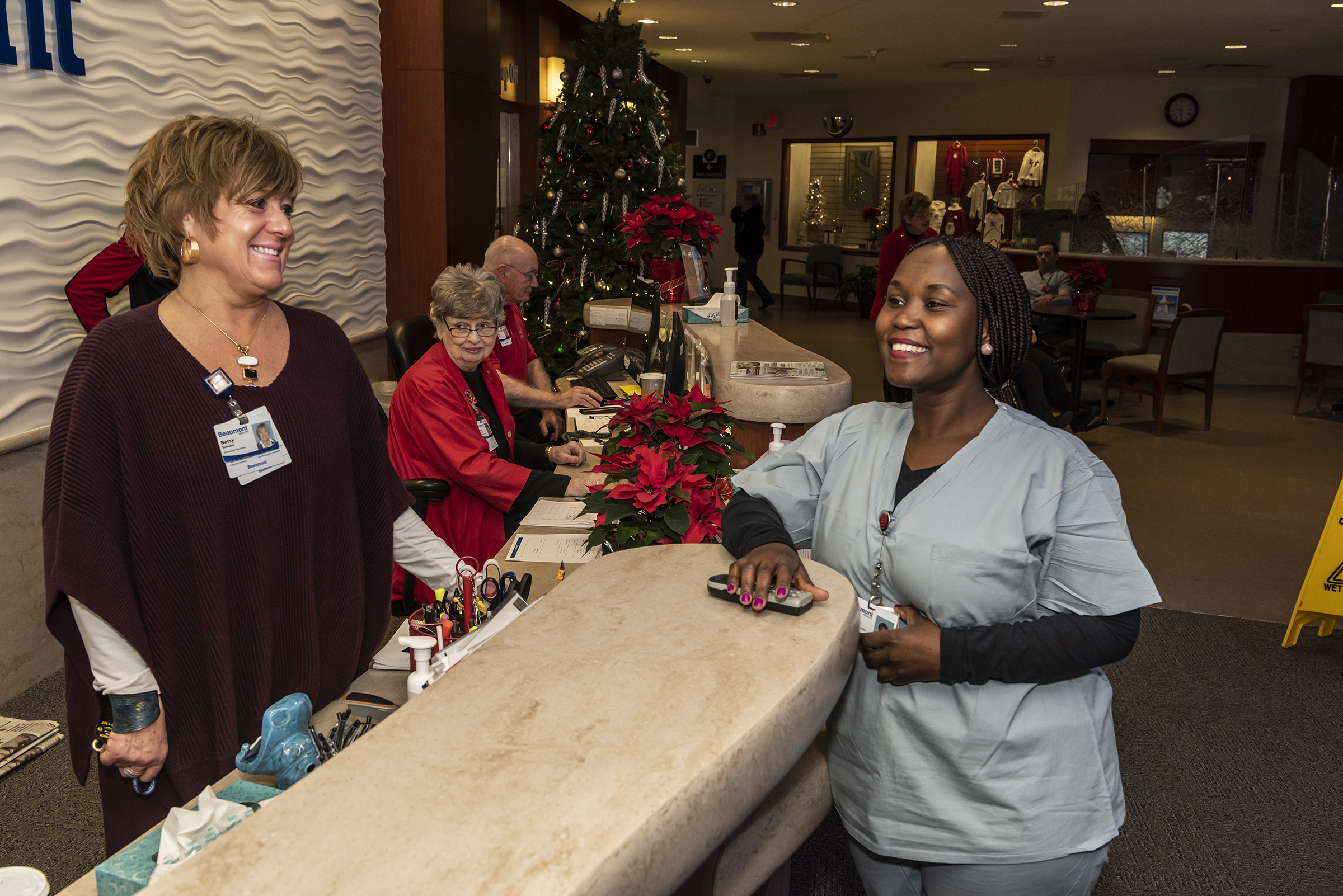 When Jalia Nakayemba fled to the U.S., she was escaping violence in her home country, Uganda. Just 24 years old, she spoke halting English, had no money, driver's license, work permit, family or friends to guide the way.
Fortunately, Nakayemba found Freedom House in Detroit, a nonprofit organization that provides shelter and a fresh start for political asylum seekers. It was 2016.
"I was scared and didn't know what to do next," said Nakayemba, who worked as a guidance counselor at a mental health institution in Uganda before fleeing. "I missed my family and my home."
Then, she met Betsy Schulte, director of Volunteer Services for Beaumont Hospital, Grosse Pointe.
Schulte, who had grown tired of idly watching the plight of refugees unfold on the evening news, had started volunteering at Freedom House.
"I wasn't sure what I could do yet, but I knew I had to do something," Schulte said.
A new life story
The 27-year-old is now employed full time in Materials Management at Beaumont, Grosse Pointe. She owns her own car and drives to work, sharing a nearby apartment with a fellow asylum seeker and hospital employee.
In her "free time," Nakayemba works a second, full-time job as a caretaker at an assisted living facility.
"I'm busy, and life is not exactly easy, but, in three years, I've achieved a lot," Nakayemba said proudly. "I am independent. And, I'm helping take care of my family."
It all started with Schulte giving Nakayemba an opportunity to work as a front desk volunteer at Beaumont, Grosse Pointe.
It was a win-win situation – it got Jalia out into the community, gave her a chance to improve her language skills, make friends, gain confidence and valuable work experience. In turn, Beaumont, Grosse Pointe received a hard-working volunteer, eager to prove her worth.
"Her work ethic and personal drive is amazing," Schulte said. "At one point, she was taking two buses to get here from Freedom House in Southwest Detroit. She was never late, even during snowstorms."
Staff have rallied to support Nakayemba by treating her as part of the team, at work and off the clock.
Schulte said, "It's gratifying to see how much Jalia has come to mean to her co-workers. The whole department has grown closer since she arrived."
"I like it here," Nakayemba said smiling. "I'm one of the lucky ones."
Paving the way for others
Since Nakayemba began volunteering in June 2017, Schulte and the staff at Beaumont, Grosse Pointe, have paved the way for nine Freedom House residents to volunteer at the hospital, six of whom have been hired as employees.
Deborah A. Drennan, executive director of Freedom House, which in addition to food and shelter provides much needed legal aid, health care and job training, said the partnership with Beaumont enables residents to work in environments like the ones they left behind.
"Typically, asylum seekers are highly educated professionals, lawyers, teachers and health care providers who cannot easily step into roles they once held in their home countries," Drennan said. "They have much to offer not only in ability, but also in character. They are nurturing to others facing challenges, because they have also faced challenges."
Schulte is working with Beaumont Chief Nursing Officer Susan Grant to expand the volunteer-to-work program throughout the health system.
"Teaming with the residents of Freedom House is an opportunity to tap into a rich and unique talent pool of local resources," Grant said. "It enables us to build on our commitment to provide extraordinary, compassionate care to our patients and families every day."