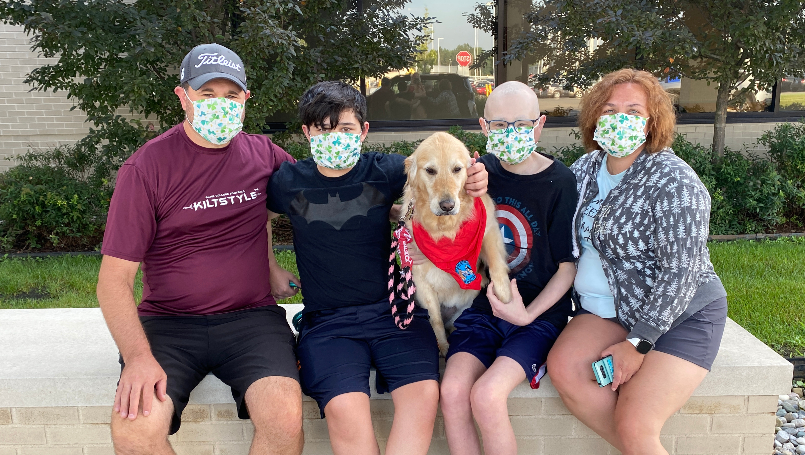 Beaumont Health honors life-changing friendship on National Animal Therapy Day
Beaumont Hospital, Royal Oak, therapy dog handlers Cindy Collon and Sandy Narowitz were leaving the Proton Therapy Center with their dogs, Olive and Rex, after a long day of volunteering. Just as they were about to exit, a young boy ran up to them to play with the dogs.
"To think if we would've just kept walking," Collon said. "But we stopped. I'm so glad we stopped."
The then 12-year-old Deacon Orlowski told them he would be coming down from Midland every day for the next eight weeks to receive treatment.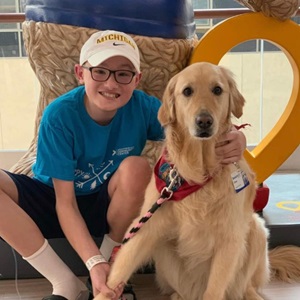 Collon recalled Deacon saying excitedly that he would see them tomorrow, and without hesitation, she replied, "Yep! Yep, you will!"
Just like that, a life-long friendship was born.
For the next eight weeks, Collon and Olive would go to Beaumont every day to see their new buddy Deacon and help him get through his treatment. Up until that time, the pair typically volunteered two days a week.
"If him knowing that he was going to see the dogs helps him get up at 5:30 in the morning, jump in the car and get here, we're going to do it," Collon said.
Deacon battled his diagnosis of rhabdomyosarcoma (RMS), a rare type of cancer that forms in soft tissue and most often affects children, for the next three years. But he wasn't alone in his battle - his new friend, Olive, was right by his side through it all.
Olive was there when Deacon needed to get his CT scans. They had a fun tradition where both dogs, Olive and Rex, would meet Deacon in the parking lot and walk him over to the South Tower to receive his scans.
"He thought it was pretty cool to have these two dogs escorting him through the hospital," Collon said. "We called him our VIP."
Olive was also there on the days Deacon had no appetite and needed some extra convincing to eat. His mom cut him a deal that if he'd eat a hash brown, then he could get Olive a hash brown.
The connection between the duo was undeniable.
"When patients walk by, Olive will be happy, and she'll want to say hi," Collon said. "But with Deacon, it was just sort of a different greeting than it was with anybody else."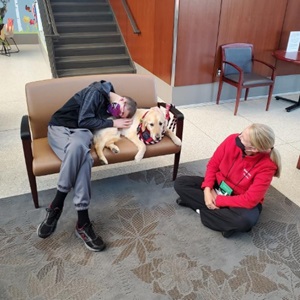 Olive was there for the good times and the belly rubs, but she was also there on the most difficult of days, like when doctors needed to access Deacon's port for him to receive treatment.
"There was one day he was just really nervous about getting accessed and they let Olive come into the room," Deacon's mom, Kori Orlowski, said. "He held her paw, and it just helped settle him enough that he was able to be accessed like a champ."
And when doctors were forced to break the news that Deacon's cancer had metastasized, Olive was there for Deacon and his entire family.
Deacon lost his battle with cancer on Jan. 15, 2022, and, in turn, Olive lost her best friend.
"When we lost him, it was very hard coming back," Collon said. "I actually would not come in this door because Olive would constantly be looking for him and even now, if I say his name, you'll see her ears perk up and she kind of looks around."
Like Olive, Collon had also grown close with Deacon's family, especially his mom, Kori Orlowski.
"I don't think there are really words to describe Cindy and what she did for us," Orlowski said. "It was more than volunteering at that point. You're giving everything. You're giving your heart. In a world that so desperately needs kindness, she was the definition of that."
To show her appreciation, she drew a picture of Olive and Deacon together paw-in-hand that remains hanging in the Collon household.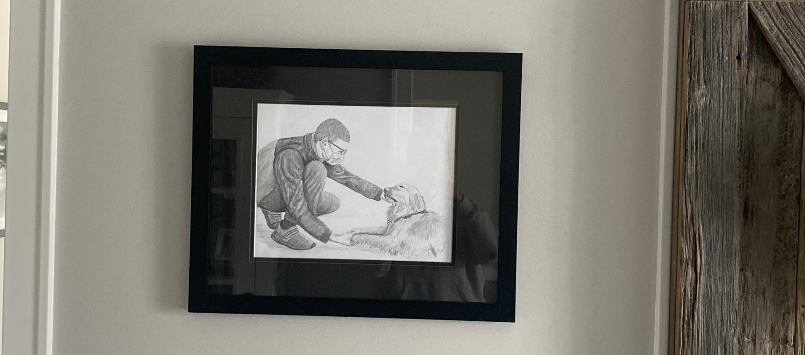 "I just wanted to capture what I saw every day and give it to her as a gift because there was just no way for me to repay someone's kindness like that," Orlowski said.
Collon describes Deacon as an enormous, walking heart who always put others before himself.
She said he was the kind of kid who would get flowers delivered to his room, but he wanted to give them away to the other children in the hospital. He always wanted to make others feel better.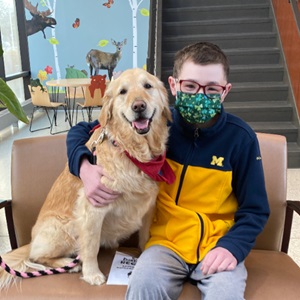 Orlowski said the relationship between her son and Olive was special. She gave Deacon something to look forward to during his last three years on this earth.
"Knowing that you're going to be greeted by a cheering section and love and kisses and hugs and all sorts of stuff makes that almost two-and-a-half-hour trek easier," Orlowski said. "He looked forward to seeing them. It's like you were being greeted by your family."
She said a gesture as small as stopping to say hello, like Collon did, made a world of difference.
"The smallest gesture, in our case, was life-changing," Orlowski said. "It can be a grand-scale thing without you even realizing it, which I think is even more beautiful."