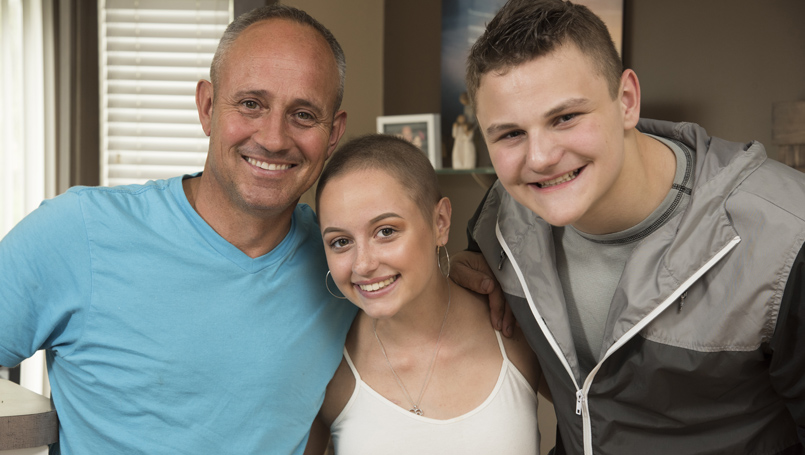 Makenzie Czapski, 16, of New Haven, carries her mom's bright spirit with her wherever she goes. Whether it's out to dinner with her boyfriend, to cheer practice with the team at L'Anse Creuse North High School or to chemo and immunotherapy appointments at Beaumont Children's in Royal Oak.
People see Denese Czapski in Makenzie's sunny smile and attitude. And Makenzie feels her mom's presence in a sterling silver pendant engraved with a special message – "I will love you always and forever – Mama," that she wears around her neck.
"The necklace makes me feel closer to my mom, like she's here with me," Makenzie said. "I always wore it during treatments."
Nausea, vomiting and excruciating stomach pain landed Makenzie in the Emergency Center at Beaumont Hospital, Royal Oak, Dec. 17, 2017. Next day surgery revealed a bowel obstruction - which was removed - and a malignant tumor. Follow-up testing indicated both were caused by Burkitt lymphoma, a rare and aggressive form of non-Hodgkin lymphoma.
After her examination, the Beaumont team worked with Makenzie and her family to develop a plan to beat the cancer.
"It wasn't the best news," said her father, Robert. "But, Makenzie handled it like a champ. I am so proud of her positive, can-do attitude, when we first received the diagnosis and throughout her treatment. She's a fighter."
Makenzie said, "I'm always thinking to myself, 'It could be worse.'"
That fighting spirit is also something her mom passed down to her, she said. Denese's brave battle with cancer continues to serve as a powerful inspiration for Makenzie. Denese died in April 2016 of brain cancer.
"My mom was really strong," Makenzie recalls. "I remember what she went through. I tell myself, 'If mom can do it, you can do it, too.'"
Karen MacDonald, Beaumont pediatric hematology oncology nurse practitioner, has experienced Makenzie's determination firsthand.
"Some kids can be negative. It's understandable," MacDonald said. "That's not the case with Makenzie. Makenzie draws strength from her mom and everything her mom went through. Their mother daughter bond can never be broken. But she also draws strength from her dad and sister, family and friends.
"Makenzie is a bright, caring and capable young lady," MacDonald added. "But we want her to know we are here to support her."
Samir Jamil, M.D., pediatric oncologist for Beaumont Children's is especially impressed with Makenzie's willingness to cooperate.
"Makenzie rolls with the punches, she never complains," Dr. Jamil said. "That's not something we see all the time. She takes her medication. She comes to her appointments. What her mom went through has helped her cope. She is a strong young lady. We recognize her strength, we celebrate it. And we are here to help."
Makenzie, who was home-schooled this last semester, used the down time during her treatment to further develop her cooking skills.
Test results following her three-plus month treatment schedule, which included chemotherapy and immunotherapy, indicate the cancer is no longer active. Close follow-up will continue.
She is looking forward to continuing to develop her cooking skills, eating – steak and lobster are among her favorites -- returning to school, the gym, the cheer team and spending time with family and friends.
"I am definitely ready to take on the world and whatever it has in store for me," Makenzie said. "I'm very excited for the summer. I feel ecstatic."