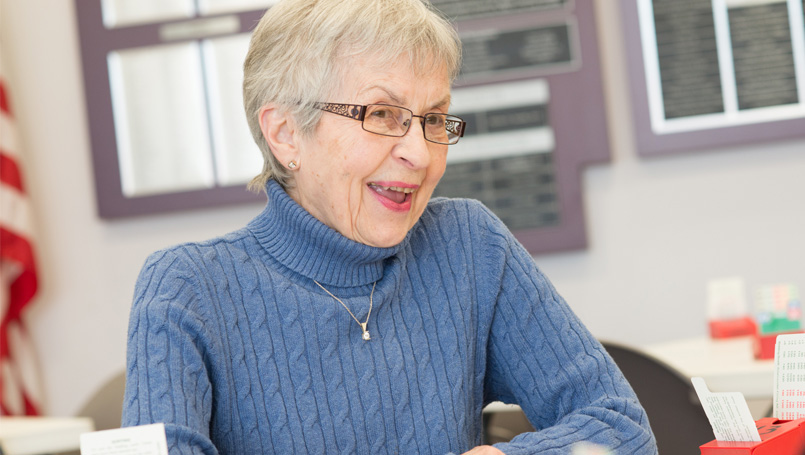 Ginny Donnellon, 82, of Port Huron, can rest easy knowing she won't experience the bleeding issues, inconveniences or dietary limitations that come with using a blood thinner for her irregular heartbeat, or atrial fibrillation.
In August 2016, her Beaumont cardiologist, Steven Almany, M.D., recommended Donnellon get an innovative heart implant called the WATCHMAN. A-fib can cause blood clots that can travel to the brain and cause stroke.
The WATCHMAN prevents clots related to a-fib, just as well as blood thinners, but without risk of bleeding, a common side effect of blood thinners.
"I felt very relieved after the procedure," Donnellon said.
The device works by filtering blood that travels within the left atrial appendage of the heart, or the LAA, a spot where blood collects, causing clots.
Being on her prescribed, blood thinner medication required Donnellon to visit a local lab twice monthly for blood draws and testing. Green vegetables, including broccoli, Donnellon's favorite, were eliminated from her diet because the Vitamin K they contain interfered with her prescribed medication.
Like many others who take blood thinners, Donnellon experienced bleeding issues, including significant nose bleeds and blood in her stool.
"These issues made taking blood thinners very risky, despite the benefits of preventing stroke," Dr. Almany said.
While blood thinners reduce the risk of stroke by 70 percent, Dr. Almany said, 40 to 45 percent of those who should be taking them, don't; often because they can't tolerate the side effects.
"The great thing about the WATCHMAN is that research shows it works just as well as blood thinners at preventing stroke – but without the complications," Dr. Almany said.
Donnellon said, "After Dr. Almany told us about the WATCHMAN, my children went online to research it. When I found out what they learned, I knew I had to have it."
In 2007, Dr. Almany with fellow Beaumont, Royal Oak cardiologist, George Hanzel, M.D., director of the cardiac catheterization lab, performed the second WATCHMAN implantation in the country.
Since then, cardiologists from around the world have come to Beaumont, one of just three training centers in the United States, to learn how to implant the device. Unlike patients who use blood thinning medications to prevent stroke, WATCHMAN recipients do not require twice monthly blood draws; nor are they negatively affected by consuming foods that contain vitamin K.
A-fib is a common problem for older adults, Dr. Almany said. More than 2.5 million Americans live with this condition, including eight to ten percent of those over the age of 80. Of all strokes in patients 80 and over, 30 percent are triggered by a-fib. Twelve percent of those strokes cause death and 40 to 50 percent cause significant disability.
"Sharing this device with patients who have no other option is beyond rewarding," Dr. Almany said. "To be able to improve a patient's life so dramatically is not something a physician can accomplish every day."
The 50-minute procedure requires a one-night hospital stay.
Dr. Almany encourages patients diagnosed with a-fib to make an appointment with a doctor who can help them explore their options.
These days, Donnellon is enjoying her newfound quality of life to the fullest. In addition to spending time with family and friends, Donnellon takes water aerobics classes and plays bridge every week with her friends at the St. Clair County Council on Aging in Port Huron.
"If you've been diagnosed with a-fib like I have, ask your cardiologist about the WATCHMAN, "Donnellon said. "I recommend it to my family and everyone."
Talk to your Beaumont cardiologist to learn more about the WATCHMAN implant and if you are a candidate.