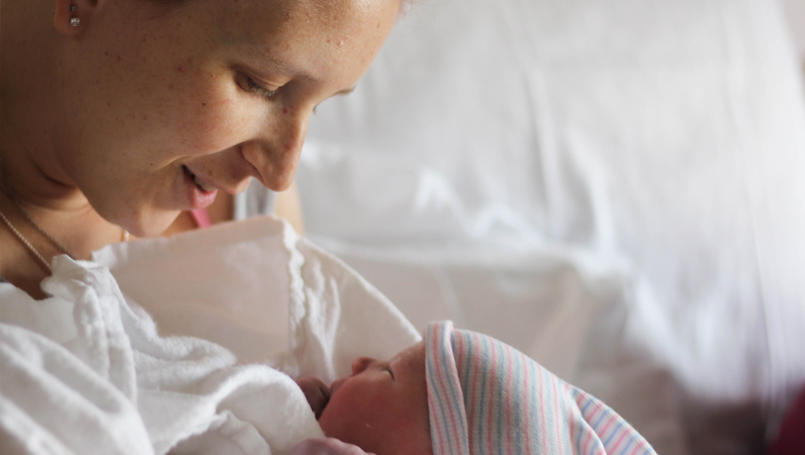 It wasn't the queen-size beds, deep, sparkling tubs or waiting room fireplace that brought sisters Ashley Teeter, 28, and Joslyn Miller, 35, both of Chesterfield Township, to the Karmanos Center for Natural Birth at Beaumont Hospital, Royal Oak for their third and fifth respective deliveries.
These experienced moms did not want to be attached to an IV pole during labor.
They wanted to get up, walk around and use a birthing ball. Ashley wanted a nurse to hold her hand during labor if needed. Joslyn wanted space.
Both wanted to be respected and feel safe, no matter how their labor progressed.
While the natural birth staff is holistically trained in healing touch, hydrotherapy and massage, the center is nestled beside the traditional labor and delivery unit, which provides ready back-up with its highly trained team of neonatal specialists - just in case.
"I experienced a lot of tearing with my second baby," said Ashley, who after delivering her first two children in traditional settings, turned to certified nurse midwife, Emily Dove-Medows and the Karmanos Center for Natural Birth.
"I loved working with a midwife, especially Emily, she was really there for me," Ashley said. "And as for the natural birth center, I feel like I was heard and respected there."
When Joslyn became pregnant, Ashley referred her sister to Emily and the Karmanos Center as well.
"I had some bad experiences with previous births," Joslyn said. "Inattentive staff was the biggest problem. When Leland was born, I was only able to hold him for two minutes before he was whisked away. I didn't see him again for five hours."
This time, Joslyn wanted to move her legs and use the restroom during labor, which meant she did not want an epidural. Moms who deliver in the Karmanos Center do not receive pharmacologic pain intervention.
Inside the center, it just seemed like a whole different world. Kind of like having your baby at home.

Joslyn
"Inside the center, it just seemed like a whole different world," Joslyn said. "Kind of like having your baby at home."
When the time for Ashley's labor rolled around in August 2016, everything progressed smoothly at first. But towards the end of her labor, she got really tired and began to ask for an epidural.
"Ashley was uncomfortable and she hurt," Dove-Medows said. "As midwives, we're taught to talk things through with the mom and the family and assess the clinical situation. 'Does she need extra encouragement and oomph? Or is it something more?'"
"In Ashley's case, baby was doing great, she was doing great. We decided she just needed to get through that last little bit in order to have the delivery she wanted," Dove-Medows said.
"I was in a lot of pain," Ashley said. "The staff rolled me over into a new position and Emily was right there talking to me the whole time: 'You've got this. You can do it.'
"And I did," she said. "I got through it and delivered naturally. It was amazing."
When Joslyn went into labor in December, things were off-kilter from the onset.
Her labor was stop and go. And instead of feeling pain upfront as was the case with her first four children, all the pressure was on her back.
"It felt totally different. It was a lot more painful," Joslyn said. "I didn't know what to expect. I didn't feel so confident anymore."
Within an hour, she asked Emily, in no uncertain terms, for an epidural.
"Midwives are equipped to roll with the changes," Dove-Medows said. "We are facilitators. Not enforcers."
Transferring to the traditional labor and delivery unit was the best decision for her at the time, Joslyn said.
"I got a lot of support there with the epidural," Joslyn said. "When at first it only took on one side, they had me lay on my side so gravity could pull the medicine down. And it did.
"It was a really nice, beautiful birth," Joslyn said.
Today, 10-month-old Elizabeth recently popped her first two teeth and according to mom, Ashley, is "crawling around like crazy." Cousin Rowan, Joslyn's son, is 6-months-old, sitting up unassisted and attempting to crawl. Both babies are breastfed exclusively.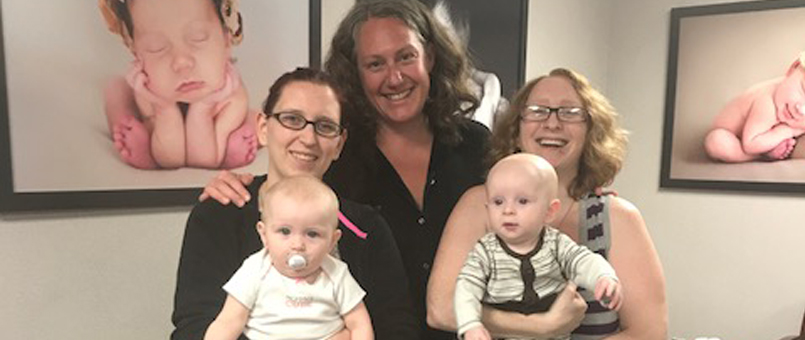 Of her experience, Dove-Medows said: "Working with these two women was an honor. I was able to be with them and walk the walk with them. And we had a lot of fun. Labor and delivery does not have to be traumatic."
The Karmanos Center for Natural Birth opened in November of 2014 as the result of a $6 million gift from Danialle and Peter Karmanos Jr. in celebration of their four sons, Socrates, Leonidas, Spiros and Aristides.