Saturday, August 11, 2018
When sisters-in-law Lisa Bassett and Emily Armstrong found out they were both expecting baby girls just a few weeks apart, they were thrilled to share this experience with each other.
They planned baby showers and looked forward to future playdates.
But what they didn't plan for was spending the first weeks of their babies' lives in the Neonatal Intensive Care Unit at Beaumont Hospital, Royal Oak.
After being born prematurely (and just three days apart), the new cousins spent the first precious weeks of their lives learning how to eat and breathe on their own.
Lisa delivered Nora on May 1 at 31 weeks and six days - nearly 8 weeks early. Her baby weighed just 3 pounds 11 ounces and was 17 inches tall.
Emily gave birth to Elsie three days later at 34 weeks and four days. She weighed 4 pounds 12 ounces and measured 14 inches.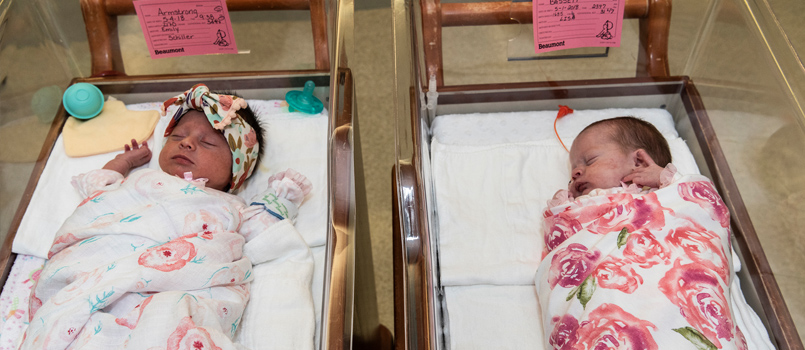 The premature births came as a surprise to both moms.
"We thought we still had a month," Emily said. "My husband and I had actually booked a trip to Mackinac Island to do a baby-moon with our dog."
Lisa was getting ready to take an exam for nursing school when she was admitted to the hospital for contractions.
"I was in labor at the hospital for 33 hours before she came," Lisa said. "They put me on magnesium sulfate for 24 hours to stop the contractions, but it didn't work. She came anyway."
Emily said she was worried about her sister-in-law and new niece when later that week, her water unexpectedly broke. She went to the hospital and learned she was already 4 centimeters dilated.
Once admitted, things grew more complicated for Emily. Providers gave her Pitocin to induce labor, and her contractions soon became nonstop. Then, they briefly lost the baby's heartbeat and began talking about doing a C-section. They gave her a shot to slow down the contractions. But a plan to give her an epidural was complicated by Emily's blood-clotting disorder.
"I gave birth naturally and it was unexpected," she says. "Things happened very quickly."
Both girls were born, quickly cleaned off, checked out and determined to have no complications. But after a quick stop with their exhausted mothers, they were whisked away to the NICU for follow-up care and to be put on feeding tubes.
Lisa's baby, Nora, spent almost the entire month of May in the NICU before being discharged, while baby Elsie was there for two weeks.
Lisa says having her sister-in-law with her in the NICU brought her comfort as she worried about baby Nora.
"It's scary because I just kept thinking she should still be inside, which is crazy to think about," she says. "Everyone there was very kind - the doctors were patient and explained things in a way that made sense, which was very reassuring."
Everyone there was very kind - the doctors were patient and explained things in a way that made sense, which was very reassuring.

Lisa
Emily praised the Beaumont nursing staff.
"It was like a crash course in parenting," she said. "They taught us how to feed her, how to burp her, how to look for cues and understand what's normal and what's not," she said.
Both babies are now home and busy doing normal baby things, which their moms credit to the expert care they received from Beaumont staff.
Elsie loves bath time, eating, her giraffe pacifier, being outside and going for walks with her fur-sister, Luna. She is smiling, cooing (especially at mommy and daddy) and working on her head and neck strength.
"For the most part, she's a semi-chubby, happy little baby girl," Emily said.
Nora recently had her last specialist appointment and has so far been cleared of any heart or eye problems as a result of her prematurity. She is gaining weight and loves baths, taking walks, bouncing, being outside and her two doggy sisters. Her mom, Lisa, is also headed back to nursing school with a new goal of being a NICU nurse.
"After my experience in the NICU, that's honestly my dream job," Lisa said.