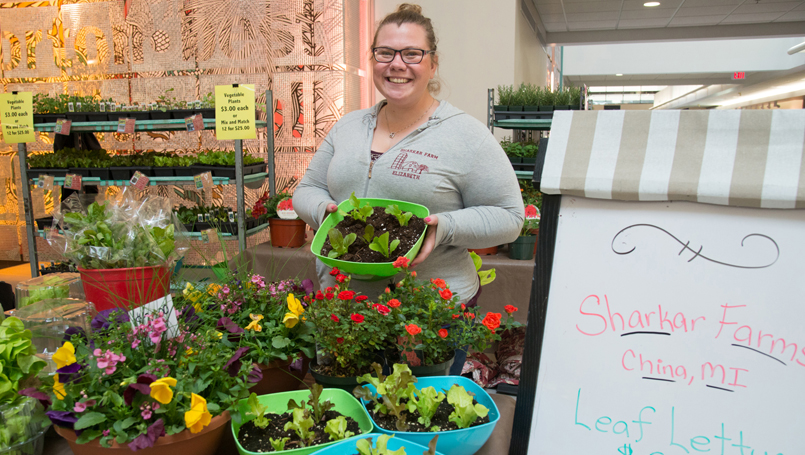 Good health does not begin in the emergency center, the cardiac cath lab or the delivery room.
It begins with the food we put into our bodies.
Thanks to Beaumont Health's commitment to healthy eating, residents served by the eight-hospital system have increased access to the health-giving benefits of fresh fruits and vegetables through local farmers markets.
Beginning June 2, patients, families, staff and the general public are invited to participate in our Beaumont Hospital, Royal Oak farmers market, held every Thursday, 8 a.m. to 2 p.m., through Oct. 6.
Featured vendors include Sharkar and Blake Farms, Jarhead Salsa, Treat the Dog, DaBuzz Raw Honey and Mystic Kettle popcorn.
The Royal Oak hospital is located at 3601 West 13 Mile Road and the market is situated adjacent to the South Entrance. Free parking is available in the south deck, directly across from the entrance.
"As part of the ever blossoming 'farm to table/know your grower' movement, the farmers market continues to be a wonderful shopping and meeting destination for families and friends," said Eileen Miskiewicz, market manager for the Royal Oak market and food service manager, Nutrition Services, Beaumont, Royal Oak.
"In addition to fresh, locally-grown fruits and vegetables, markets like ours offer food trucks, specialty, local food products and the creations of local crafters and artisans," Miskiewicz continued. "We support Beaumont by showcasing hospital departments such as Children's Miracle Network Hospitals, Integrative Medicine and our employee wellness program. In fact, some of our vendors are employees."
In Taylor, Wayne, Dearborn and Farmington Hills, Beaumont also supports and sponsors community farmers markets.
"We are pleased to be able to partner with our communities to support health with the sponsorship of local farmers markets," said Betty Priskorn, Beaumont Health vice president of Community Health and Outreach. "By putting fresh fruits and vegetables in the hands of thousands of families, we are underlining the key public health messages about good nutrition, healthier diets and improved access to fresher, healthier foods. Beaumont Health also provides preventive health services throughout the summer at these markets with educational programming, nutritional counseling and health screenings."
Dearborn Farmers & Artisan's Market
Fridays: 9 a.m. to 2 p.m.
May 20 to Oct. 7 (Closed July 1)
Michigan Avenue, between Mason and Howard streets, Dearborn (Behind the Bryant Library)
Farmington Farmers Market
Saturdays: 9 a.m. to 2 p.m.
May 14 to Nov. 5
Grand River Avenue and Grove Street (Walter E. Sundquist Pavilion, George F. Riley Park)
Taylor Farmers Market
Fridays: 11 a.m. to 6 p.m.
June 3 to Sept. 2 (closed June 24 for Taylor Summer Festival)
Heritage Park, Pardee Road, between Northline and Goddard roads (in the Sheridan Community Center, a 41,000-square-foot open-air pavilion)
Wayne Farmers Market
Wednesdays, 3 to 7 p.m.
May 4 to Oct. 26
Goudy Park, 3355 S. Wayne Road (just north of Michigan Avenue and behind city hall)
Beaumont employees can also access fresh produce via Eastern Market farm stands, in Dearborn, Taylor and Wayne; as well as Green Grocer stands at the Beaumont hospitals in Troy and Farmington Hills.
"A major barrier to eating healthy is creating time for the task of shopping for nutritious food," said Carla Schneider, director of Employee Wellness for Beaumont Health. "By bringing the farm market to our employees, that barrier is removed. Employees gain access to fresh, affordable fruits and veggies, delicious recipes and cooking tips for everyday living. What better way to empower our workforce than by providing a fun, conveniently located and healthy, food-buying experience?"
The Eastern Market partnership also represents a win for the local economy. In 2015, Beaumont employees purchased more than $49,900 in fresh produce from local farmers through the farm stands.
According to Michigan State University's Extension Office, the agriculture industry contributes $101.2 billion annually to the state's economy. Michigan is fourth in the nation for the number of farmers markets.