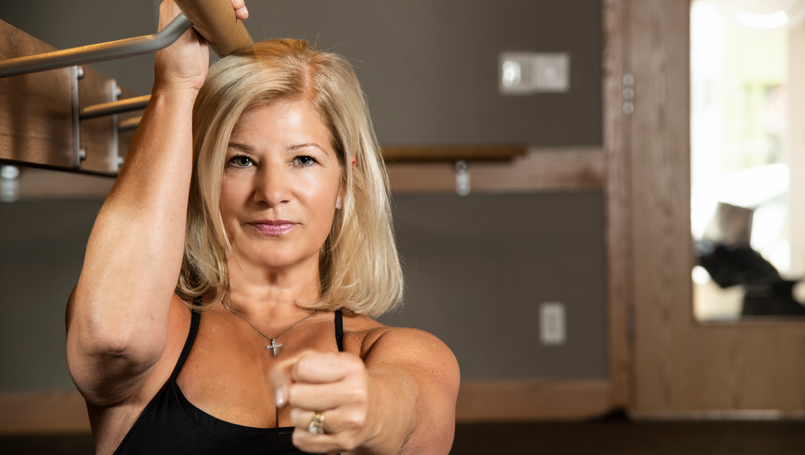 Procedure uses woman's own tissue; results in fewer complications, natural feeling breasts
With her trim figure, radiant smile and buoyant personality, Susanne Babcock, 54, of Grosse Pointe Woods is the picture of health.
Most people would never guess she was diagnosed with an aggressive form of breast cancer in 2012. Then, following a double mastectomy, was plagued with one significant medical setback after another.
Complications included two infections, both of which nearly claimed her newly reconstructed breasts, and acute pain caused by a detached implant. She also developed tongue cancer, related to radiation and chemotherapy treatment, and needed painful surgery to have the cancer removed.
Babcock's fortune started to change with a referral to Beaumont Health reconstructive and microvascular surgeon, Kongkrit Chaiyasate, M.D., in 2017.
"I was fully prepared to go flat-chested," recalled Babcock, a special education, paraprofessional. "But Dr. Chaiyasate and his wonderful, welcoming team, encouraged me to consider DIEP flap reconstruction."
Deep inferior epigastric perforator artery, or DIEP flap, uses a women's own tissue, typically from the abdomen, to reconstruct the breasts.
Dr. Chaiyasate and his partner, Lauren Oliver, M.D., are among a handful of surgeons in Michigan, performing the advanced procedure which requires connecting tiny arteries throughout the skin and tissue. Dr. Chaiyasate plans to add a third surgeon to his practice with similar capabilities in April.
"It's extremely important for some women to feel 'whole' again after breast cancer," Dr. Chaiyasate said. "I think DIEP flap is the best way to get the most natural looking and feeling result so they can put that stage of life behind them and move on."
In addition to training in plastic surgery, surgeons must get an additional year of microvascular surgery training before they can perform DIEP Flap.
"Because so few surgeons are able to do this reconstruction, a lot of patients don't realize it's available," Dr. Chaiyasate said. "I wish all breast cancer patients considering reconstruction were aware of this option."

Recovery from DIEP flap is six weeks, compared to one or two weeks for traditional reconstructive breast surgery, and requires a second surgery six months later. But, patients like Babcock say benefits such as significantly reduced complications, lifelong reconstruction and soft, natural feeling breasts are worth the extra recovery time.
"Even after meeting with Dr. Chaiyasate, I still wasn't convinced," Babcock admitted. "The waiting list was nine to twelve months. But then, his office called and said they had an unexpected opening in three weeks, which never happens. It felt like divine intervention."
Having intentionally lost 18 pounds leading up to the surgery, Babcock opted to take advantage of another potential DIEP flap benefit – abdomen reduction, which is like a tummy tuck.
The procedure begins with an incision along the bikini line to harvest fat, skin and blood vessels, which are then relocated to the chest to form a new breast or breasts. For patients with little to no excess belly fat, tissue can be removed from the back, buttocks or inner thighs.
"If you gain weight after the surgery, the abdominal fat will come right back," said Babcock, who added seven more pounds to her total weight loss following reconstruction. "I decided this was a pretty cool opportunity that I couldn't pass up."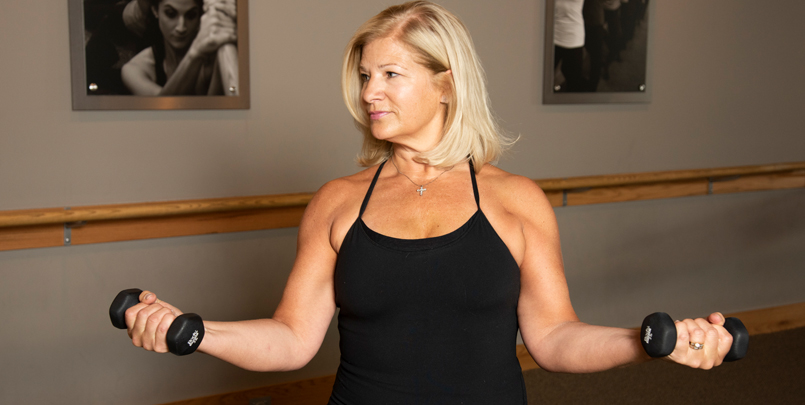 Increasing physical activity is part of her newfound wellness plan. Babcock does Pilates and works out at a Pure Barre gym near her home five days a week before work. She's even getting back into tennis and learning to play pickleball.
"I am absolutely thrilled," Babcock said. "I Iove hugging people and after getting my implants, hugging was weird. They were cold and hard and way too big. I had to go up an extra dress size to fit my breasts. My new breasts are nice. I have a little cleavage and just feel good, both mentally and physically.
On March 3, she marked the second anniversary of her DIEP Flap surgery, by reaching significant new milestones in the gym, including a 90-second plank, and a 90-minute, Pure Barre intensive class. Particularly challenging considering the location of her surgeries.
"It might sound cliché but I feel like I've been given a second chance and want to do everything I can to live my best life possible," she said.