Wednesday, March 06, 2019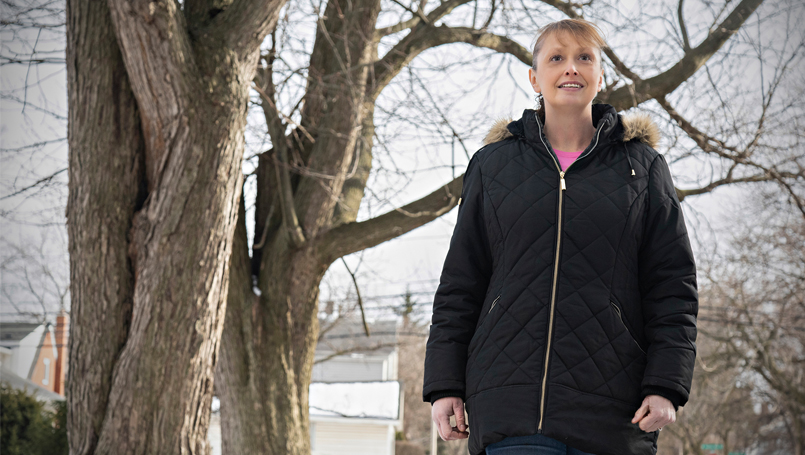 Beaumont microsurgeon one of a few in state performing procedure
Sherry Boston survived breast cancer, a double mastectomy, chemotherapy, radiation treatments and breast reconstruction. But, the 49-year-old never expected a swollen arm would cause her so much long-term discomfort.
"The swelling kept getting worse," Boston said. "I wore a therapeutic sleeve during the day, which provided some temporary relief, but then it got so bad, the swelling cut off circulation in my fingers and right hand. I also had a sharp pain in my elbow."
Boston, a Royal Oak resident, learned her swollen right arm was a condition called lymphedema. While there is no cure for lymphedema, treatment is available. Lymphedema is a common side effect of cancer treatment, especially breast cancer, since lymph nodes are often removed or subject to radiation. During her double mastectomy, three of Boston's lymph nodes were removed, including one in her right arm.
When there is damage to the lymphatic system, lymph fluid is unable to drain, which causes abnormal swelling, usually in the arms or legs.
Beaumont's lymphedema program medical director, Justin Riutta, M.D., who helps manage Boston's condition, said, "At our Lymphedema Clinics, treatments focus on controlling swelling and functional loss. Patient education and a multidisciplinary approach play a significant role in the management of lymphedema."
About 20 percent of women treated for breast cancer may develop secondary lymphedema. Most women develop the condition within three years of treatment for their breast cancer.
"Along with the sleeve I wore on my right arm to manage my lymphedema, I also wore a glove. It was uncomfortable and painful," explained Boston. "Wearing the sleeve and glove definitely made me feel self-conscious. At night, I wrapped my arm. Neither the sleeve or wrap reduced my swelling and pain. I had been through so much. I was stressed."
As the swelling in her arm and hand got worse, Boston felt like her life was "out of control." And, she no longer could lift heavy objects, including groceries and, most importantly, her grandchildren.
But, then, at a follow-up physician appointment for her breast reconstruction, she learned of another option for managing her lymphedema - a lymph node transplant. Beaumont microsurgeon Kongkrit Chaiyasate, M.D., who performed her DIEP flap procedure, noticed Boston's sleeve and swollen right arm and hand. He said, "I can help." Dr. Chaiyasate explained how he could take one of her lymph nodes from her neck or lower shoulder and place it in her right wrist.
"Lymphedema is one of the most neglected medical conditions. The treatment options are limited," said Dr. Chaiyasate. "While a lymph node transplant is not a cure, it can dramatically reduce a patient's swelling and improve quality of life."
Dr. Chaiyasate is one of a few surgeons in the state who performs the procedure.
Said Boston, "I didn't know about this treatment option, but I decided to try it."
On Nov. 9, 2018, she had a lymph node transplant at Beaumont Hospital, Royal Oak. During the procedure, Dr. Chaiyasate transplanted a lymph node from Sherry's shoulder, the supraclavicular lymph node, to her right wrist through a microvascular connection through her wrist vessel. This was all done with the goal of restoring the flow of lymphatic fluid in her arm and reducing the swelling. In a few weeks, her arm swelling improved. Four months later, Boston saw dramatic results: a 50 percent reduction in swelling.
"The transplant surgery was well worth it." said Boston. "My lymphedema and my life are under control. I'll probably always experience some swelling in my arm, but now it's manageable. And, I can lift my grandchildren again."