Tuesday, January 22, 2019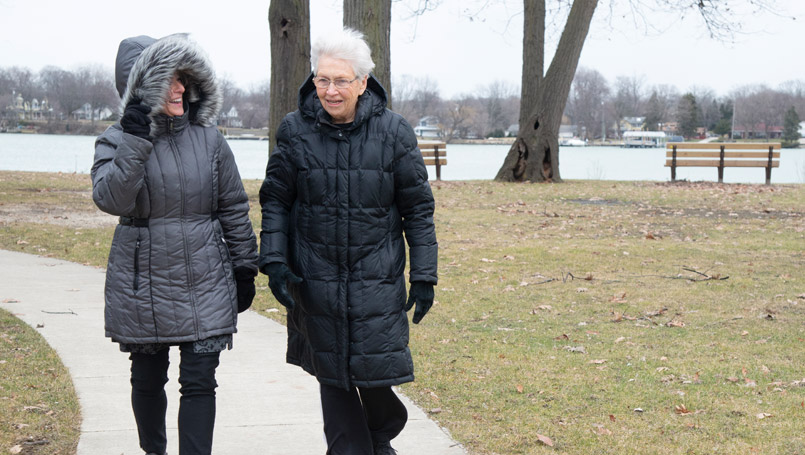 Downriver Linked Greenways announcement to enhance recreational activities, make Downriver a statewide tourist destination
Norma Baker, had quadruple bypass open heart surgery on her 80th birthday.
Now, at 86, she is an active daily walker to maintain her health, and she loves and looks forward to her daily routine.
"My cardiologist, Dr. Kalata, recommended for me to walk 40 minutes a day," said Baker. "Once I began walking, it energized me and it is something that I can do. It's something older people can do."
Michael Kalata, D.O., cardiologist, Beaumont Hospital, Trenton said, "Norma has coronary artery disease. She underwent bypass surgery in 2012 and after concluding cardiac rehab, the next phase in her lifestyle change was to exercise," he added.
At that point, Dr. Kalata utilized guidelines from the American Heart Association and the American College of Cardiology to help determine Norma's activity level.
"Ever since, Norma has been one of my more compliant patients and following that regimen has served her very well," said Dr. Kalata. "It has really helped her get her quality of life back."
A resident of Trenton, Baker walks the trails at Elizabeth park. She quickly became part of the Beaumont Gets Walking program at the recommendation of a friend - a program that's part of the Healthy Trenton initiative launched by Beaumont Health in 2014.
Beaumont's Healthy Communities partnership with the Downriver communities is now part of a much larger initiative that includes several partner organizations with one goal at the forefront – growing the Downriver Linked Greenways. The DLG is a network of more than 100 miles of land and water trails. The vision of growing and linking greenways and waterways across these communities is to establish Downriver as a statewide tourist destination.
"We have a great community Downriver and are very fortunate to have so many parks, rivers and other waterways," said Anita Twardesky of the Riverside Kayak Connection. "We like to say it's neighbors helping neighbors. The communities, nonprofits, businesses and the health care community are realizing what an asset we have."
U. S. Representative Debbie Dingell joined representatives from all the partner organizations as they announced a regional signage strategy, the Trenton Trailtown Master Plan, the Beaumont Healthy Trenton Restaurant Program and more plans for expanded outdoor recreation at the mini-expo.
"People don't often realize the amount of nature we have here in Southeast Michigan and the Downriver communities, so it's exciting to see people and get out on the trails and discover what's already there," said Twardesky. "That's always been there, but now with the trail they have the opportunity to see it up close and personal."
And for walkers like Norma, the improvements will make her almost daily visits that much more enjoyable.
"I am thankful for Elizabeth Park. I am there to walk and meet people," she said. "We are all there for one reason: our health."
Her cardiologist is also pleased with her progress and amazed at her energy level at age 86.
"Sometimes you see a patient for whom age doesn't really come through. She behaves like she's maybe 20 years younger because she is taking control of her health," added Dr. Kalata.
Baker stressed, "I walk and it lifts my spirits. Everyone needs to take care of themselves young in life, to keep healthy."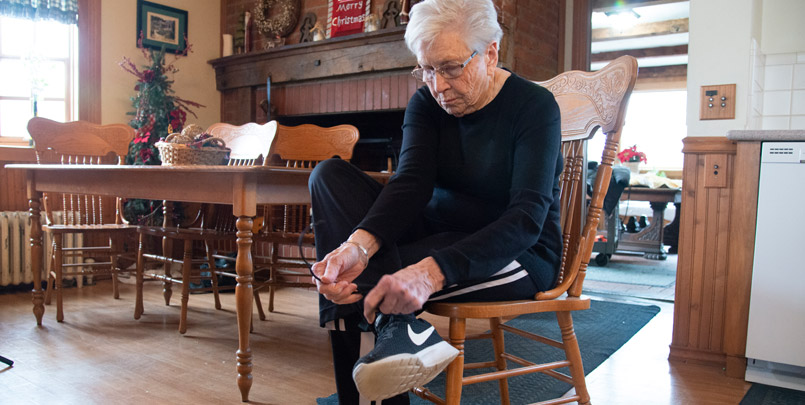 About Downriver Linked Greenways
Multiple agencies have come together as partners to announce the significant progress of the Downriver Linked Greenways system to date. New trail features include new signs, new kayak launches, some trail mapping, kiosks road decals and confidence markers for the greenways. These will be revealed and displayed at the mini-expo event.
All partner organizations working together to enhance and expand the Downriver Linked Greenways initiative include Beaumont Health; city of Flat Rock; city of Trenton; Friends of the Detroit River; Healthy Trenton; Riverside Kayak Connection; Iron Belle Trail, Michigan Department of Natural Resources; Michigan Sea Grant; The Ralph C. Wilson, Jr. Legacy Funds: Design and Access; Southeast Michigan Council of Governments; Wayne County Parks; Huron-Clinton Metroparks.
About Healthy Communities
Healthy Communities includes the cities of Trenton, Taylor, Dearborn, Wayne and Grosse Pointe/Harper Woods. The program is an initiative that is a collaboration between the city, other partner organizations, the community and Beaumont.