Monday, December 11, 2017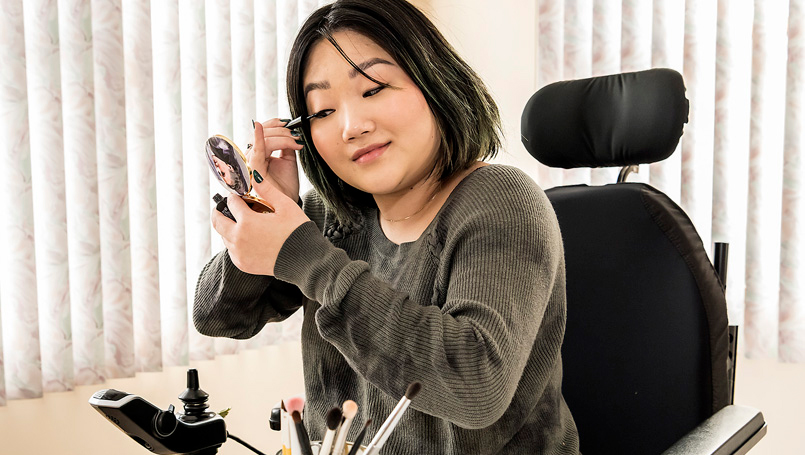 Beaumont Children's MDA Care Center empowers patients, families
Kids will say most anything, and Andrea Abraham, 19, of Rochester Hills, has heard it all when she's out shopping in her motorized wheelchair. They'll either talk about her within earshot, or come up and ask, "What's wrong with you?" She's used to it. And she replies in a matter-of-fact way, "There is nothing wrong with me."
Entrepreneurial spirit
Despite living with a neuromuscular disease, the Oakland Community College sophomore is a licensed makeup artist and studying business with dreams of creating her own cosmetic line. Her classes have piqued her entrepreneurial spirit.
She's on the move, having gotten her driver's license through Beaumont Health's Rehabilitation Driving Program this past spring. Abraham loves cooking and singing at her church. She recently sang the national anthem at the Muscular Dystrophy Association's "Muscle Walk."
Abraham has some physical limitations but said, "I can do things others can't."
While attending Lutheran High School Northwest she was involved in drama, the choral program and was president of her senior class.
Her mom describes her as independent, confident and very social. Andrea is a former MDA ambassador for Michigan.
'Use it or lose it'
Weekly physical therapy maintains her muscles. Maintenance is key. "It's use it, or lose it," Andrea explained.
At age 2, she was diagnosed with congenital myopathy, muscle disorders that appear in infancy. As a baby, she wasn't crawling and couldn't lift her head.
Her doctor, M. Eileen McCormick, D.O., Beaumont Children's director of Neuromuscular Medicine, has known Andrea since she was 4.
Center connects patients and families
Twice a year she is seen by the multidisciplinary team of experts at the Beaumont Children's MDA Care Center. She is evaluated by Dr. McCormick, a pediatric neurologist, along with a nutritionist, occupational therapist and a pulmonologist. Beaumont Children's in Royal Oak is one of six MDA Care Centers in Michigan, earning that designation in April 2016.
"Our center connects our patients and their families medically, emotionally and educationally," said Dr. McCormick. "It's all about empowering patients."
Patients come from far and wide. Dr. McCormick and her team not only care for patients from Michigan, but also Canada, Mexico and Italy.
"We work with a wide range of ages: infants, toddlers, teens, like Andrea, and young adults," said Dr. McCormick. "Our transition program helps high school grads with employment and college. We've assisted in making sure these students have access throughout college campuses."
New technology/medical advancements
Many neuromuscular conditions are caused by genetic disorders. With new technology, unborn babies and newborns can benefit from early diagnosis.
"Thanks to new technology and medical advancements, patients and care teams have more treatment options," explained Dr. McCormick. "Beaumont Children's offers patients a wealth of resources from genetic counseling to individualized comprehensive rehabilitation programs. Our subspecialists in cardiology, pulmonary/sleep medicine, interventional radiology and orthopedics are integral team providers."
The team at Beaumont Children's MDA Care Center connects patients and their families with research studies and newly-approved drugs. In fact, it is the only hospital site in Michigan offering Spinraza therapy for all three types of spinal muscle atrophy.
Family treatment
Maggie Segal, Senior Family Care Specialist with MDA, emphasized, "Dr. McCormick and her care team don't just treat a patient, but strongly believe in the concept of family treatment – siblings and parents."
Family treatment includes education, support groups and camp programs. Segal mentioned that Andrea's family is very involved with MDA activities. Her mom, Angie, leads a parent-to-parent support group.
Said Segal, "I love that many of our patients, like Andrea, feel ten feet tall and confident. We're hopeful that the MDA Care Center and Beaumont Children's will nurture that level of self-assurance. While we wait for new treatments and possible cures to neuromuscular disorders, we want to maximize the quality of life for patients and their families."
Segal insists the MDA Care Center treats diseases, "They're not considered disabilities, but ongoing challenges."
Every Thursday the neuromuscular care center team at Beaumont Children's sees up to 12 patients.
Comprehensive care: One visit
Said Segal, "Today we had a patient visit us for the first time. The patient and her family traveled more than 600 miles roundtrip from the Upper Peninsula to Royal Oak. They were able to tap into the expertise of our multidisciplinary team on the same day without making multiple appointments to see specialists."
The patient learned about her options for a wheelchair, met with a dietitian, was fitted for orthotics, had lab work done, as well as X-rays - all without leaving the Neuroscience Center. In addition, she was enrolled in a personalized treatment program.
"Without care centers, patients and their families usually receive fragmented care, which limits quality of care – an inability to move past limitations," said Segal. "The MDA family, along with health systems like Beaumont, becomes a huge resource."
Extended network
And Andrea Abraham takes advantage of those resources.
Abraham said, "The MDA has given me a good sense of community."
To Abraham, Beaumont, the MDA and its extended network, exemplify community and a sense of caring – not only for her, but her family, too.
For 12-13 years she has attended the MDA summer camp on the shores of Lake Huron, near Lexington.
Said Abraham, "At camp we're all the same – physical limitations do not define us."