Tuesday, November 14, 2017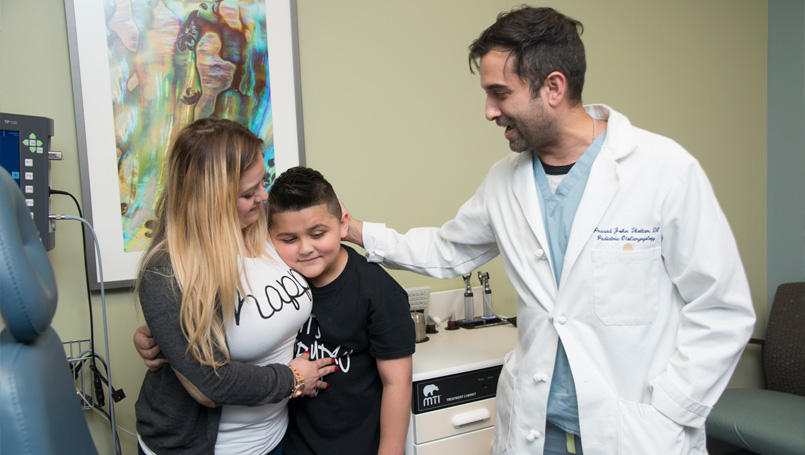 When Julian Lopez Carrasco was just 7 months old, he developed a severe respiratory infection known as RSV that constricted his airway and required he be intubated. His airway was scarred as a result and a tracheostomy tube was permanently inserted so he could breath.
The trach was his only source of oxygen until he was 8-years-old.
Julian's mother, Veronica Fuentes was at his side throughout.
When the school Julian attended was unable to provide a nurse for the regular medical attention he required, she quit her job to stay with him in the classroom so he could attend school like other kids his age.
"Bathing him with a trach was very challenging, the smallest amount of water could block the tube," she said. "Because of that Julian also wasn't able to go swimming."
"Other kids, and adults too, were disturbed by the loud noises he made to clear his throat of secretions," she said. "I worried he would get bullied.
At 5-years-old, the unthinkable happened: Julian began coughing uncontrollably when his trach was removed during normal maintenance, and Fuentes was unable to immediately put it back.
"He started coughing really hard because he couldn't breathe," Fuentes said.
It wasn't until after Julian passed out – and turned blue from head to toe – she was finally able to do so.
Meanwhile, two attempts to reconstruct Julian's airway at another hospital and make it wider, failed. Surgeons told him there were few options left to rebuild his airway and remove the tracheostomy tube safely.
So when Beaumont Hospital, Royal Oak ear, nose and throat surgeon, Prasad Thottam, D.O., told Fuentes he was ready to try something new, Fuentes was reluctant.
"The surgery was not easy or straightforward," Fuentes said. "Patients are extremely susceptible to dangerous bacteria."
During each previous surgery, Julian spent several weeks in the hospital recovering from infection. And being weaned off the necessary sedation can take two weeks or longer.
But Dr. Thottam would not give up.
"He told me he had successfully completed 14 other airway reconstruction surgeries just like this one in the 18 months before he repaired Julian. He knew Julian would be a challenge, but he also knew he could make it work.
"Julian was one of my more difficult cases," said Dr. Thottam, who harvested cartilage from Julian's rib cage to rebuild his airway. "His condition was exacerbated by his previous surgeries, extreme reflux and an existing infection in his trachea (wind pipe) ."
"We aggressively treated those conditions in advance and used a different, more challenging, but ultimately successful airway reconstruction technique that involved removing the trach early-on and intubating Julian for the length of the procedure and one week post-operatively," Dr. Thottam explained.
All told, Julian's October 2016 surgery took four hours and he was hospitalized for three weeks afterwards.
Now Julian and his family are celebrating one full year trach-free.
"Julian had a lot of really driven people behind him, people who were not going to give up, including his entire healthcare team and his very special mom, Veronica," Dr. Thottam said.
"She's the ultimate health care champion," Dr. Thottam said. "On top of every appointment and diligent in responding to and managing all aspects of his care and recovery."
But Fuentes said she did not do it alone.
Dr. Thottam's willingness to go above and beyond made her job that much easier.
Upon learning Julian was tired of hospital food, Dr. Thottam cheered him up by delivering chocolate chip cookies and snack money to his bedside.
"They text each other and Dr. Thottam even got Julian a Christmas gift, they've developed a true friendship," she said.
In his new trach-free life, Julian showers freely, wears his favorite Polo shirts unbuttoned and sports a new,15 pound-lighter physique, due to the active lifestyle he is able to lead.
"There was a time I thought he would never be able to enjoy life trach-free," Fuentes said. "I'm so glad Dr. Thottam proved me and many doctors wrong."