Monday, November 20, 2017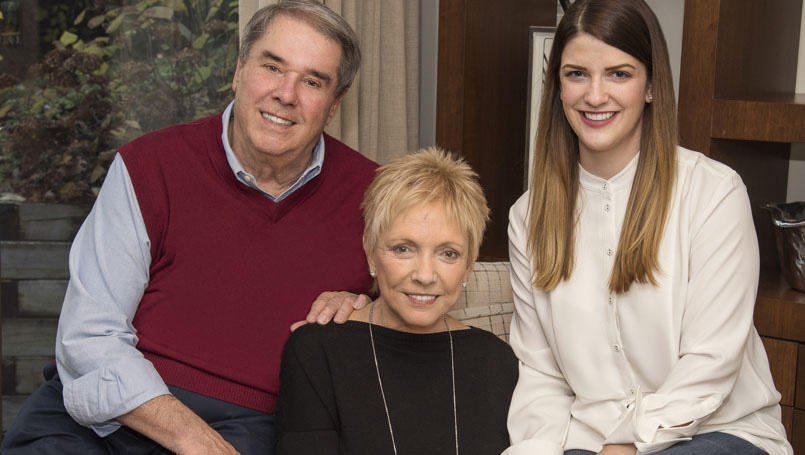 When Elizabeth Frost, 30, heard her Aunt Joan, 72, needed a kidney, she knew what to do.
Eighteen years after her first kidney transplant, Joan Ryan was experiencing kidney failure. Her husband, Tom Ryan, a long-time radio/television personality, donated his kidney to her in 1999. For nearly two decades, his kidney functioned well for Joan. Statistically, the odds of a donated kidney functioning beyond 20-25 years are slim. The national average for unrelated, live donors is about 15-20 years.
Failing kidney
This past spring, Joan, of Bloomfield Hills, was making arrangements for dialysis. She also wondered, given her age, whether she could be a candidate for a second kidney transplant. She was pleasantly surprised when she found out she would be placed on the waiting list for a kidney. Before Joan ever began dialysis, her niece Elizabeth expressed her willingness to be her donor.
Said Elizabeth, a Grosse Pointe native, "When I found out Aunt Joan's kidney function was declining, I jumped at the chance. I said, 'Let me do this for you.'"
More than one year ago Joan vividly remembered, "Elizabeth told me, 'If anything happens to your kidney, I want to give you one of mine.' 'I said, No. I can be placed on a waiting list.'"
Elizabeth is the daughter of Joan's sister, Susan.
Aunt Joan was hesitant to accept her offer. But despite her aunt's objections, Elizabeth was persistent. She didn't want her aunt to have to begin dialysis treatments or be on a waiting list for years.
Joan admitted, "She worked on me."
I couldn't imagine my life without her. She is the most generous and kind person I know.

Elizabeth
Elizabeth said, "I couldn't imagine my life without her. She is the most generous and kind person I know. I told Aunt Joan, 'This is the first time I can do something for you.'"
Happy birthday
Finally, Joan was receptive to Elizabeth's offer.
"The initial blood work was easy and in about two weeks we got the good news that I was a match," said Elizabeth.
Testing began in early May. Elizabeth said, "The entire process was fast." Elizabeth's and Joan's surgeries took place on Aug. 23 at Beaumont Hospital, Royal Oak - the day after Joan's birthday.
"It's the best birthday present ever," said Elizabeth.
Dilip Samarapungavan, M.D., medical director, Multi-Organ Transplant Program, Beaumont Health said, "It was beneficial that Joan was able to avoid dialysis thanks to Elizabeth. Every additional six months a patient waits on dialysis for a donor organ, there is a small, but measurable negative effect after the transplant surgery."
Compared to dialysis, a kidney transplant can double a person's lifespan.
Quick recovery/post-op
"Just two weeks after my surgery, I was pleasantly surprised," said Elizabeth. "I was able to resume most normal activities."
Since her recovery, she has moved to California.
Elizabeth's advice to others considering donating a kidney, "You can do it. It's not as scary, as you imagine. The transplant team does a great job of telling you what to expect. Emotionally, It's a life-changing experience. It's most rewarding to know my gift of a kidney is helping Aunt Joan. She looks great! My connection with her is even stronger."
Coming up on three months since her surgery, Elizabeth says physically, her life hasn't changed. She has become a bit more health-conscious. And she definitely enjoys living in San Jose.
Post-op, Aunt Joan is doing well, too. Her transplant team is pleased with her progress. She praises the Beaumont kidney transplant program and teams, "The program is so well-structured with pre- and post-transplant teams to guide you. I can't say enough about their thorough, personalized care."
Because this was her second transplant, Dr. Samarapungavan said Joan was closely monitored. Recipients having second transplants may have higher complications because they are exposed to foreign tissue from their first transplant. They also have a higher risk of infection, because they have previously been taking anti-rejection medications for extended periods.
Hereditary kidney disease
For Joan, chronic kidney disease has been a major health issue since age 5. End-stage renal disease runs in her family. Sadly, her brother died from kidney disease in 1964 at the age of 21. Dr. Samarapungavan says Joan's kidney disease was caused by a genetic condition.
First transplant: happy anniversary
Eighteen years ago, Tom, was at WOMC radio. He informed his listeners about the need for organ donors, and about the kidney donor process.
"My kidney was removed laparoscopically, through a small incision. My recovery went well. In fact, I was back to work and on the air in just two weeks," recalled Tom. "I talked about organ transplantation on my show, and back then a lot of listeners expressed a fear of surgery. People need a better understanding of the whole process. Most don't realize how easy it is to be a donor. Education about new transplant technologies, medications and techniques can make a difference."
Joan's first transplant took place on Sept. 29, the day before Tom and Joan's 27th wedding anniversary. The couple, who have no children, recently celebrated their 45th anniversary.
This holiday season, Joan and her family have much to be thankful for.
Need is great
Added Dr. Samarapungavan, "The need is great. Presently, 2,600 Michigan residents are on the waiting list for a kidney. Living kidney donations, like those from Tom and Elizabeth, indeed save lives."
---
Thinking about donating a kidney?
Have you ever thought about donating a kidney to a family member, loved one, friend or stranger in need?
Elizabeth Frost and Tom Ryan can tell you it's one of the most rewarding experiences ever.
Did you know living kidney donors:
Have few out-of-pocket costs? Initial testing, their surgery and hospital care are covered by the recipient's insurance carrier.
Statistically, live longer than nondonors?
Can help a friend or family member, even if their kidney does not match? Many transplant centers, including Beaumont, Royal Oak, participate in a paired donation program/database, or Kidney Paired Donation program.

Benefits of a living kidney to the recipient:

Can dramatically reduce their time on the organ waiting list
On average, will last longer than a deceased donor kidney
They may also need less immunosuppressant drug therapy
Recipient may receive a transplant before dialysis