Wednesday, October 12, 2022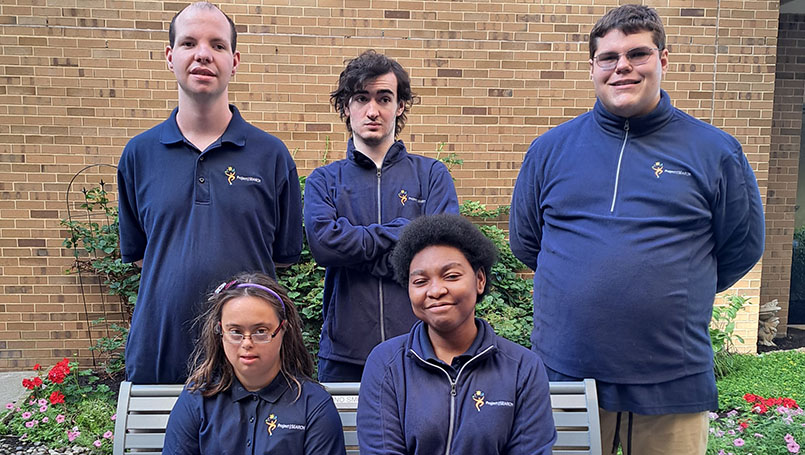 Alec Crompton, 20, has a love for playing video games, sharing random facts and perusing the menu in the Mackinac Island Dining Room at Corewell Health William Beaumont University Hospital, formerly Beaumont Hospital, Royal Oak, where he works.
Crompton, who has a chromosomal disorder that causes developmental delays, is one of five interns with Project SEARCH, a new program at Corewell Health William Beaumont University Hospital. The program provides real-life work experience combined with training in employability and independent-living skills for students with disabilities in Oakland County between the ages of 18 to 26. The goal: to help young people, like Crompton, make successful transitions to adult life after completing high school.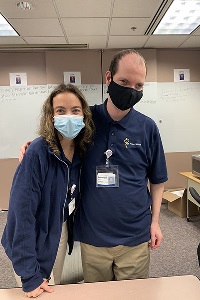 "After these young adults complete the program, they exit with job skills they will use either here at Corewell or at another workplace in the community," Chris Evans, Project SEARCH coordinator, said. "This is meant to be their final step."



Project SEARCH launched at Corewell Health William Beaumont University Hospital this August and has been at Corewell Health Beaumont Troy Hospital, formerly Beaumont Hospital, Troy, for more than 10 years.

"It has been an absolute joy having these students as part of the Corewell family," said Debbie Guido-Allen, RN, interim president of Corewell Health William Beaumont University Hospital who was instrumental in bringing Project SEARCH to the Royal Oak campus. "We serve and care for many individuals with developmental disabilities, so it's important that we have representation within our workforce."
Breakdown of the program
Crompton and his fellow interns begin their day in a classroom setting where they learn about everything from professionalism and hospital procedures to grooming and social skills.
"They learn things like how to conduct themselves in a meeting or when might be an appropriate time to interject during a conversation," Evans said. "Most of them have some form of developmental disability or delay, so they're extremely hard workers and focused. But sometimes they need extra tools or reminders to be successful in the workplace."
"It's been very welcoming," intern Lainey Sanders said. "I've enjoyed meeting new people and doing different tasks."
Following their morning meeting, they go to their internship rotation in their respective departments. Crompton spends most of his time on 8 North, a cardiac progressive care unit.
"I create discharge folders, fill waters for patients and sanitize the shelves in the supply room," Crompton said.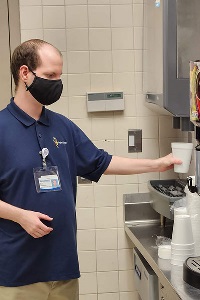 To help them learn their assigned jobs, each intern is assigned a mentor or skills trainer. Crompton works with skills trainer Bella Venditti.
"Did you know her name means 'beautiful blessing' in Italian?" Crompton said. "Judging by her name, she is a beautiful worker and a very blessed angel who works with me."
Whether it's the meaning behind her name or a fun fact about a holiday, Venditti said she never fails to learn something new from Crompton, just as he learns from her.
"Working with Alec and seeing his growth is an awesome thing to see" she said. "It's only been a month, but I've already seen improvements within him and that he's learning new skills."
After Project SEARCH
Come June, Evans said the five interns will leave with a resume and the skills to obtain competitive employment.
Crompton, who originally was apprehensive about working in a hospital setting and thought he would use his internship just to get experience, now hopes to get hired on at Corewell Health.
"I can do it," he said. "I think I can get a job here and I want to."
No matter where the interns end up, Evans hopes they leave having learned that kindness can truly go a long way.
"I talk to them all the time about how it's more important to be kind and treat others with respect than to be an expert at whatever your job is," he said. "You can do a good job, but if you're rude to people and you don't have a lot of these soft skills or professionalism, you're not going to be successful anyways. So when they see other hospital employees displaying those skills at their internships, they can see it leads to success, it leads to a job, it leads to the good things."
This program is a partnership between Corewell Health, Troy School District, New Horizons Rehabilitation and Michigan Rehabilitation Services.