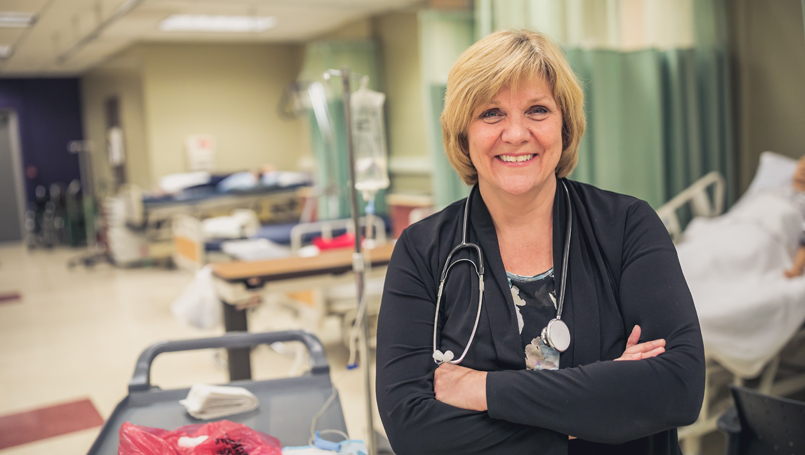 Teaching nurse, wife, mother of three and grandmother of four - Dawn Stewart, 60, of Trenton, is celebrating Mother's Day this year with a sense of mission, gratitude and pride. Her own family's shocking story illuminates why others gathering on this sacred holiday should start talking about family health history.
Dawn first suspected a genetic mutation in her DNA in the most unusual way – through Melissa Koehn, her younger daughter, who at 33 discovered a mass in her armpit and then was diagnosed with an aggressive breast cancer associated with the BRCA2 mutation.
Melissa's BRCA2 gene mutation was inherited from either Dawn or dad, Bill, or both. So, Dawn sought out genetic counseling for her family.
"Generally when we think about someone diagnosed with an inherited cancer, initially we are concerned for their kids who may have inherited the same genetic mutation," said Julie Zenger-Hain, Ph.D., director, Cytogenetics, Beaumont Hospital, Dearborn. "The Stewart family presented the opposite situation: Melissa's diagnosis of early onset genetic breast cancer led her mother and other older family members to genetic testing and counseling."
Beaumont Genetic Counseling Services provides genetic education and support to adults seeking information on genetic disorders in themselves or a family member. Available to those who have a known diagnosis or family history of a genetic disorder, these services can help answer questions about the inheritance and natural history of a genetic disease, determine the risk of disease for family members, and provide management and support options concerning a particular genetic disorder. Board-certified genetic specialists interpret and explain test results and provide families with resources.
"My own mom was diagnosed with breast cancer in her 40s. Also, my sister was diagnosed at 39. In addition, I have a cousin who had ovarian cancer. Yet, my annual screening mammograms were negative each time," Dawn said. "I feel so guilty because it turned out my DNA caused my precious daughter to have this horrible disease. We felt so vulnerable."
Melissa, Bill and Dawn went together to the appointments with the genetics counselors to give each other support.
Helping families work through negative feelings associated with genetic disease
"Dawn and Bill have raised three wonderful children," Dr. Zenger-Hain said. "No one should have to go through life second-guessing their choices. Dawn couldn't possibly have known she carried a genetic mutation. In fact, we all carry genes that don't work. Through genetic testing and counseling, we can do something about preventing genetic disease. Knowledge gives us power to act."
Knowing Dawn's family health history was Dr. Zenger-Hain's starting point. Melissa was priority one to receive genetic testing and counseling due to her cancer diagnosis. The counseling and genetic test results would help define her cancer treatment plan.
"Dr. Julie was so encouraging. She told us it's a personal choice to have genetic testing, and then she took the time to explain in detail the good that could come from knowing and sharing the test results with our blood relatives. Now, my entire extended family is aware that they may carry the BRCA2 genetic mutation. I want them to know of their increased risk and to get tested," Dawn said.
"We prefer taking a whole-family approach to genetic counseling," Dr. Zenger-Hain said. "With the Stewarts, it was a true family event. They all gave each other support throughout the process of learning about their family's genetic issues. Counseling raises these issues about how the BRCA2 genetic mutation could impact each member of the family. Their unwavering support of each other allowed us to share a lot of complicated information with them."
When Dawn learned that she, too, is BRCA2 positive, Dr. Zenger-Hain explained to the family that preventive or prophylactic surgery was the best option for Dawn to decrease her risk of ever being diagnosed with cancer. Yet, she needed her care to fit into the whole family's needs. Dawn planned to be present throughout Melissa's lengthy cancer treatment to care for both her daughter and grandson, who was just 20 months when his mom learned she had aggressive breast cancer.
Dawn postponed her surgeries in order to support her daughter and grandson while Melissa endured four grueling months of high-dose chemotherapy followed by multiple surgeries and radiation treatments. She needed her daughter's health to stabilize before she could do what would dramatically lower her own cancer risk.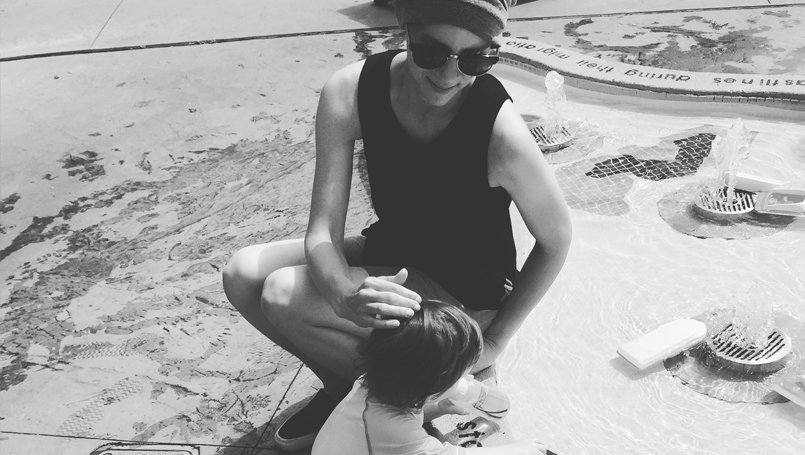 Dawn's daughter Melissa with son Max
Dr. Zenger-Hain heard Dawn loud and clear and suggested enhanced breast screening to tide her over until she could schedule her surgery. Yet, no ovarian cancer screening test exists, which meant Dawn's risk for developing this type of cancer could not be followed. Dr. Zenger-Hain made sure each member of Dawn's medical team had a copy of her genetic work-up.
That's why Dawn's first surgery last October was a hysterectomy with bilateral salpingo-oophorectomy and to remove her ovaries, Fallopian tubes and uterus, which reduced her risk of ovarian cancer by 96 percent.
After healing six weeks, Beaumont breast surgeon Pamela Benitez, M.D., performed a bilateral prophylactic mastectomy, which lowered Dawn's breast cancer risk by more than 90 percent. Dawn chose immediate breast reconstruction. While Dawn was still under anesthesia, Beaumont plastic surgeon Daniel Sherbert, M.D., inserted tissue expanders. In May, Dr. Sherbert will perform the next step in Dawn's breast reconstruction by swapping the tissue expanders for permanent silicone implants.
Siblings have a 50 percent chance of inheriting the BRCA2 mutation
"My older daughter, Andrea, was pregnant with twins when Melissa was diagnosed. After she delivered her babies, Andrea went through genetic counseling, too," Dawn said. "The whole family was relieved and grateful Andrea didn't inherit BCRA2."
Dawn has accompanied other family members for their genetic testing and counseling sessions with genetics counselors at Beaumont, Dearborn.
"I am so proud of my family. We are, and always have been, a close family, but this experience has brought us even closer," Dawn said. "Throughout this genetic journey and ongoing process, Bill, my husband, continues to be our rock. Our kids have always been close. Our son and older daughter continue to help Melissa enormously. She has never given up and has stayed positive throughout her treatment. Melissa is such a strong young woman and a great mom to her little guy."
Your genetics counseling takeaways
Dawn went public with her story because she is grateful to have greatly lowered her risk for breast and ovarian cancer by choosing risk-reducing surgery. Yet, her daughter's medical journey continues 23 months later.
Dr. Zenger-Hain says prophylactic measures save more lives than waiting for someone to be diagnosed with and treated for an aggressive cancer. Genetics counselors use several screening tools to assess personal or family health history factors that are associated with an increased likelihood of having a harmful mutation of the BRCA1 or BRCA2 gene. Those who should seek genetics counseling include:
women with breast cancer diagnosed before 50
women with cancer in both breasts
women with ovarian cancer at any age
both breast and ovarian cancers in either the same woman or the same family
multiple breast cancers in the family
men with breast cancer
"We partner with families to do our best to ensure everyone is here for all the Mother's Days to come. Family history is our best tool," Dr. Zenger-Hain said. "Talk with family about your shared health history. Write it down and pass it on to other family members and everyone's physicians. This is exactly what the Stewart family has done."
Some women who inherit a harmful BRCA1 or BRCA2 mutation never develop breast or ovarian cancer. Yet, even though Dawn never had cancer, she took care of her family and herself by having both genetic counseling and prophylactic surgery. A positive test result for BRCA1 or BRCA2 may also have important implications for family members, even future generations. Men and women who inherit either genetic mutation, whether or not they develop cancer themselves, may pass the mutation on to their sons and daughters. Men with these genetic mutations are at an increased risk of breast cancer, and both men and women are at increased risk of pancreatic cancer.
About 12 percent of all women will develop breast cancer sometime during their lives. By contrast, it is estimated that about 69 percent of women who inherit a harmful BRCA2 mutation will develop breast cancer by their 80th birthday.
For ovarian cancer, about 1.3 percent of all women will develop it sometime during their lives. However, that number rises to about 27 percent of women with the BRCA2 mutation developing ovarian cancer by age 80.
The United States Preventive Services Task Force recommends women who have family members with breast, ovarian, Fallopian tube or peritoneal cancer go through genetic testing and counseling to see if they have a family history associated with an increased risk of a harmful mutation in one of these genes.
Dawn and Melissa are dedicated to promoting genetic counseling, early screening and self-awareness for women of all ages to reduce the incidence of breast cancer. Knowing your risks and taking the necessary steps will save countless lives.