Thursday, February 23, 2017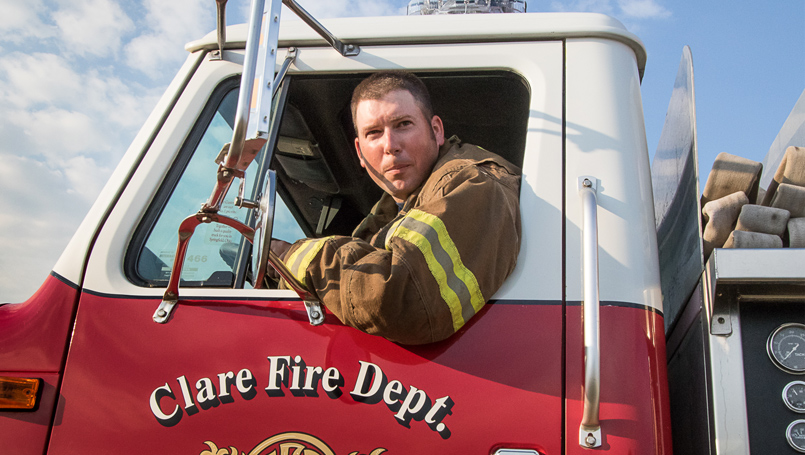 Ferocious flames tore through a barn in Clare, weakened the roof and caused firefighter Sam Eberhart, 33, to plunge 15 feet through the ceiling. A concrete floor broke his fall and his bones.
"It was instant pain. It was the first time I had ever broken a bone. There was no comfort. No nothing. Just pain all around," he said.
Eberhart fractured the front and back of his pelvis in three places. The injuries were too complex for the nearby hospital in Midland, so paramedics transferred him to Beaumont Hospital, Royal Oak, a Level I Trauma Center.
"Injuries like these can be limb and life-threatening. There could be bladder injuries and extreme blood loss," Beaumont orthopedic surgeon Jason Sadowski, M.D., said.
Doctors admitted Sam to the hospital and evaluated him. His willingness and determination to do intense physical therapy exercises allowed him to avoid surgery.
"It was surprising. I was expecting the worst case scenario. When the doctor told me I could do physical therapy, I felt like I had more control," Eberhart said. "It's not always a fun process, but it's in my hands."
Several days later, an ambulance from Clare picked him up and drove him home to continue his physical therapy and healing.
On the drive home, Sam looked out the back window and noticed a Coleman Fire Department truck pull up behind the ambulance. Minutes later, multiple other fire departments, sheriffs, police and ambulances pulled in line to escort him home. The line stretched for more than one mile.

"I was crying. I won't deny it. It made me realize how much more there is to fighting fires than people realize. It's the connection you have with the other guys," Eberhart said. "I have been doing this for 12 years. I bawled my eyes out and got a whole new appreciation for it."
When they arrived at his home, 75 firefighters stood in his driveway fighting over who would carry him into the house.
Now, more than a month since the accident, Eberhart said, "I'm learning things about my body and how bones heal that I didn't know. I have lots of questions for my doctors and therapists. That's my nature. It's been educational and helps me realize how things are improving."
Just a few weeks ago, he came back to Beaumont, Royal Oak for a follow-up appointment. "I can tell Sam has been putting in a lot of effort to heal from his injuries. His prognosis looks good," Dr. Sadowski said.
Eberhart's goal is to be back at work within the next three or four months.
"I can't thank the community enough for all the support. The only way I know how to thank them is to go back out and keep doing what I've been doing. I have to get back out there. They're counting on me," he said.
I can't thank the community enough for all the support. The only way I know how to thank them is to go back out and keep doing what Ive been doing. I have to get back out there.

Sam Eberhart
---