Tuesday, September 26, 2017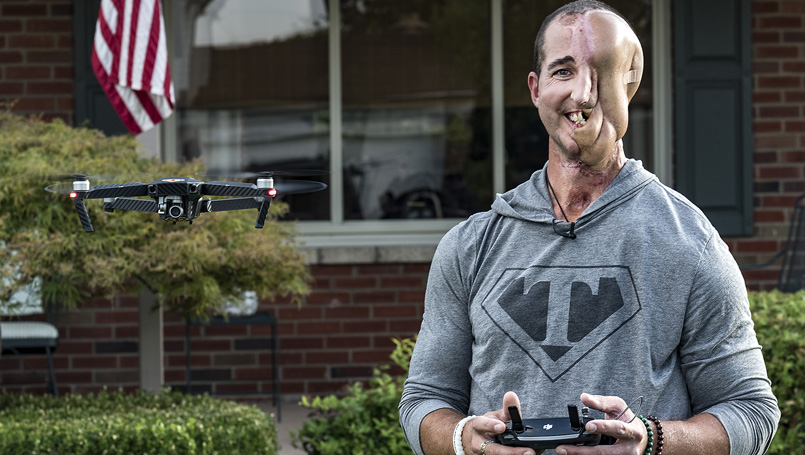 Reconstructive surgeon's willingness to take difficult cases gives patients hope
Without further medical intervention, Tim McGrath's prognosis looked grave. A rare form of cancer in his face resulted in the loss of his left eye, left ear, half of his jaw and lower scalp. McGrath had undergone treatment for his tumor at another health care system in October 2015, but attempts to surgically reconstruct his face were not successful. His body rejected the grafts, leaving half his face exposed and susceptible to infection.
Rare cancer

McGrath, of Sterling Heights, was diagnosed with synovial cell sarcoma in February 2014. The soft tissue tumor was near his left upper jaw and behind his cheekbone. For 18 months, he sought nonsurgical, alternative treatments.
Said McGrath, "The alternative treatments slowed the progress of the tumor, but in May 2015, surgery to drain an infection in the area caused it to become greatly enlarged."
The tumor tripled in size, becoming the size of a grapefruit. The tumor's growth affected his ability to breathe and eat. He had a tracheostomy and was fed through a tube.
"When I met with Tim in April 2016, his brain was exposed," said Kongkrit Chaiyasate, M.D., a plastic and reconstructive surgeon with Beaumont Hospital, Royal Oak.
When it comes to complex, difficult craniofacial cases, Dr. Chaiyasate rarely turns a patient away. Whether it's from an accident, hereditary condition or cancer - Dr. Chaiyasate and his team thrive on challenges: reconstructing a nose, an ear, jaw, lip or repairing a cleft palate. Dr. Chaiyasate has helped numerous patients, young and old, who were turned away by other physicians from around the globe.
"Many of my patients were told things could not be done for them, so I have a responsibility when they come to me with little or no hope," said Dr. Chaiyasate.
That was the case when he met Tim McGrath, then 37.
Challenges harvesting healthy tissue

Dr. Chaiyasate's first goal was to close McGrath's large, open facial wound to prevent infection. However, there were few options for harvesting healthy tissue for reconstruction, because in McGrath's previous procedures, surgeons used a rib and parts of his shoulder, legs and arms in attempts to rebuild his face. Unfortunately, most of their efforts failed.
Dr. Chaiyasate was concerned about whether more skin grafts would be successful. However, he thought, "If I don't do it, who will?"
Explained McGrath, "I was covered in scars from previous surgeries, which limited my options for reconstruction, but we went ahead and the outcome has been incredible. He reconstructed my face using skin and muscle from my left leg, left forearm and forehead."
After closing McGrath's wounds in five surgeries, Dr. Chaiyasate is now closer to his next goal: To allow McGrath to eat and talk again. He has not been able to speak or eat-by-mouth for two years.
Focusing on the positive

McGrath credits his alternative treatments with preparing him mentally and spiritually for his fight with cancer. He said, "What I didn't anticipate is that everything I experienced within the 18 months of spiritual, energetic, physical, emotional, psychological therapies was unknowingly preparing my body for the battle of its life."
He also talked about his focus and having a positive mindset.
"Dr. C and I are focused. We both set our minds to a very positive future," said McGrath. "That focus never waivers, even setbacks are part of the path. These never affect our end goal. They are all building blocks."
This past April, one year after Dr. Chaiyasate and McGrath first met, McGrath's trach was removed – a major milestone in his cancer recovery. Therapists will help him with swallowing and speaking.
"My future goals are to be able to better drink water with my mouth, improve my ability to speak and help as many other as I can through inspiration, motivation and fundraising," said McGrath.
A self-employed electrician and avid golfer, McGrath lives with his parents. He has patented two of his inventions - one for the golf industry and the other for electrical installations.
"Dr. C is amazing in many ways. He's a humanitarian, who dedicates his life towards giving and helping others. He is humble and has an amazing sense of humor. Beyond his talents, he has a tremendously large heart. I consider him a great friend," McGrath said. "He is driven by the happiness and healing he can bring to others. He's given me so much hope."
There's no quit in McGrath or Dr. C
Dr. Chaiyasate said McGrath's reconstruction surgeries and care have made this one of the most complex cases he has ever taken. McGrath has battled serious complications along the way, but neither he nor Dr. Chaiyasate has given up.
Dr. Chaiyasate is giving him the next year to rest and recuperate before more surgeries. Doctor's orders: work on your golf game, skate and enjoy life.
"While cancer changed me physically, it never changed who I am," said McGrath. "As a matter of fact, I believe it helped me shed my ego, which was very focused on my looks. I also believe it only enhanced my positive nature and my ability to help others. It has given me gifts that money could never buy. I am a better person today because of the path cancer put me on."