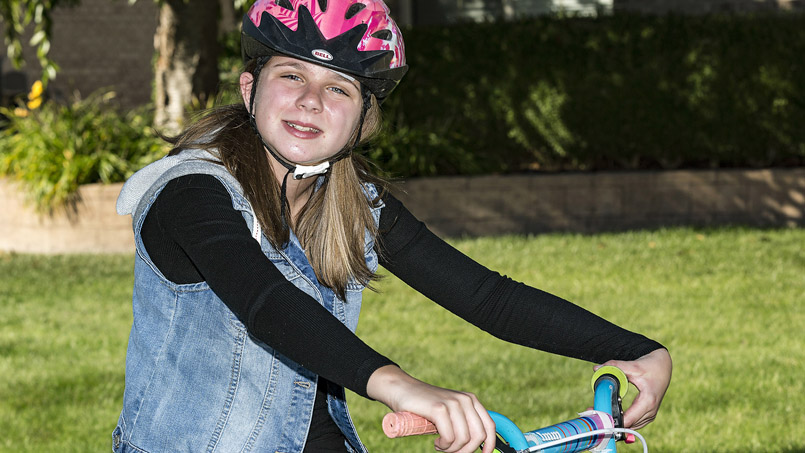 Family travels 2,000 miles for daughter's lifesaving tumor treatments; technology coming to Beaumont in 2017
At first, Cindy Davidson of Macomb Township thought her 2-year-old daughter, Lauren, had the flu. But, when she arrived at Lauren's day care, Cindy found her vomiting and unable to walk. Little Lauren was experiencing balance problems and falling over. Cindy rushed her to the Emergency Center at Beaumont Hospital, Troy.
A CT scan of Lauren's head and neck revealed hydrocephalus, a buildup of fluid on the brain. Excess fluid can produce harmful pressure on the brain.
Lauren was transported to Beaumont Children's in Royal Oak. An MRI showed a tumor on her brain stem. It was blocking the flow of fluid to her spinal cord. A surgeon inserted a drainage tube to relieve pressure on her brain. This all happened in June 2008.
Two years later, at age 4, Lauren underwent surgery to remove her brain stem tumor. Despite the surgeries, her tumor reappeared and was growing faster than expected. And because of its location in the brain stem, the dangers of recurring hydrocephalus, increased fluid pressure in the brain, were real.
According to the National Institutes of Health, hydrocephalus can permanently damage the brain, causing problems with physical and mental development, especially in young children. If untreated, it is usually fatal.
Long distance referral
In 2012, at age 6, Lauren and her mother met with Peter Y. Chen, M.D., a Beaumont radiation oncologist. While the tumor was thought to be growing slowly, Dr. Chen recommended radiation treatments to shrink Lauren's tumor. He mapped out a treatment plan using traditional radiation.
Cindy Davidson was uncomfortable with the amounts of radiation needed to treat Lauren's brain stem tumor. She was troubled about its possible effect on her daughter's brain development.
Cindy expressed her concerns to Dr. Chen and he suggested a viable alternative: proton therapy. The only challenge: there were no proton therapy centers in Michigan. Dr. Chen knew a former colleague who worked at a proton therapy center in Oklahoma City, who helped get Lauren into their treatment program.
"For children with certain types of cancerous tumors, young patients who are most vulnerable and susceptible to damage of traditional X-ray radiation therapy, proton beam therapy offers less radiation exposure and fewer side effects," Dr. Chen explained.
Proton therapy is a high-tech alternative to X-ray radiation. A scanning beam of proton radiation with online image guidance offers greater precision to treat tumors with accurate dose delivery to the tumor with no radiation traveling through the patient, sparing adjacent healthy tissue.
Lauren's family was pleased to hear proton therapy could reduce radiation exposure to the brain by as much as 50 percent.
Driving to Oklahoma
Cindy remembers getting the good news about Oklahoma City on a Friday and by the following Wednesday they were driving nearly 1,000 miles west. She recalled, "My dad, three girls and I got in the car and drove to Oklahoma."
Lauren underwent 30 daily treatments of proton therapy over six weeks. The then 6-year-old patient received treatment five days a week, Monday through Friday. She, her mom and sisters spent eight weeks living in a hotel, more than 1,000 miles from their Michigan home.
At their hotel, Lauren and her family met parents of children from the United Kingdom, Scotland and Canada. All traveled to Oklahoma to receive proton therapy to treat their child's cancer.
Said Kate Gowans, M.D., chief, pediatric hematology and oncology, "Proton therapy is effective in treating certain types of pediatric cancers, as well as certain cancers diagnosed in adults, and can greatly reduce the dose to normal healthy tissues near a cancer. For children, this is extremely important since they are at risk for long-term effects for many decades."
While proton therapy is not needed for all types of tumors, Dr. Gowans explained that with chemotherapy, it is effective in treating solid and localized tumors that are located near critical organs or in the brain.
Proton therapy is used to treat:
soft tissue cancers that develop in bone or muscle
brain and skull base tumors
eye tumors
head/neck cancers
abdominal/pelvic tumors
liver tumors
lung and thoracic cancers
left-sided breast cancer
Added Dr. Chen, "The beauty of the protons is that the radiation dose is customized to the tumor, while normal tissue receives minimal to no radiation."
Fast forward four years: technology coming to Beaumont
Four years after her proton treatments, Lauren, now 10, is doing well. Said Cindy, "The proton treatments killed off her tumor. It's shrinking – dead in its tracks." The mother of two sets of twins is grateful for Dr. Chen's referral and excited Beaumont Hospital in Royal Oak will offer proton cancer treatment in 2017.
"When I heard about Beaumont's proton therapy center construction, I was pleased. We're all excited about this new technology being so close to home," said Cindy. "The precision, reduced radiation and its ability to spare healthy tissue, makes this a great option."
Dr. Gowans agreed, "When complete next spring, people from across Michigan, Indiana, Ohio and even Ontario will have closer access to this lifesaving treatment."
Those interested in learning more about the new center and its capabilities can call Beaumont's Radiation Oncology program at 248-551-8402.