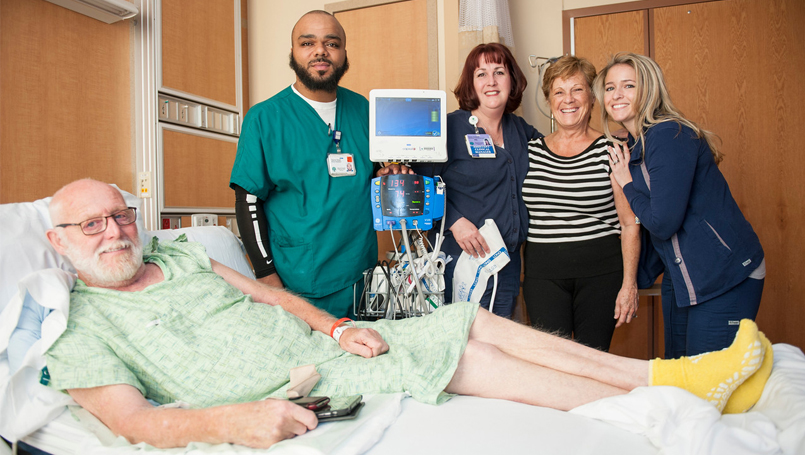 What would you do if you had a medical emergency while you're 39,000 feet above ground? This frightening situation recently became a reality for David and Linda Measures of Mesa, Arizona, when David suffered a stroke during their flight home from London to Phoenix.
The couple, who've known each other for more than 25 years and have been married for six, were returning from visiting family and touring the English countryside for six weeks.
The vacation started out well but was sidetracked when David began experiencing blood pressure fluctuations, chills and general fatigue. "My blood pressure at one point reached 170/104, and even I know that's not healthy," said David.
The Measures decided to see a doctor in England. After routine testing, David was treated with antibiotics for what was believed to be a bladder infection. They continued their vacation, but David still felt under the weather.
David slept most of the eight-hour flight to Detroit, only complaining of a minor headache when the couple boarded their plane. The sleeping didn't alarm Linda; David has travelled for business most of his life and was used to catching a few hours' sleep between destinations. "He's used to putting himself to sleep out of habit," said Linda. "He's really good at getting on a plane and not waking up until we'd arrive at the gate."
Their arrival in Detroit for what was supposed to be a three-hour layover quickly turned terrifying. Linda woke David up when the plane arrived at its gate, but he was disoriented and didn't know where he was. A flight attendant then called for medical help.
An ambulance rushed him to Beaumont Hospital, Wayne, where the care team treated his high blood pressure and irregular heartbeat before transferring him to Beaumont Hospital, Dearborn. "All I remember from the point we left the airport was hearing a few faint sounds," said David.
He suffered a hemorrhagic stroke, meaning a weakened blood vessel had ruptured in his brain. With a stroke, timing and quick medical attention can mean the difference between life and death or permanent disability. The Detroit layover couldn't have been better timed. Any further delay in getting treatment may have resulted in severe brain damage and a longer recovery.
While the Measures spent a total of 14 days in the hospital, their baggage traveled without them to Arizona. The 3 North team at Dearborn went above and beyond in helping make the situation as comfortable as possible for them. They set Linda up with a place to sleep in her husband's room so she could be stay his side. They even did their laundry and took Linda shopping for anything she needed during her husband's stay.
"I've been in a lot of hospitals throughout my life," said Linda, a breast cancer survivor. "But I've never been in a hospital that treats not only the patient with this level of compassion and kindness, but the family members also."
I've been in a lot of hospitals throughout my life. But I've never been in a hospital that treats not only the patient with this level of compassion and kindness, but the family members also."

Linda Measures
David, a big fan of German shepherds, was especially grateful for a visit from Tugger, the hospital's six-year-old security dog. "Tugger really made his day," said Linda. "It was just another example of how great the staff treated us throughout stay."
The Measures headed back to Arizona on May 25, where David will continue his physical therapy. Their extended stay made an impact on Dearborn's 3 North team. "We will never forget this experience," said Dawn Holland, clinical manager for 3 North. "I know our team will have a lifelong connection with both of them. This is an amazing example of kindness, and it's what we at Beaumont are here to do."