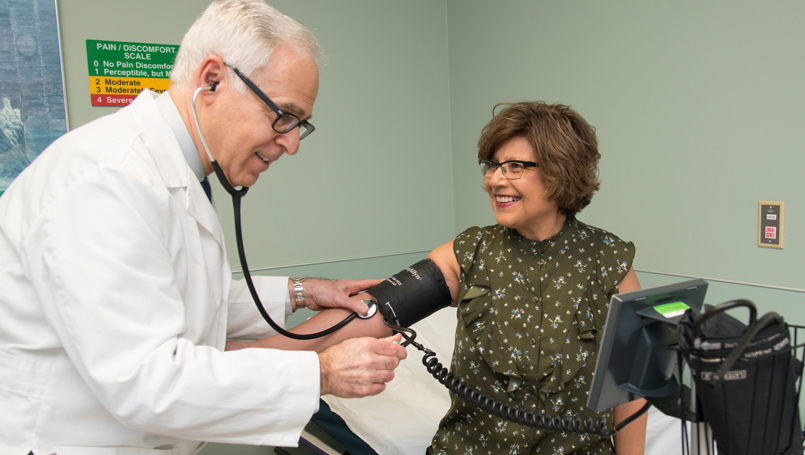 Long-distance runner Mercedes Zepp is adamant about training heart smart and with her eyes wide open.
"A lot of us athletes like to think because we exercise regularly, we automatically have healthy hearts," said the 58-year-old Clinton Township resident. "Unfortunately, that is not always the case."
Heart disease is the No. 1 killer of men and women. Barry Franklin, Ph.D., director of Preventive Cardiology and Cardiac Rehabilitation at Beaumont Hospital, Royal Oak said, "Through innovation and advanced heart screenings, such as those available at the Cardiovascular Performance Clinic, we can often identify heart disease and other cardiac issues."
So when the runner's watch strapped to Zepp's wrist began spitting out elevated heart rate readings, she became concerned.
She was particularly troubled by a 211 beats-per-minute reading that popped up during the cycling portion of an indoor triathlon.
It wasn't the first time her heart rate numbers spiraled while cycling. Even though she felt OK, Zepp began scaling back the intensity of her training, just to be sure.
Her husband, Kevin, a triathlete and personal coach, encouraged her to schedule an appointment at the Cardiovascular Performance Clinic at the Beaumont Health and Wellness Center in Royal Oak.
The pair had learned about the screening clinic through an educational event for athletes last year. Kevin had sailed through his appointment with no issues.
According to Dr. Franklin, the clinic serves as a health and educational resource for recreational athletes to help reduce the infrequent risk of cardiac events that can occur during vigorous exercise.
Participants' fitness parameters are also evaluated.
More specifically, each person receives an ultrasound of the heart, an electrocardiogram, a cardiopulmonary exercise stress test and consultations with a cardiologist and physiologist for $370.
The entire screening takes place in a single visit and results are provided the same day.
While cardiac events during athletic competition are rare, screenings can often prevent tragedies.
"The biggest study on the subject to date was featured in the New England Journal of Medicine in January 2014," Dr. Franklin said. "It showed that of 11 million marathon runners over 10 years, there were 59 cardiac arrests. Of those, 71 percent, or 42, were fatal."
The majority had hypertrophic cardiomyopathy, Dr. Franklin said. The remainder suffered from clogged coronary arteries.
The Beaumont Cardiovascular Performance Clinic screens for both, along with heart rhythm irregularities, valvular heart disease and other, structural cardiac abnormalities. Clinic participants can also undergo a coronary artery calcium score, an added test to check for plaque or calcium build up in the coronary arteries which is strongly associated with the development of heart disease. The calcium test requires an additional fee.
For Mercedes Zepp, favorable results from her performance clinic screenings allowed her to get back in the saddle, or, in her case, bike seat, where she can once again give it her full effort.
"I found out I was heart healthy and just a fraction off being in the high group athletically," Zepp said. "A simple equipment malfunction caused the elevated heart rate readings during cycling. What a huge relief."
Dr. Franklin said, "Our patients are in the driver's seat and we do whatever we can to help them manage their cardiovascular health."
Zepp has returned to her previous, six-day-a-week training regime and plans to participate in a handful of half-marathons during the upcoming season.
"Life can be stressful," Zepp explained. "Athletics should not be. I'm so happy cycling is fun again."
---
Free, Educational Workshop
The public is invited to a free, educational workshop, "Benefits and Risks of Extreme Endurance Exercise", 7 to 7:50 p.m., May 3, at Beaumont Health and Wellness Center, 4949 Coolidge Highway, Royal Oak. The program will be presented by Dr. Franklin and Roger Sacks, Coordinator of Beaumont's Cardiovascular Performance Clinic.
For additional information about Beaumont's Cardiovascular Performance Clinic call 248 655-5750.