Tuesday, September 20, 2016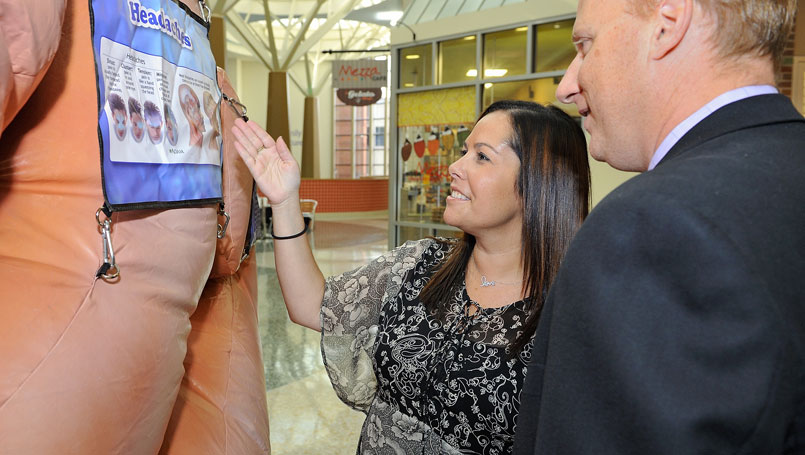 Jacquelyn Bell's migraines began when she was in high school. With no family history to point to, diagnosing and understanding the debilitating headaches that left her nauseated and sensitive to light and sound took time.
"Back then you didn't complain about a headache because people thought you were crazy," Bell said. "People would offer me a Tylenol, but offering a migraine sufferer a Tylenol is like offering them an M&M. It doesn't even touch it."
Bell hasn't gone a week without a migraine in years and says the most frustrating part is getting those around her to better understand what she's experiencing.
"Most people think it's just a headache. They don't understand why I have to sit here with the lights off and the doors closed. I don't get the same level of compassion I would if it were a medical problem they could see and understand visually," she said.
Now 46 and a social worker for children with special needs, the Birmingham resident has visited multiple doctors, tried acupuncture, visited a chiropractor and even meditated to help combat her migraines. Still, her health became so poor she took a six-week leave of absence from her job. Finally, she found relief when she met Daniel Singer, D.O., neurologist and medical director of the Primary Stroke Center at Beaumont Hospital, Dearborn.
"I knew helping her with her anxiety could potentially reduce her migraine frequency. After some months of work, we got her on the regimen that seems to be working great for her," Dr. Singer said.
Bell now receives Botox injections every 13 weeks and takes an occasional prescription migraine medication. Migraines are typically triggered by particular conditions and situations, and Jacquelyn identified stress as a trigger. "I'm an anxious person," she added. "I get nervous easily, and I always want everyone around me to be happy." Dr. Singer advised her to lower her stress through exercise and activities.
"Dr. Singer taught me I need to do more to help take care of myself, rather than focus on the things that I can't control," she said. She has now purchased a bike, goes to the movies more often and reads more books to help ease the outside stressors present in her day-to-day life. As a result of her medical treatments and her work to reduce stress, her migraines are more controlled.
Recently, Bell and Dr. Singer visited the MEGA Brain display at Beaumont Hospital, Dearborn, where he was able to explain visually how migraines are affecting her. The MEGA Brain is a portable, inflatable, walk-through brain exhibit. Visitors can step inside the human brain, learn about the various structures and normal brain function, observe examples of brain trauma and disease, and view displays explaining some of the latest neurological medical treatments.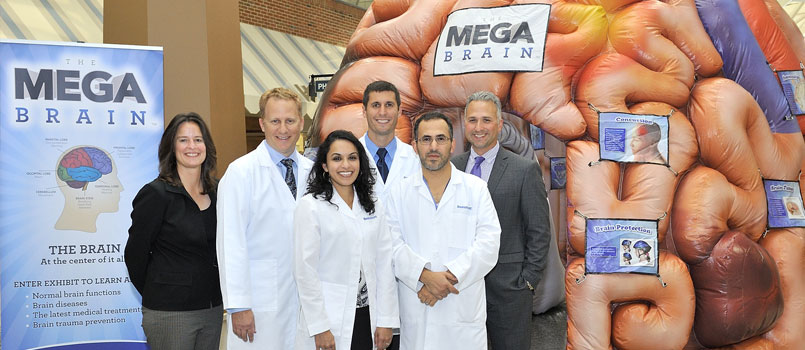 Kelly Smith, President, Beaumont, Dearborn with primary stroke team members: Daniel Singer, D.O., Sandra Narayanan, M.D., Joseph Schramski, D.O.,

Mohammed Alsaidi, M.D. and Timothy Vargas, Administrator Ancillary Operations. (Not pictured: Mamdouh Abdulrazzak, M.D., Fredrick Junn, M.D., Tejpaul Pannu, M.D.)
"The MEGA brain provided me with a 3-D way to show her where the migraine generator is in the brain stem," said Dr. Singer. "I was also able to explain why she often gets neck pain and sinus pressure when she has migraine, which is often misdiagnosed as tension or sinus headache. The ability to 'walk through' your neurological disease in the MEGA Brain provides a unique way to learn and understand the anatomy of your disease process."
Despite years of dealing with migraines, Jacquelyn has a positive outlook on her future. "Migraines impact my life every single day," she acknowledged. "But with the help of Dr. Singer, I'm the happiest I've ever been."
"It's interesting to see the various parts of the brain and where they're affected by different diseases. I do want my coworkers and my family to see this," said Bell.
The MEGA Brain will be at Beaumont, Dearborn in the hospital's atrium until Wednesday, Sept. 28.