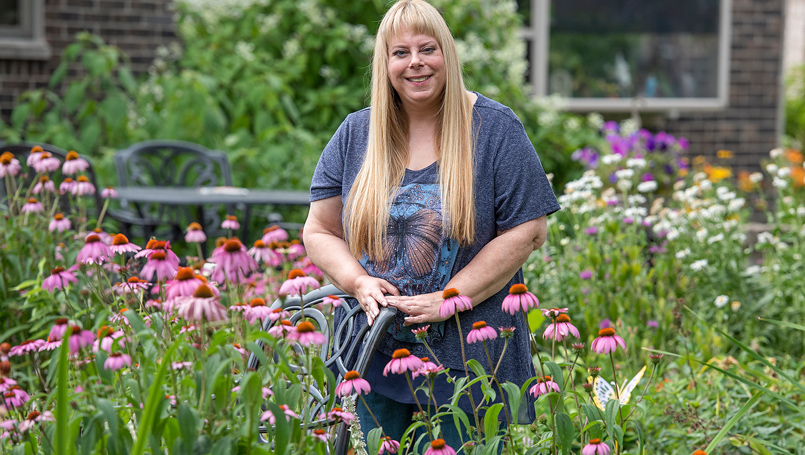 Wendy Sue Wilson, 51, received a breast cancer diagnosis last summer. Fearful and anxious, her mind went into overdrive with worry, not only for herself but also for her parents with health issues who rely on her.
Butterflies are free
Arriving home in Flat Rock, she retreated to her backyard butterfly garden and koi pond. She grows perennials that provide nectar - a food source for butterflies. As Wilson thought about what her future would hold, she noticed the many pink-colored flowers surrounding her and felt uplifted by the color so closely associated with breast cancer awareness.
Then, a Monarch butterfly landed: "I felt a sense of peace, like God had sent a messenger to say that I would get through this disease and be OK."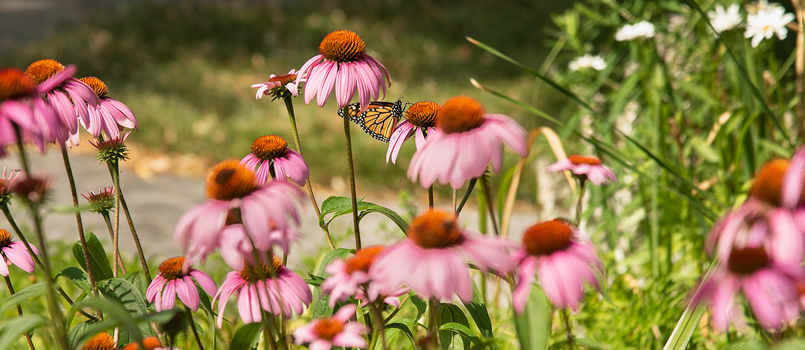 Wilson's intuition to seek out nature mirrors what many scientific studies have shown -a significant increase in health and happiness. Connecting with nature can defeat one's urge to overthink sad subjects.
Spending time in nature is also associated with keeping inflammation in check. This is especially good for Wilson since she also has a rare autoinflammatory disorder called Schnitzler Syndrome. She may reap another benefit since spending time in her garden may stimulate the production of anti-cancer proteins.
"Strength is my treasure," Wilson explains. "I am a powerful warrior. And, my mom Sharon Wilson and Aunt Rozada Schaller, a breast cancer survivor, were my super support team."
Her resilience developed from surviving cervical cancer and years of biopharmaceutical injections to treat her Schnitzler's symptoms. Her Beaumont care team - diagnostic radiologist Caroline Henien, D.O., breast surgeon Helen Mabry, M.D., medical oncologist Shanti Thomas, M.D., and radiation oncologist Daniel Hamstra, M.D., Ph.D. - coordinated her cancer treatment with her Schnitzler's treatments.
Early detection by Beaumont's staff at the Karen Colina Wilson Smithbauer Breast Care Center in Trenton provided a rapid diagnosis and treatment plan, which were critical to Wilson's successful outcome.
"The breast center staff was courteous, understanding, caring and very knowledgeable," said Wilson. "For example, when I went in for my biopsy with Dr. Henien, they sat me down in a special comfort chair in a private room with beautiful pictures, brought me a beverage, wrapped me in a warm blanket and asked if I wanted a visit from Matilda, the therapy dog. I got to hug and pet this sweet dog and give her treats."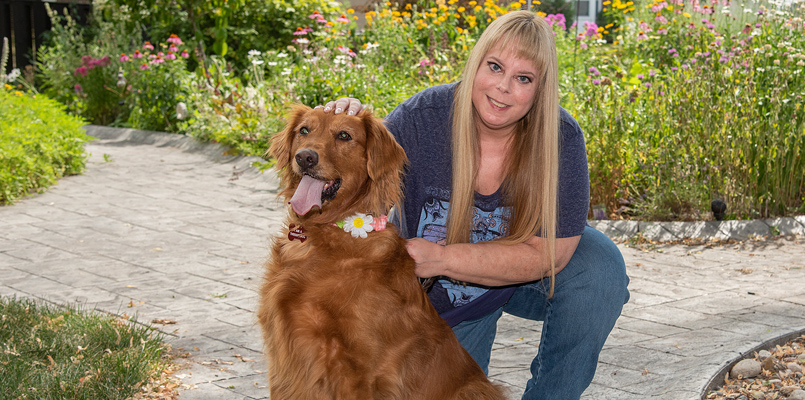 Wilson is thankful for Drs. Henien and Mabry and the Breast Care Center staff, for the compassion they showed and the hugs they gave. She is also grateful to therapy dog owner and Breast Care Navigator Cindy Massengill, whose Golden Retriever Matilda gave comfort and a smile to her when she felt very low. Wilson also appreciates Karen Colina Wilson whose generosity made this breast center a reality.
Altruistic people live longer
The week before the lumpectomy surgery to remove her breast cancer, Wilson attended an out-of-state conference in Indiana to assist women affected by human trafficking. As an advocate for improving the lives of women and girls in her local community and beyond, this member of Soroptimist International of the Flat Rock Area has worked to make a difference for years. Three days before her surgery, she took part in the group's successful Breast Cancer Fundraiser Road Rally. What's the personal benefit of all her volunteer work? It actually may benefit her mental and physical health.
Just before her surgery, Wilson posted on Facebook: "On Oct. 18, I had many hours of pre-operative care at the Breast Care Center and Radiology department at Beaumont Hospital, Trenton. Tomorrow, Dr. Helen Mabry will do my surgery to remove the cancer and some lymph nodes. I really like her. She made me feel at ease, explained everything in detail in words anyone could understand and was honest with me."
She received the news that she would not need chemotherapy with a mixture of elation and relief. However to destroy cancer cells that may have remained in her breast after surgery, Wilson received outpatient radiation therapy delivered in a six-week series of daily sessions, each requiring about 30 minutes at Beaumont Hospital, Dearborn.
While recovering from surgery, Wilson returned to work with restrictions. Her co-workers welcomed her and had supported her throughout with calls, cards and gifts. She continued to work throughout her radiation treatments, adjusting her schedule along the way. That is what warrior women do. They fight back, reclaim their health and live to tell about it, so other women can know they can be survivors, too.