Thursday, September 01, 2016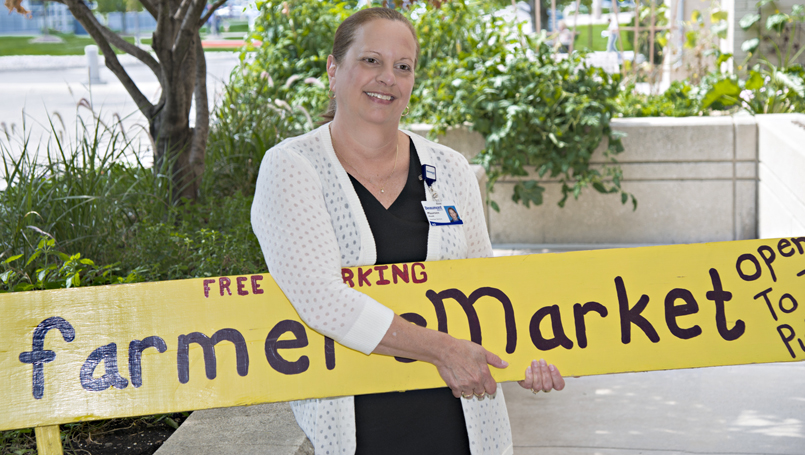 From peaches and apples from Armada, to potatoes, tomatoes and squash from Marine City, the 2016 Michigan fruit and vegetable harvest is pouring in to grocery stores near and far.
Thanks to Beaumont Hospital, Royal Oak's Nutrition and Retail Services director, Maureen Husek, patients, employees and visitors have convenient access to fresh, locally grown produce and unique, artisan wares, right on campus, every Thursday through Oct. 2.
Beaumont's significant buying power, fortified by the Royal Oak hospital's 8,704 employees, 1,082 licensed beds, 60,558 admissions and 128,528 Emergency Center visits (2015), is similarly deployed to champion Michigan's local food economy.
Hillary Bisnett, national procurement director of the Healthy Food in Health Care Program, witnessed Beaumont's commitment to local food at Blake's Orchard in Armada in 2014 as part of a Michigan Farm to Institution Network call-to-action event; Husek represents health care on the group's 12-member advisory committee.
"All of us were challenged to find new ways to bridge the gap between Michigan farms and institutions," Bisnett said. "Maureen was the one who made it happen. She bought 80 bushels of apples that day to give away at the hospital in celebration of Food Day."
Two years later, Beaumont , Royal Oak patients, families and employees continue to celebrate Food Day, Oct. 24, with a juicy, Michigan apple as part of the "Michigan Apple Crunch" initiative.
More recently, the hospital reached new heights in meeting standards set forth by The Michigan Good Food Charter, which challenges institutions to purchase 20 percent of food locally by 2020.
For example, for the first time, this year, all blueberries purchased by the hospital year round were grown in Michigan soil.
"Maureen and our staff work diligently to overcome any barriers institutions may face in buying local, including seasonality, cost and volume," said Eileen Miskiewicz, nutrition services and farmers market manager, Beaumont , Royal Oak. "She sought out a processor who freezes blueberries and worked with our distributer to partner with this processor, making Michigan berries available to us and others year-round."
According to Colleen Matts, farm to institution specialist with Michigan State University's Center of Regional Food Systems and co-lead of the Michigan Farm to Institution Network, Beaumont's buying power has made all the difference.
"Distributors will listen to and respond to large institutional buyers like Beaumont first," Matts said.
In addition to making Michigan blueberries and other produce available to all institutional customers of the distributor including healthcare and long term care, schools, early childhood programs and other food service operations throughout the state, Beaumont also worked with the distributor to ensure buyers receive farmer profiles detailing product origins at the point of sale.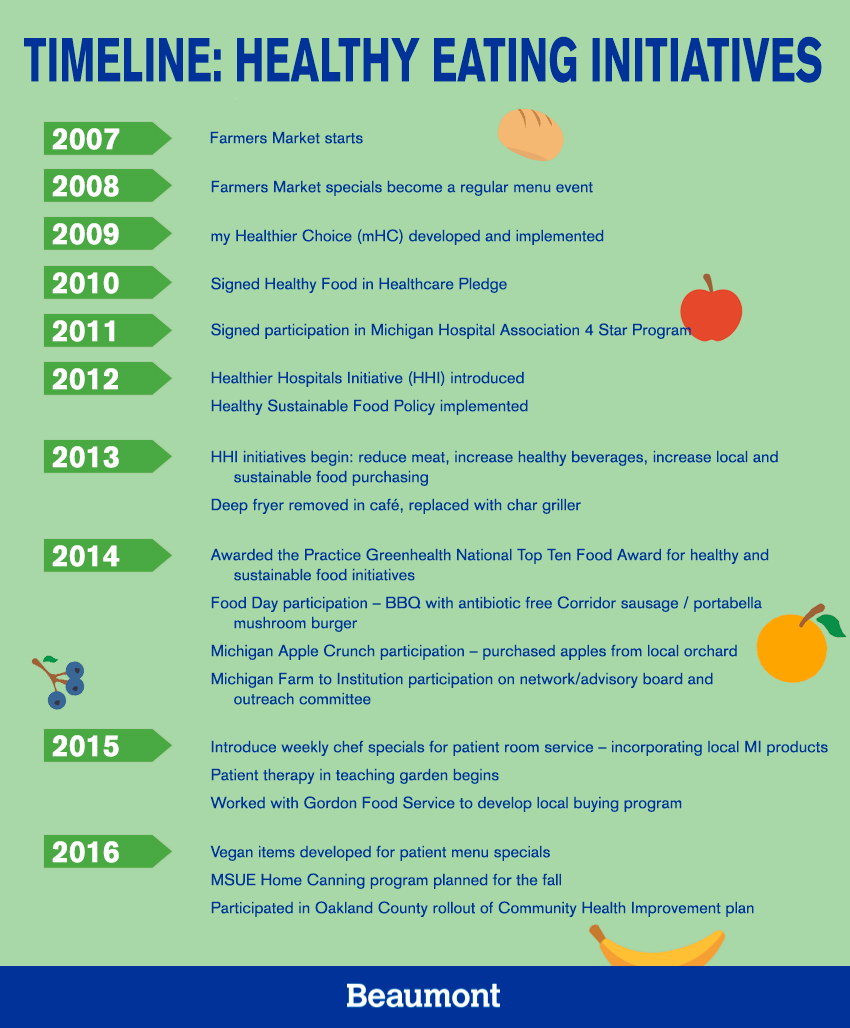 Highlights of Beaumont, Royal Oak's healthy eating initiatives
"This advance contributes to the transparency of our food system, gives buyers a choice and enables them to track their progress towards buying local," Matts said.
Additional healthy, sustainable food accomplishments include:
introduction of the Mediterranean Diet in the Beaumont, Royal Oak cafeteria for National Nutrition Month, including a permanent entrée and salad bar
successful lunch-and-learn vegetable gardening classes for employees
addition of low-fat, low-sodium and fat-free salad dressing selections
addition of vegan choices to patient menus and room service
development of Beaumont's own fat-free, low-sodium Tuscan Italian dressing brand
collaboration on a screening program to determine patient food access after discharge
participation in Oakland County's Community Health Improvement plan, which aims to increase access to healthy, local food and promote active living.
According to the Michigan Department of Agriculture and Rural Development, the state's food and agriculture industry contributes $101.2 billion annually to the state's economy. Michigan hosts approximately 10 million acres of farmland.