Tuesday, September 13, 2022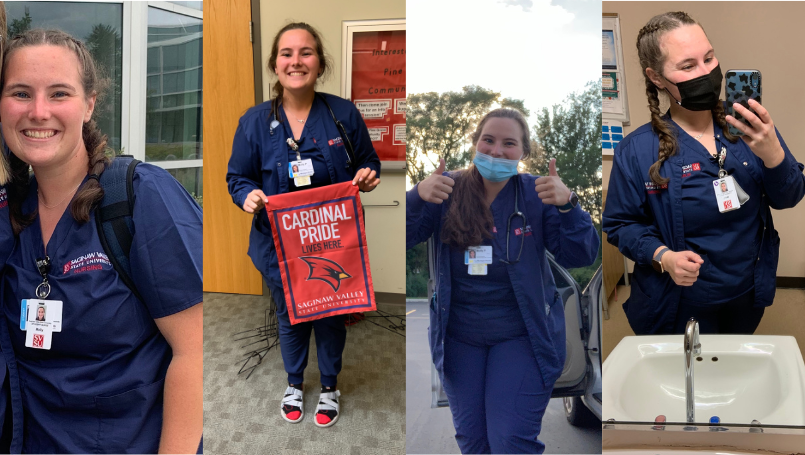 There was a time where Molly Pratt, 24, couldn't walk and was in a wheelchair due to her debilitating cancer. Now, Pratt is months away from walking across the stage at graduation with her bachelor's degree in nursing from Saginaw Valley State University.
"Nothing is too far out of reach," Pratt said. "There was a time I thought, 'How am I going to be a nurse in this condition?' Slowly but surely, I'm getting my strength back."
Inspired by her own pediatric oncology nurses at Beaumont Hospital, Royal Oak, Pratt went to school to become one of them.
"My dream – my end goal – is to be a pediatric oncology nurse because of them," Pratt said. "They always were so encouraging and had smiles on their faces. They made treatment bearable. I'd like to do the same for someone."
The beginning: high school years
Pratt first learned she had cancer the weekend of her junior year homecoming at Armada High School.
"I had just turned 16, and I was diagnosed with Hodgkin's lymphoma," she said. "I remember back then my focus was on my ACT score, what I was going to wear to homecoming, where I was going to go to college. Finding out I had a cancer diagnosis in the middle of all that was not at all what I was expecting."

Pratt said, within a week of getting her original bloodwork back, she was scheduled for surgery to get a port placed and start chemotherapy. She did six cycles of chemotherapy at Beaumont, Royal Oak.

Since then, Pratt said, she has relapsed twice.
"I've had cancer now three times," she said. "Each time it advanced a little more."
Throughout it all, Pratt has remained positive, even when she lost her hair during treatments or had to shave her head.
"The one time, I was trying to hold off and have my hair for prom, but I just couldn't, so a friend of mine gave me a really nice wig," Pratt said. "I joked with my friends and said, 'You guys wish it was this easy to just throw on a wig for prom instead of sitting around getting ready for hours.' It took me 10 minutes to get ready."
The college years
After graduating high school in 2016, Pratt went to community college.
"I was still going through treatments at the time, so I could only take a couple classes, if I was lucky," she said. "I didn't want to take a complete break because I was scared that I wouldn't be able to go back, so I took a class or two every semester to help keep my mind off things."
This is her sixth year in college. Three years ago, she transferred to Saginaw Valley State University and was able to take a full load each semester after that.
Currently, she is doing her second clinical rotation. The first was at a familiar place – Beaumont, Royal Oak.
The scholarship
"While I was going through treatments, the oncology office told me about a scholarship opportunity for survivors like me," Pratt said.
Pratt applied for and received the Charles A. Main Pediatric Cancer Survivor Scholarship, named after Dr. Main, former chief of Pediatric Oncology and Hematology at Beaumont Children's. The scholarship is intended to help young adult cancer patients like Pratt and encourage them to look to the future by continuing their education.
"Our pediatric cancer patients go through so much and have so much taken away from them, like the ability to simply be a worry-free kid or teen," Dr. Main said. "The one thing cancer can't take away from them: their ability to dream. Through the scholarship program, we hope to inspire them to continue to dream and move forward by furthering their education."
Currently, the scholarship fund is supporting 36 former patients who are seeking higher education in medicine, nursing, dietetics, and physical therapy. To date, 233 students who are childhood cancer survivors treated in the department have received scholarship money from the Charles A. Main Pediatric Cancer Survivor Scholarship Fund.
"I can't express how much the scholarship has helped me," Pratt said. "Having to pay for hospital bills and treatment is not cheap, and then you add going to college into the mix. Every little penny that I got from the scholarship was so helpful, especially because when I was going through treatment, I couldn't have a job so I couldn't necessarily save up money."
Pratt said what makes it even more special is that the scholarship is coming from the office that inspired her to become a nurse in the first place.
Nearing graduation day
Pratt is on track to graduate in December.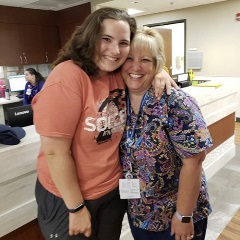 "My family, my community, my school – everyone has been extremely supportive," she said. "I'm very blessed."
Looking back on everything, Pratt said she is simply grateful for all she went through because it made her the person she is today.
"I love telling my story," she said. "I hope I'm able to encourage other people the way that I was encouraged by all my nurses. That's the thing I'm most excited for when I graduate nursing school: just to be able to share my story and, hopefully, make a true difference."
---
About Childhood Cancer Awareness Month
September is Childhood Cancer Awareness Month. The goal is to bring awareness to pediatric cancer, the leading cause of death by disease for children under the age of 14. During the month of September, Beaumont Children's is going gold and sharing the stories of our pediatric cancer patients to bring awareness.