Wednesday, March 08, 2017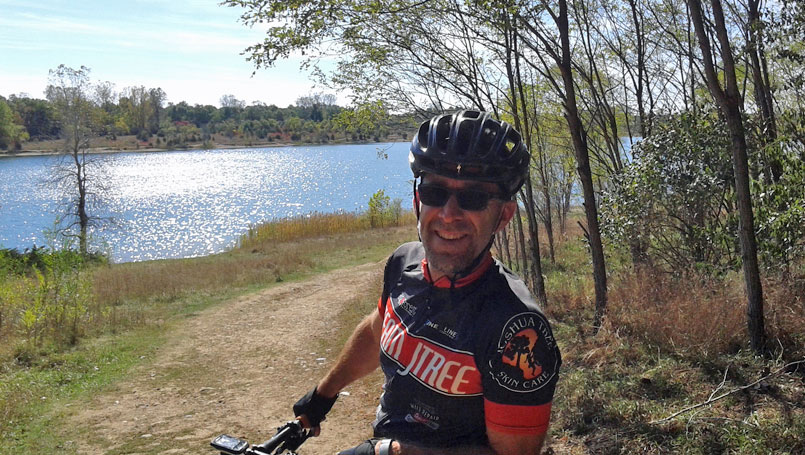 Jack Lee, 57, of Northville, participates in up to 10 mountain bike racing competitions each season, including a few as long as 48 miles.
Though he's an accomplished athlete, Lee doesn't take his cardiovascular health for granted.
"It seems like every year, someone at one of these big races has a heart attack," said Lee, who beat prostate cancer two-and-a-half years ago. "A lot of race time is spent off-road and on our own. I need to know my body's going to hold up."
When Lee heard about the Cardiovascular Performance Clinic at the Beaumont Health Center in Royal Oak last year, he thought it was a great opportunity to find out his anaerobic threshold, or his optimal pace during exercise.
"I monitor my heart rate all the time, but before going to the clinic, I didn't know my lactic acid threshold – which helps with training and racing," said Lee.
Lee learned that when he is exercising, 145 - 148 beats per minute is the sweet spot to which he should personally aspire. If his heart beats a little faster, that is fine for a short while, but not on a continued basis.
For $370 participants receive a heart ultrasound, an electrocardiogram, a cardiopulmonary exercise stress test and consultations with a cardiologist and a physiologist - all in a single visit. Test results are provided the same day.
We all have high-end bikes. Why not spend a fraction of the cost of our equipment on heart health?

Jack Lee
The cardiopulmonary stress test measures aerobic capacity, also known to extreme athletes as VO2 max. V02 max indicates the amount of oxygen an individual utilizes during intense exercise, which helps determine an athlete's capacity to perform sustained exercise.
Since being screened, Lee has referred his wife, Carol, 52, who also mountain bikes, for screening; Plus he carries clinic brochures with him everywhere to share with friends and fellow bikers.
"We all have high-end bikes," said Lee, whose mother died of heart failure at age 57. "Why not spend a fraction of the cost of our equipment on heart health?"
Because of his family history, Lee was not surprised he'd inherited a genetic predisposition he high cholesterol; he began taking medication to manage it five years ago.
"There are no guarantees in life," Lee said. "But I wanted to know I did everything I possibly could to take care of myself."
The clinic's primary purpose is to reduce the likelihood of sudden cardiac events that can occur during vigorous athletic competition, according to Barry Franklin, Ph.D., director of Preventive Cardiology and Cardiac Rehabilitation for Beaumont Hospital, Royal Oak. Fitness parameters are also evaluated.
"The biggest study on the subject to date was in the New England Journal of Medicine in January 2014," Dr. Franklin said. "It showed that of 11 million marathon runners over 10 years, there were 59 cardiac arrests. Of those, 71 percent, or 42, were fatal."
The vast majority of those runners were found to have hypertrophic cardiomyopathy, Dr. Franklin said. The remainder suffered from clogged coronary arteries.
The Cardiovascular Performance Clinic screens for both of these conditions, along with arrhythmias, valvular heart disease and other structural cardiac abnormalities.
Clinic participants can also undergo a coronary artery calcium score, an added test to check for plaque or calcium build in the coronary arteries that can cause heart disease or lead to a heart attack. The CT Calcium Test requires an additional fee.
"I try to do everything I can to stay healthy and alive," Lee said. "I tell people: 'We are worth the investment'."