Friday, November 17, 2017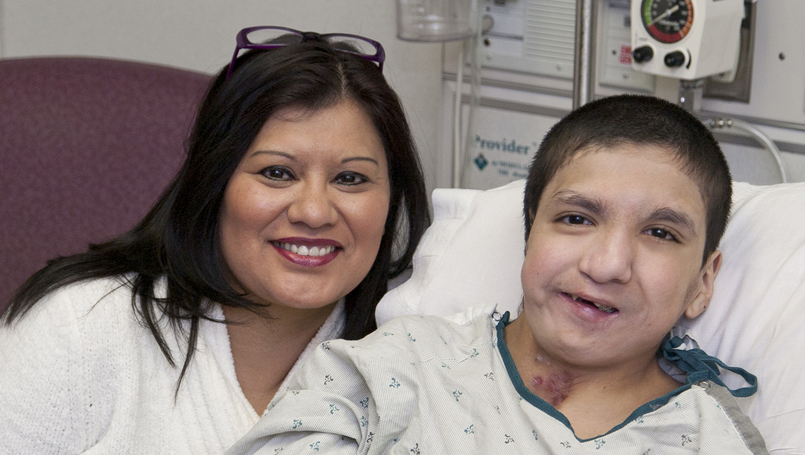 Movie 'Wonder' hits home for local family
When Angela Atkinson saw the trailer for the movie "Wonder" she immediately could relate. It brought back so many memories.
She thought, "Oh my God, this is Ramon's story." Atkinson's son, Ramon Aguilar Jr., was born with a craniofacial condition known as Goldenhar syndrome. Like the movie character, Auggie, growing up, Ramon has experienced the staring, bullying and desire to be accepted by his peers.
This weekend, Atkinson and Aguilar will attend a special viewing of "Wonder" thanks to the generosity of Emagine Theater in Royal Oak, Kongkrit Chaiyasate, M.D., Beaumont Foundation and Children's Miracle Network Hospitals. Based on the trailers, Atkinson went out and purchased the best-selling book, "Wonder."
It's been almost six years since Ramon Aguilar Jr. and his family sought the care of Dr. Chaiyasate and the team at Beaumont's Ian Jackson Craniofacial and Cleft Palate Clinic. For Aguilar, of Redford Township, it has been a long journey in his quest for normalcy.
He has Goldenhar syndrome, a congenital condition that affects development of his face. In most cases, as in Aguilar's, only one side of the face is affected.
The goal of the clinic's medical team is to reconstruct the right side of his face and his jaw to allow him to eat solid foods.
Angela recently provided an update on Ramon's journey. His most recent surgery was in March of this year. He received prosthetic jaw joints. Aguilar, 21, graduated from Thurston High School and now has his driver's license.
Said Angela proudly, "Against all odds, Ramon has overcome most everything."
In September 2012, after Angela found out Beaumont had a craniofacial clinic; she met with nurse navigator Jennifer Brabant. She was overwhelmed by what she heard. At last she had found a group of specialists that offered hope and help for Ramon.
Explained Jeffrey Topf, D.D.S., chief, Oral and Maxillofacial Surgery, Beaumont Hospital, Royal Oak and one of the medical directors, Ian Jackson Craniofacial and Cleft Palate Clinic, "The true uniqueness of this case is that a plastic surgeon, oral and maxillofacial surgeon and neurosurgeon operated together to reconstruct a complex facial deformity in one stage, rather than in multiple operations. This treatment plan was developed at our clinic with input from nearly 20 staff, representing a wide range of expertise."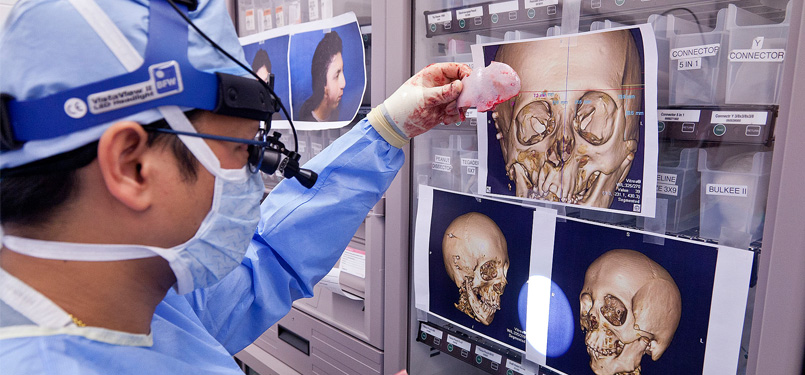 When the team performed their first surgery in late January 2012, Aguilar was a 10th-grader at Thurston High School in Redford. Like most teens, he liked music, sports, his iPod Touch and was anxious to get his driver's license. But, unlike most of his peers, he has been unable to chew, swallow and eat solid foods since birth.
Aguilar has severe facial asymmetry which is a well-known syndrome among craniofacial specialists. He has severe jaw problems because his jaw sockets never developed. Subsequently, he cannot open his mouth very wide, affecting his speech and ability to chew. Aguilar has a fraternal twin brother, Victor and the contrast in their physical stature is striking. At 16, Ramon was 4 feet 8 inches tall and 79 pounds. Victor was 5 feet 8 inches tall and 203 pounds. Despite their physical differences, like most twins, the brothers have a close bond.
"Strangers staring at Ramon is hard on him," explains his mother Angela. "We talk about it from time to time."
Aguilar is one of five children. She says he's outgoing. "I have always treated him like all the other kids. That includes household chores."
During high school, while he could not participate in sports because of health issues, he did assist the Thurston Eagles football and basketball teams as a student manager and water boy. Angela says he has many friends.
"Once they get to know him and his personality, friends cling to him," explained Angela. As for Aguilar's future, Angela is hopeful he'll be able to chew, swallow and eat solid foods. She also believes the surgeries will increase his self-esteem and reduce some of the painful stares.