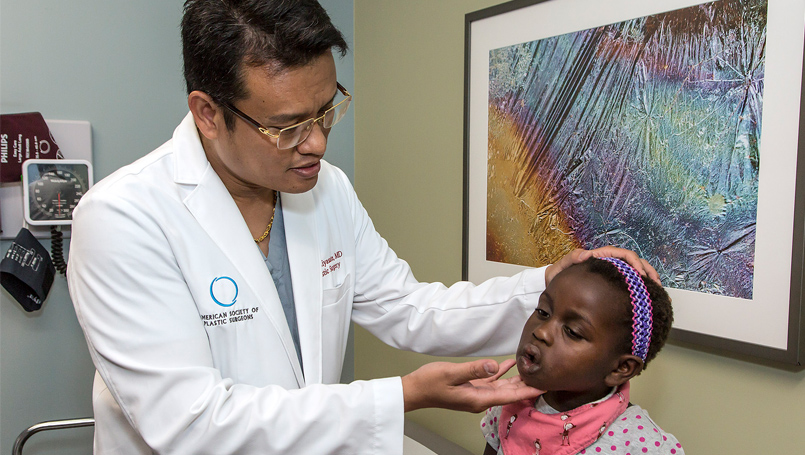 Life for 4-year-old Vanessa Nabunje of Uganda and her family has been challenging. Her father was killed by a crocodile in Lake Victoria, leaving her mother to do her best to provide. Vanessa was born with a vascular condition that grossly enlarged her lower lip. Because she looked so different than the other children in her village, Vanessa was in danger.
"Kids like Vanessa are executable," said Rebecca Ghent, founder of Ray of Hope Medical Missions which helps children abroad like Vanessa. "Some strongly believe the child's mother had a rendezvous with the devil."
Ghent, a former craniofacial nurse, understands how today's technology and skilled surgical teams change lives. She is so passionate to help others, she formed a mission to assist medically deprived children from underdeveloped nations.
When Beaumont Children's craniofacial surgeon, Kongkrit Chaiyasate, M.D., heard about Vanessa through Rebecca's organization, he agreed to help.
Vanessa was born with abnormal vein growth in her lower lip and face. The uncommon condition is known as a venous malformation. As she continues to grow, so too will the veins, which expand when she cries. Venous malformations are like a bunch, or cluster, of extra veins rich with blood.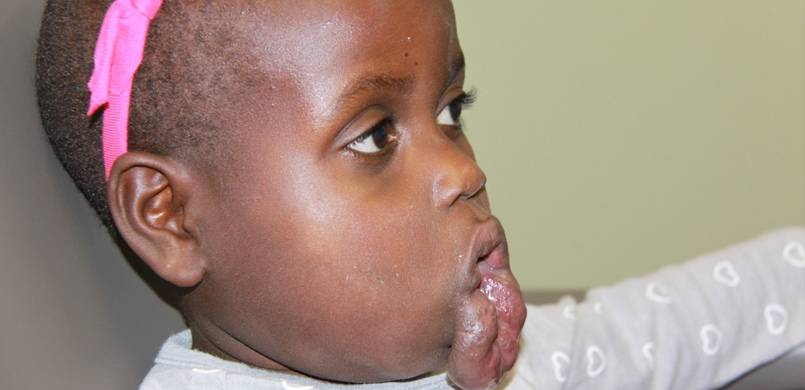 Vanessa prior to surgery with Dr. Chaiyasate.
"Left alone, without surgical intervention, her lower lip would continue to grow, not only affecting her speech, but also lip function, which can lead to drooling," Dr. Chaiyasate explained. "Removing a venous malformation can be quite demanding and tricky. You have to work quickly to reduce blood loss."
In fact, Dr. Chaiyasate said if Vanessa would have experienced any kind of minor trauma while in Uganda to her lip and face, she could have been in danger of bleeding to death from a broken or ruptured vein.
Vanessa had her first surgery on Jan. 21 and a follow-up procedure on May 21. Her final appointment with Dr. Chaiyasate is July 11. It's anticipated she'll receive medical clearance to return home.
"I removed as much of the mass as I felt was safe," Dr. Chaiyasate said.
Back with her host family in Indiana, Vanessa is doing well. In fact, she'll be reunited with her mother in Uganda later this summer. Dawn Smith and her husband Scott, a physician specializing in emergency medicine, and their children have enjoyed sharing their home with Vanessa. She arrived in the United States on Oct. 21, 2015.
"She's reserved around other people, but not with us," explained Dawn. "Vanessa is a typical four-year-old, she loves to jump." Her daughter, Hannah, 14, has developed a strong bond with Vanessa. Dawn said, "Hannah is her little mom."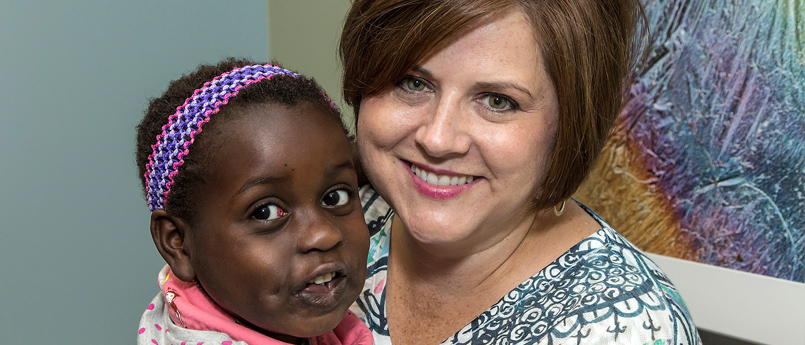 As for eating after Dr. Chaiyasate's procedures to her lip, Dawn said, "Vanessa can eat anything."
The Smiths send pictures to Vanessa's mother via email weekly and they share a written report once a month. Vanessa is the first Ugandan child who has benefitted from medical treatment provided by the Ray of Hope Medical Missions. Host families, like the Smiths, play a key role, since the nonprofit organization does not allow parents to travel overseas with their children.
After only about eight months in the United States, Vanessa has picked up English, and now speaks in sentences. While she is away, her mother is learning a new trade thanks to a gift of pigs and a pig pen from the Smiths through Ray of Hope Medical Missions.
"While it is difficult to fully restore Vanessa's lip function and form, it is critical to address this condition at a young age, so she blends in with her culture and society," explained Dr. Chaiyasate. "Her future is now so much brighter."