Thursday, October 19, 2017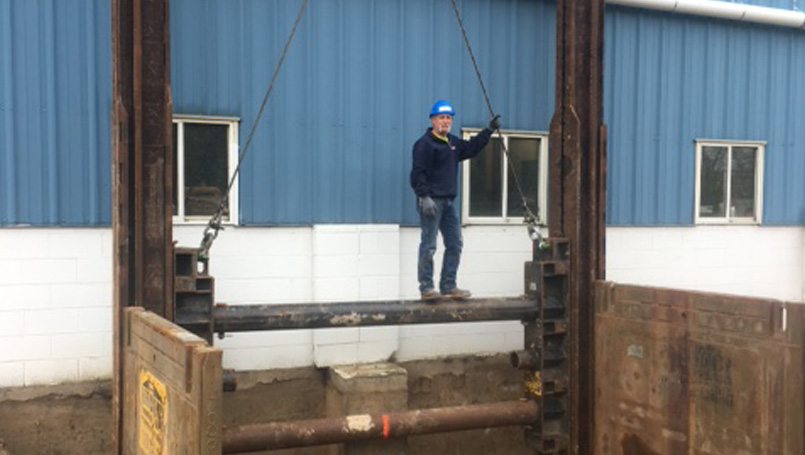 As Michael Noack, 54, stood on a construction scaffold in Albion, he reached over to another nearby scaffold. Moments later, the scaffolds shifted away from each other, leaving him hanging between the two and ripping his shoulder out of its socket.
"It was a terrible pain. I knew right away something was wrong," Noack said. "I couldn't move."
Physical therapy and medication didn't ease the pain. A surgeon in Saginaw opened up his arm to see if he could repair the rotator cuff. But, the doctor said the damage was too great. Noack needed a shoulder replacement.
"I consulted with Dr. Google and my nurse liaison, looking for the best doctor to do the shoulder replacement. I did my research and found a lot of good information about Dr. Michael Wiater online," Noack said. "I wanted the best and I didn't care he was two hours away from my house in Freeland."
Beaumont orthopedic surgeon J. Michael Wiater, M.D., examined Noack and determined he was an excellent candidate for a reverse total shoulder replacement, a complex surgery in which the ball part of the artificial joint is placed onto the shoulder blade and the socket part is placed onto the arm. Reverse total shoulder replacement is designed for patients like Noack who have torn rotator cuffs or arthritis.
"Michael had a lot of shoulder pain. It prevented him from doing his job and he had a severely torn rotator cuff," Dr. Wiater said. "He had the perfect positive attitude and that's a big factor in deciding who is a good candidate for surgery."
Noack has worked in construction his entire life. "I told Dr. Wiater, 'Construction has a lot of violent motions in it, like using a sledgehammer or a demo hammer. For me, it's either going to work or it's going to fail. I need this to work.'"
Dr. Wiater operated on Noack in June 2016. Noack went home the next day.
"My mental well-being is based on my ability to work. Doing a good hard day's work makes a person satisfied," Noack said. "I told Dr. Wiater I wasn't ready to give up my construction career."
Dr. Wiater performed the surgery, but Noack took it from there. He participated in a comprehensive physical therapy program and did numerous exercises at home to strengthen his shoulder.
For me, it's either going to work or it's going to fail. I need this to work.

Michael Noack
"Therapy hurts. It's not fun. But, you have to push through it to get a good end result. You get out of it what you put into it," Noack said.
Many shoulder replacement patients do not return to a job as labor intensive as construction work. But, Noack refused to let the injury banish him behind a desk for the rest of his career.
"I am so impressed by Michael's desire to get his life back to normal. He is doing much more manual labor than many people do after surgery. I'm eager to follow his progress over the next few years. I think I could learn from him and help other patients," Dr. Wiater said.
Noack returned back to work a few months ago and still does physical therapy stretching exercises every day before he heads out to a construction site. He takes breaks when he needs to give his body a rest, but the breaks are becoming much less frequent.
"I'm pushing the envelope a little harder than Dr. Wiater would like me to, but you have to keep pushing yourself or you'll never know what your boundaries are," Noack said.