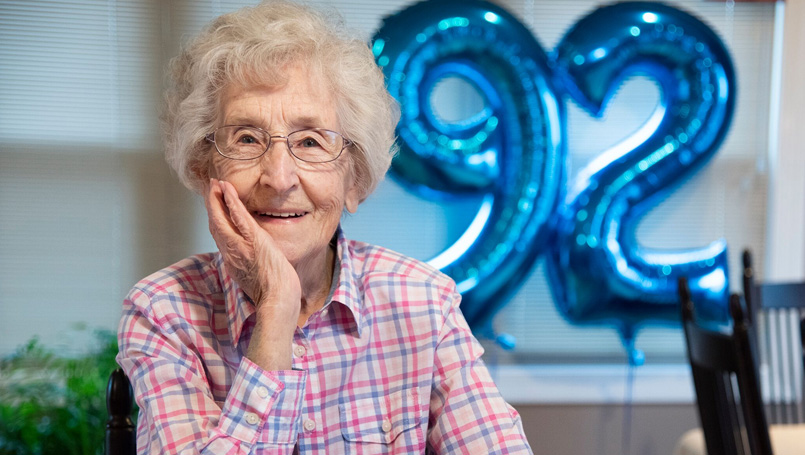 Shortness of breath is common with old age. But many people don't realize it might also be a warning sign of a potential heart issue.
Ruth Klimek, 92, of Allen Park is living proof that when the right patient ends up in the right medical hands, the outcome can be transformational. On March 12, despite living with aortic stenosis for decades, Klimek suddenly found herself at Beaumont Hospital, Dearborn, gasping for air.
"It's rare we get the opportunity to change a person's life in 30 minutes," said Rita Coram, M.D., structural interventional cardiologist, Beaumont, Dearborn. Dr. Coram rallied her multidisciplinary cardiac team to take a leap of faith and perform an emergency procedure.
Aortic stenosis occurs when the aortic valve hardens and narrows, preventing it from opening widely. Blood flow to the heart and the rest of the body is restricted, forcing the heart to work harder. Eventually, the patient experiences shortness of breath, dizzy spells, chest pressure and weakening of the heart muscle.
As Klimek's lungs filled with fluid that day, she gasped for air 40 times a minute instead of the typical 10. Then, her blood pressure plummeted and she became nauseous, gray, confused and lethargic.
"It was terrifying," Klimek said.
While her family kissed her for what they thought might be the final time, Dr. Coram and her team, refused to give up.
Their plan: perform an emergency TAVR, or transcatheter aortic valve replacement. As part of this minimally invasive procedure, the aortic valve is replaced via an artery in the groin, instead of with open-heart surgery.
"We knew TAVR was her best chance of survival. Although the procedure usually takes 60 plus minutes, we successfully implanted the valve in less than half an hour; and without general anesthesia or intubation," Dr. Coram said. "Ruth's improvement was instantaneous."
Of that day, Klimek recalls the struggle for air and a vague understanding that "things were not going well."
Because it happens so gradually, Klimek, like many patients with aortic stenosis, did not realize her condition was deteriorating until her symptoms became severe.
"Suddenly, I couldn't walk without gasping for air. The discomfort I felt in my chest, I now realize, was a warning sign," Klimek said.
Although doctors scheduled her for a TAVR on March 20, Klimek's symptoms got worse quicker than expected. She was admitted to the hospital and then needed to have emergency TAVR surgery.
Shortly following the valve replacement, Dr. Coram almost didn't recognize Kilmek when she came in for a follow-up appointment.
"Ruth's hair was freshly styled. Her coloring was pink. She was wearing makeup and jewelry, sitting tall and bragging with a big smile about all the things she was doing," Dr. Coram said with a laugh. "My heart was full. With TAVR, we not only reverse a critical condition for Ruth and others like her, we also restore a patient's dignity and love of life. Mood and mental state improves, along with mobility and functionality. Supporting Ruth through this transformation has given new meaning to why I devoted my life to medicine."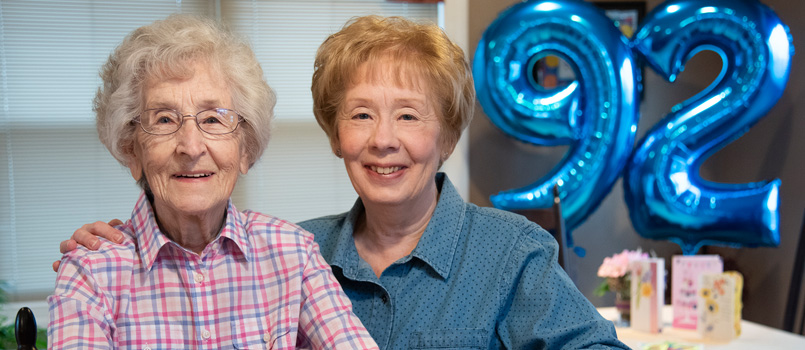 Now, Kilmek is focused on the future.
"Breathing with the new valve is amazing and I'm able to get a good night's sleep for the first time in years," said Klimek, as she returns to her happy lifestyle, including activities at Inter-City Baptist in Allen Park. She walks 30 minutes twice a day, dreams of planting a flower garden and plans to visit family in California later this year.
"Celebrating my 92nd birthday shortly after coming home from the hospital was a special triumph," Klimek said. "I am grateful to Dr. Coram, the entire medical team and God to be here to continue to enjoy life and my family."