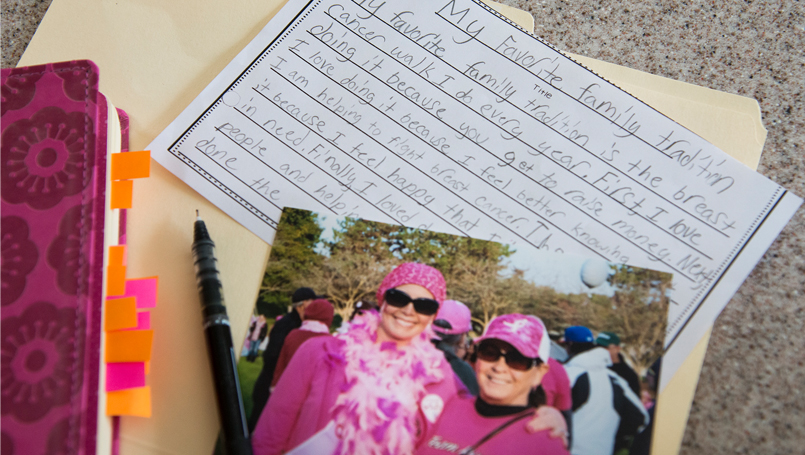 Family, friends help through year-long treatments so she could give back
Imagine a typical day playing with your toddler son. Now imagine that play date leading to the discovery of breast cancer.
In 2016, 38-year-old Kristy McMillan of Brownstown was a healthy, active, social and involved mom of three. She never expected how her life would suddenly change.
"My son was 3 at the time. He climbed onto my lap and sort of pushed on my chest when he was moving around, and it was painful," McMillan remembered. "I started feeling around and I found a lump."
After a few weeks, she decided to make an appointment with her OB-GYN, which was quickly followed by a mammogram and ultrasound.
"Right after the ultrasound, the radiologist came in and told me I had breast cancer," said McMillan
Clinicians discovered a tumor and a calcification and conducted biopsies on each. Both came back positive. Her cancer was discovered in stage 2.
"All of my genetic testing was negative and I have no family history, but because of the size of the tumor and the calcifications, my breast surgeon recommended a mastectomy," McMillan explained. "I opted to have them both done at the same time."
Majd Aburabia, M.D., is a breast care surgeon at Beaumont Hospital, Dearborn. After talking with her husband and consulting with Dr. Aburabia, McMillan decided to have a bilateral mastectomy. Some lymph nodes were also removed.
"I had 16 rounds of chemo, lost my hair and then I had 30 radiation treatments. I finished radiation Jan. 30, 2017," she said. "I chose Beaumont because they have so many different resources to help people in this situation."
"Women have more choices today," said Dr. Aburabia. "Modern treatment is more individualized to the patient. What's right for one woman may not be right for another."
With an April diagnosis and chemotherapy treatment starting in June of 2016, McMillan was determined not to let her breast cancer diagnosis affect her time and relationship with her family. She wanted to ensure the kids had an active summer break and were able to lead as normal lives as possible.
"I felt guilty. I didn't want my kids to see me as sick," she said. "I went through therapy summer into fall, but we still wanted to go do things like go to the beach and keep active."
While she's had some complications along the way, including an infection that caused the temporary removal of one of her implants, McMillan says she's learned to be more grateful. She also learned what a great support system she had in her family and friends, who helped provide family dinners, cleaned the house and spent time with the kids so she could rest and heal.
Now that she's two years from her diagnosis, McMillan is giving back. She started a local support group for women diagnosed with breast cancer, and her family participates in local charitable events and an annual walk. Her 9-year-old daughter, inspired by her mom's journey, entered an essay contest at school, writing about her favorite family tradition – an annual breast cancer walk the McMillan's do together in honor of all those with breast cancer, both past and present.
McMillan added, "A typical mammogram age is 40. If I would have waited, I don't think I'd be here. My son – he saved my life and he doesn't even know it."
"As with any type of cancer, the key to successful outcome is early detection," said Dr. Aburabia.
Early detection also often means less treatment is needed, which results in fewer side effects, better odds of survival and faster recovery times. About 88 percent of women who are initially diagnosed with breast cancer have reported no signs of the disease five years after a successful treatment.
"We give our patients as much information as possible so we can help them make the best decisions for themselves and their families," Dr. Aburabia said.