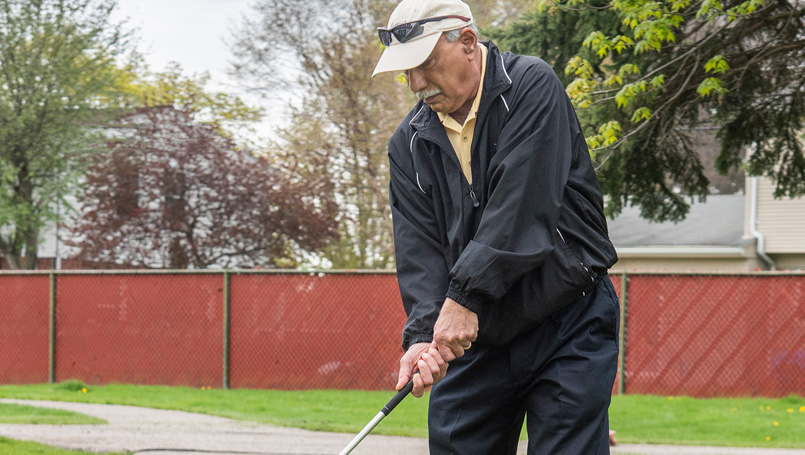 Outpatient diabetes classes provide information and support
It came without warning signs or symptoms. After a routine blood test this past November, Om Bhasin was told to get to the Emergency Center at Beaumont Hospital, Royal Oak ASAP. His blood sugar levels were soaring. Abnormally high levels of blood sugar, a condition known as hyperglycemia, can be life-threatening. Left untreated, hyperglycemia can cause a deadly coma.
Om's diagnosis
Bhasin, a resident of West Bloomfield, underwent further testing at Beaumont. His diagnosis: Type 2 diabetes. He was admitted and for four days the medical team, under the direction of endocrinologist Dr. Robert Igwe, worked to lower his blood sugar levels. It included insulin injections and following a meal plan.
When admitted, Bhasin's A1C was 13.2%, compared to the norm of below 4.6%. This A1C blood test, an important tool in diabetes management, provides an average of blood sugar readings from the past 2-3 months. It's been compared to a player's batting average, or a student's report card. An A1C above 6.5% is a diagnosis for diabetes.
'I experienced no symptoms'
"I was startled," recalled Bhasin, 74, when they told him he had diabetes. "I experienced no symptoms. It caught me off guard, because I have no family history of diabetes."
Because many, like Bhasin, have no warning signs or symptoms, Type 2 diabetes has been called insidious or sneaky. While it is estimated 27 million Americans have Type 2 diabetes, alarmingly, nearly 1 in 4 do not even know they have it.
Bhasin hardly fits the stereotype of the overweight couch potato who develops Type 2 diabetes. He's fit and active, exercising three days a week at LA Fitness and during the golf season, playing 2-3 times a week. He retired from Ford Motor Company in 2015 and had a kidney transplant procedure in 2017.
9% of Americans have diabetes
Type 2 diabetes is the most common form of diabetes, accounting for 90 to 95% of all Americans diagnosed with this metabolic disorder. All told, approximately 30 million children and adults in the U.S. have some type of diabetes: Type 1, Type 2, or gestational. That's 9% of Americans. According to the Centers for Disease Control and Prevention the number is growing.
Diabetes is a chronic, widespread condition characterized by high blood sugar, or hyperglycemia. When the body does not produce or properly use insulin, blood sugar levels rise. Insulin is a hormone needed to transport sugar from the blood into the cells of the body for energy. Diabetes complications can include: blindness, kidney disease, stroke, neuropathy and heart attack. It's the seventh leading cause of death in the U.S. While there is no cure for diabetes, it can be managed.
Education is key
Fast forward six months, Bhasin is golfing with former co-workers in Livonia. He's grateful for the care and support he's received since his diagnosis and credits Dr. Igwe and diabetes educators with giving him the tools to self-manage his diabetes. He participated in the Diabetes Outpatient Education program at Beaumont, Royal Oak.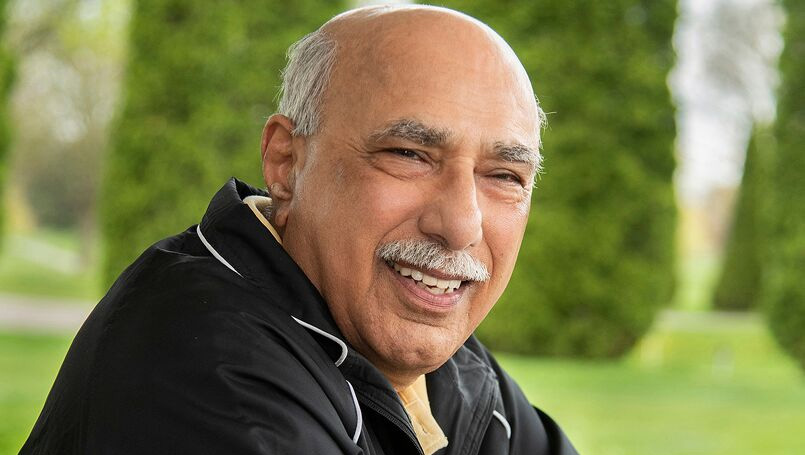 "The program was extremely beneficial. My wife also attended," said Bhasin. "It gave me practical tips and guidance in managing my diabetes."
Program topics include:
treatment options
monitoring blood sugar levels
meal planning
effects of exercise
reducing/preventing complications
medications
community resources
Gloria Verdi, RN, certified diabetes educator and program coordinator explained, "Our program is open to those recently diagnosed, like Om, and also those who've worked at managing their diabetes for years and are seeking new insights. Our team strives to provide the tools, guidance and confidence needed to successfully manage diabetes."
Bhasin quickly applied what he learned in the program. He liked meeting one-on-one with Lindsay Beresh, registered dietitian and certified diabetes educator, to discuss meal planning.
"The tips for dividing your plate in three portions, along with suggestions for eating at restaurants were helpful," said Bhasin. "Whenever possible, I go online and study a restaurant's menu. I focus on nutritional values of menu items, including, carbs, proteins and calories."
He's also learned how to adjust his insulin dosage based on his activities. When exercising he monitors his blood sugar every 20 minutes and carries orange juice in his gym bag.
Bhasin appreciates his wife's support, too, "It's wise to have your spouse or partner attend your diabetes education classes. She now has a better understanding of diabetes and the importance of self-management."
On his recent visit to Dr. Igwe, Bhasin's A1C blood score was 5%, well within the normal range – quite a contrast to his earlier score of 13.2%.
"Given my lack of symptoms, I was fortunate my diabetes was diagnosed when it was," said Bhasin.
The Outpatient Diabetes Education Programs at Beaumont hospitals in Grosse Pointe, Royal Oak and Troy are certified by the Michigan Department of Community Health and recognized by the American Diabetes Association for quality self-management education. The nurse educators and registered dietitians are certified diabetes educators.
A physician referral is required to attend. Some health insurance plans cover the class fee. For more information on diabetes outpatient education classes, call 800-328-8542.